We love diving into a delicious bowl of pasta. Here are 24 delicious, must-try pasta recipes we love to make again and again.
Our family enjoys pasta at least once a week, so we've shared many easy pasta recipes on Inspired Taste over the years. I love calling on baked pasta like lasagna or stuffed shells on cold evenings. In the summer, we always have some sort of pasta salad in the fridge.
Below, you'll find lots of inspiration in the pasta recipes. There's something for everyone, including pasta with meat sauce, vegan macaroni and cheese, and a few cold pasta salad recipes we love. These recipes are perfect for sharing with friends and family.
Quick Everyday Pasta Recipes
These easy pasta recipes are what our family turns to the most. We enjoy the veggie pasta, shown below, at least twice a month! These recipes are quick and call on a few ingredients.
Quick and easy vegetable spaghetti that tastes so good, you won't even realize it's loaded with nutritious veggies.
Thanks to orzo and a few fresh ingredients, you can make this easy orzo pasta recipe in under 20 minutes.
Easy weeknight friendly spaghetti and meat sauce that's made completely from scratch. Use ground beef, turkey, pork, chicken or lamb to make this simple spaghetti recipe.
Easy buttered noodles with butter, parmesan cheese, and fresh herbs are one of our favorite dishes to make. See our tricks for making them the best!
This easy chicken ragu takes less than 30 minutes, is inexpensive and delicious.
Our favorite way to cook zucchini noodles! See how to make our 20-minute zucchini noodles pasta recipe with garlic, tomatoes, basil, and parmesan cheese. Low-carb, keto-adaptable, and vegetarian-adaptable!
Avocado pasta is quick, easy, and dairy-free. You only need 15 minutes and a fork to make the creamy avocado sauce (no food processor is required).
Mushroom pasta with the most delicious garlic butter mushrooms. Thanks to our no-fail method for cooking mushrooms, this easy pasta comes together in under 30 minutes and tastes amazing!
Everyone needs a go-to homemade mac and cheese recipe in their back pocket, and this one is ours. It's simple to make, tastes fantastic, and makes super creamy macaroni and cheese.
Our favorite chicken noodle soup! No food blog would be complete without a recipe for chicken noodle soup. Our version is healthy, satisfying, and tastes incredible. Bonus, you can make this soup from scratch in under 40 minutes!
This easy fettuccine alfredo features a silky smooth sauce made with butter and parmesan cheese, cooked sausage, and lightly wilted spinach.
The whole family will love this ultra-creamy vegan mac and cheese recipe. It is made with non-dairy milk, nutritional yeast, and the perfect blend of spices. You can make this as a stovetop or baked mac and cheese!
Cold Pasta Salad Recipes
When it comes to summer salads, we love pasta salad. When you make pasta salad, remember this, after cooking your pasta, rinse it under cold water to remove some of the starch. We usually advise against this for hot pasta recipes, but removing that starch keeps your salad dressing light on its feet.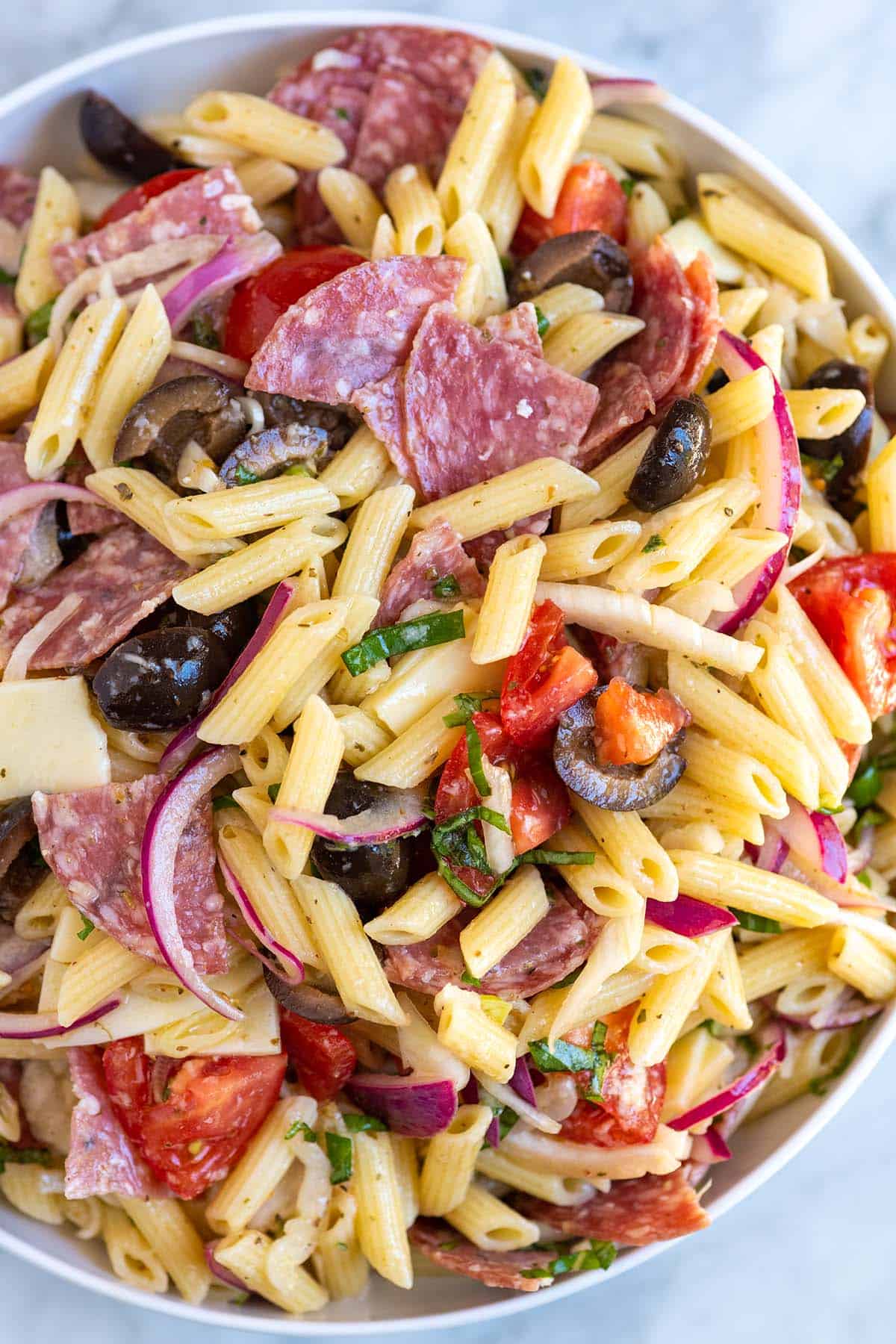 Our Italian pasta salad is made with a fresh and flavorful dressing, two kinds of cheese, salami, olives, and the perfect blend of Italian herbs. Take one bite of this pasta salad, and you won't be able to stop.
How to make the best macaroni pasta salad with an easy creamy dressing and crisp, colorful vegetables. We love this easy salad!
Fresh and easy pasta salad packed with crisp vegetables, fresh mozzarella, and tossed with a simple homemade dressing.
Everyone loves this easy orzo pasta salad recipe with a simple lemon vinaigrette, cucumber, olives, artichokes, tomato and fresh herbs.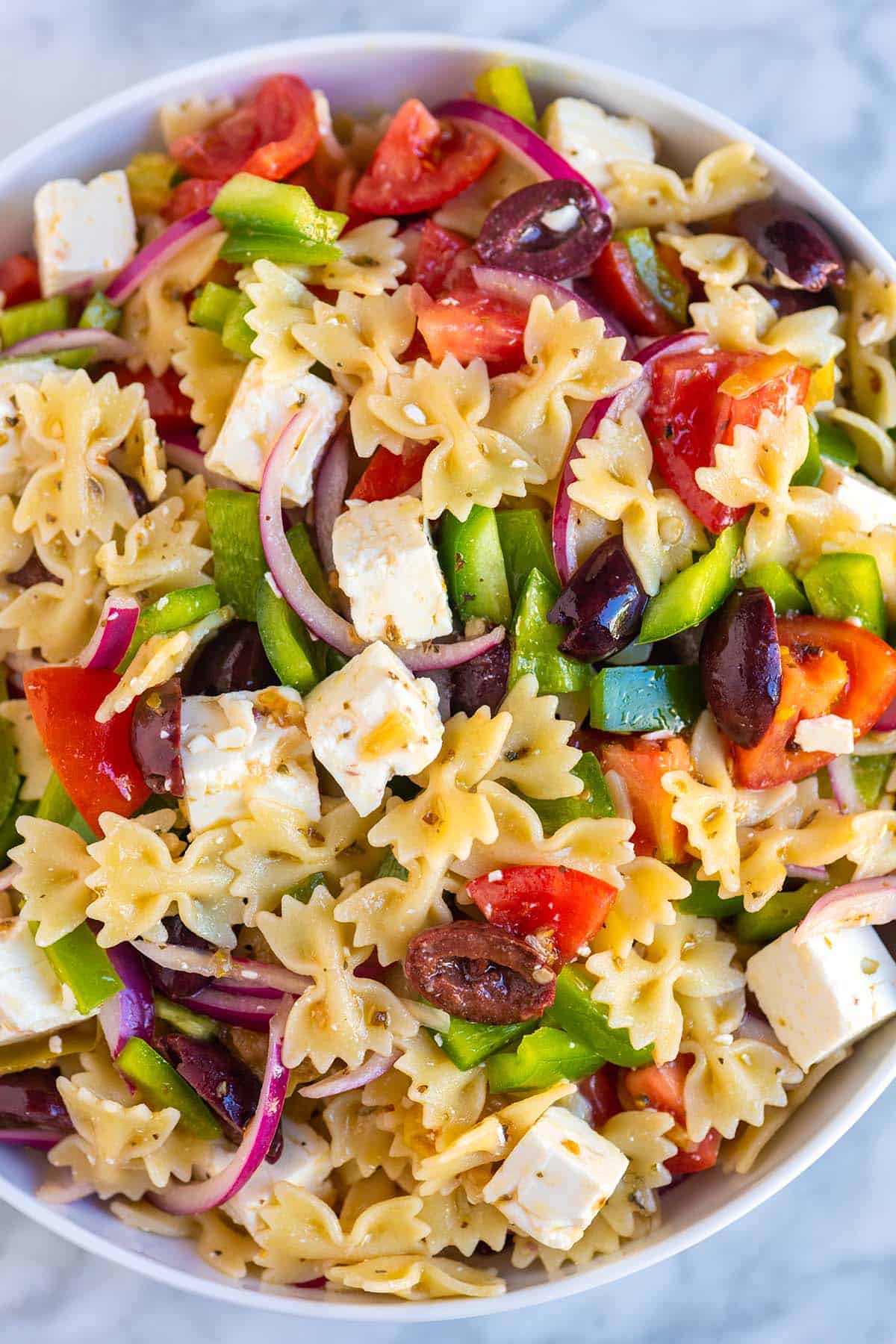 Greek pasta salad is easy enough to make for a busy summer night and special enough to share with company. If you have seen our Greek salad recipe, you will recognize many of the ingredients in this pasta salad.
Baked Pasta Recipes
Baked pasta dishes are some of our favorite ways to enjoy pasta. From lasagna to stuffed shells, we have something for everyone. These are some of the best recipes to make in advance, so you will find tips and tricks for making them ahead of time when you click over to each recipe.
Extra easy baked ziti made entirely from scratch! Our favorite baked ziti recipe is creamy and cheesy with a mixture of pasta, a five minute homemade sauce and four cheeses
This easy baked pasta is loaded with vegetables, extra cheesy, and seriously irresistible. Our meatless baked pasta will please vegetarians and meat lovers alike.
You'll love this ultra creamy mac and cheese recipe! With the perfect ratio of milk to cheese to sauce, this macaroni and cheese is at the top of my favorites list!
These stuffed shells are filled with creamy ricotta cheese, parmesan cheese and a delicious mixture of sautéed veggies.
Easy stuffed shells recipe made with sausage, spinach, tomatoes and ricotta cheese. Everyone we have ever served these to loves them.
This vegetable lasagna recipe is a reader favorite! Tender vegetables, a light and flavorful tomato sauce, and lots of cheese make this the best veggie lasagna ever.
We love this cheese lasagna recipe with the perfect blend of cheeses that makes anyone weak at the knees. It's rich, creamy, cheesy, and delicious. You can assemble this lasagna in about 20 minutes.