How to make muffins with fresh pear and vanilla inspired by our trip to Paris, France. Jump to the Pear and Vanilla Muffins Recipe or read on to see our tips for making them.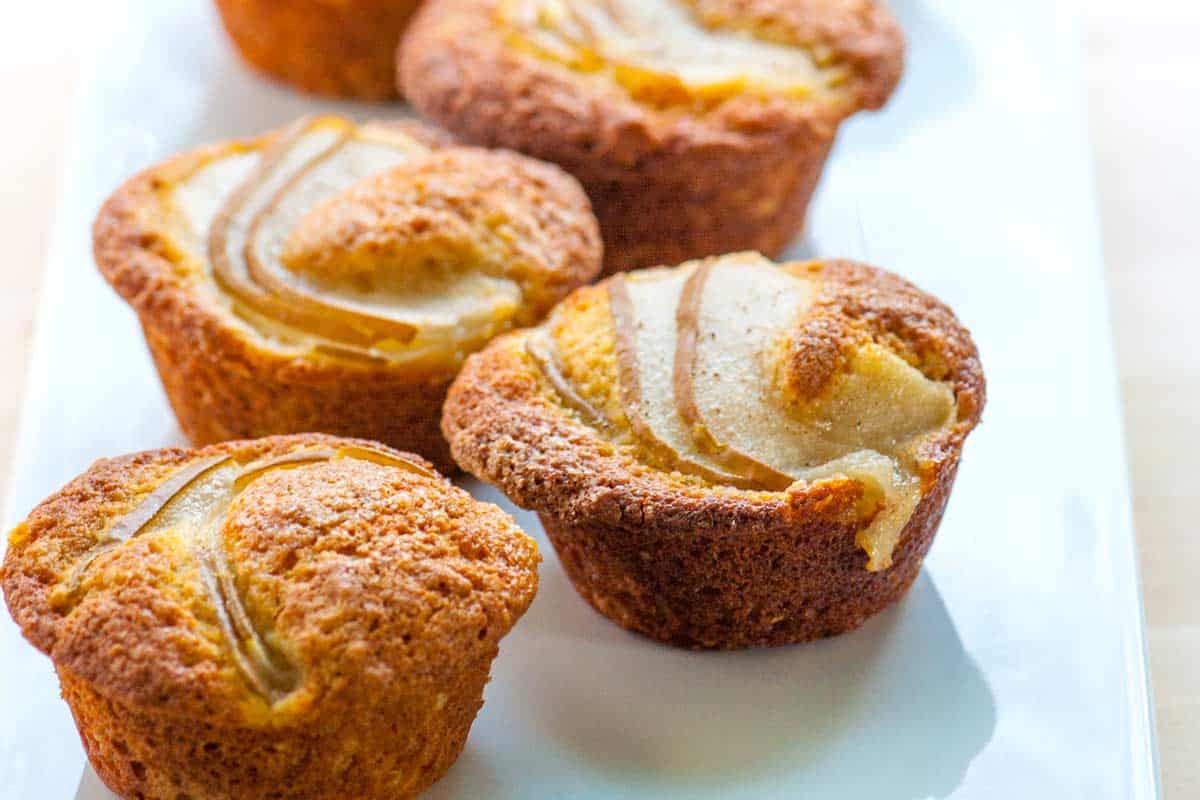 During a stay in Paris, we opted to rent an apartment instead of staying in a hotel. We have gone this route in the past and have found it to be the best way to really experience the culture. Paris was no exception, outside our very small apartment (and I do mean small) were the bustling streets of the 4th district in Paris, where we could walk to wine and cheese shops, chocolate boutiques, bakeries and our favorite, a tiny little store front selling freshly made muffins.
YOU MAY ALSO LIKE: You only need one bowl to make these peach muffins with lightly spiced vanilla batter and ripe juicy peaches. Jump to the Vanilla Peach Muffins Recipe.
We would pass the window in the mornings as a tall young woman was measuring, mixing and filling baking trays and wait just a few hours to mosey on back past the same storefront to choose from her selections of the day.  Our favorite was the Poire et Vanille or Pear and Vanilla. Her muffins were wonderful. Soft, light, airy, absolutely packed with flavor and warm, not hot, but warm; just warm enough so that you could finish the whole muffin before it cooled down and just cool enough so you could start munching as soon as you stepped out of the store.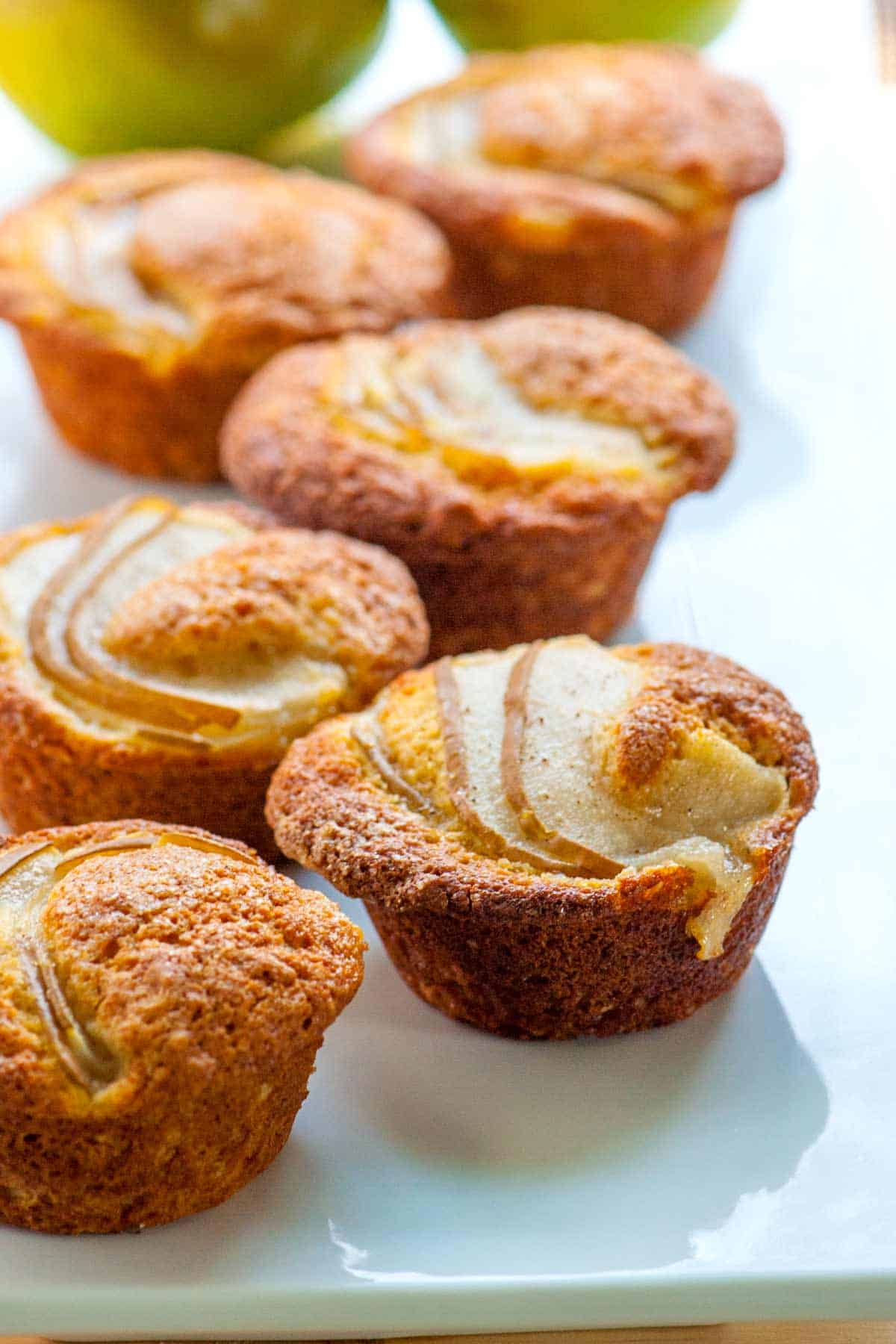 Ever since Paris, we have craved these muffins. That applies pretty much applies to most of what we ate. This recipe is our attempt at recreating them in our kitchen.
How to Make Muffins with Fresh Pears
The batter for these muffins call for the usual suspects — flour, baking powder, baking soda, eggs and butter. In addition to that, we also add vanilla, lemon, applesauce and thinly sliced pears. Just before baking we press a few slices of pear into the tops of the muffins then sprinkle them with vanilla sugar. They are divine.
YOU MAY ALSO LIKE: Moist, flavorful, and simple strawberry yogurt muffins with yogurt, fresh strawberries, and a simple vanilla glaze. Jump to the Simple Strawberry Yogurt Muffins Recipe.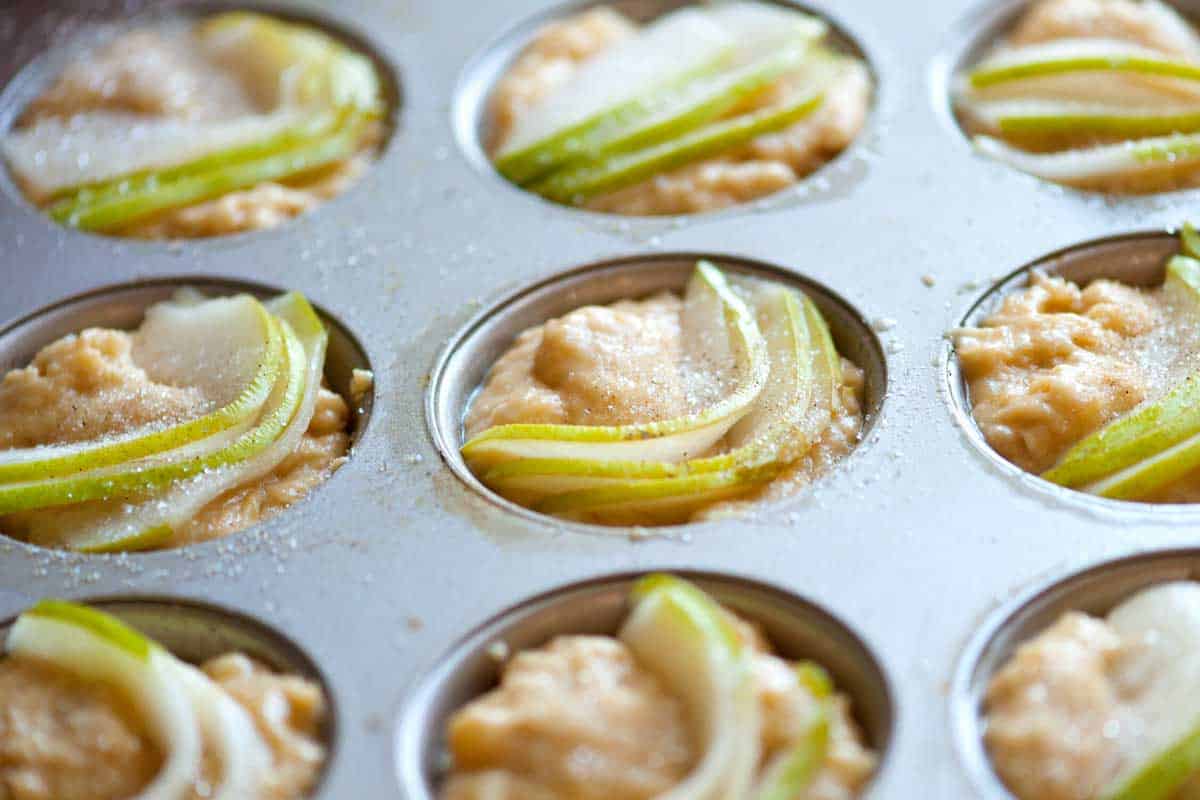 Recipe updated, originally posted February 2011. Since posting this in 2011, we have tweaked the recipe to be more clear. – Adam and Joanne
Perfect Pear and Vanilla Muffins Recipe
These easy muffins were inspired by our trip to Paris. Everyday we would walk by a tiny bakery that only sold fresh made muffins. We tried lots of them, but our favorite combined vanilla, spices and fresh pear. This is our attempt at recreating them in our own kitchen.
You Will Need
1 1/2 cups all-purpose flour
1 1/2 teaspoons baking powder
1/2 teaspoon baking soda
1/4 teaspoon freshly grated nutmeg
1/4 teaspoon sea salt
2 large eggs
1 1/2 tablespoons vanilla extract
1 tablespoon lemon zest
1 cup lightly packed brown sugar
11 tablespoons unsalted butter, melted
1 cup unsweetened applesauce or pear sauce
1 to 2 ripe pears, thinly sliced, for muffin tops
2 tablespoons vanilla sugar, for muffin tops
Directions
1Position an oven rack in middle position and heat oven to 400 degrees F. Grease muffin pan or line with paper cups.

2Whisk the flour, baking powder, baking soda, nutmeg and salt in a bowl. In another bowl, whisk the eggs, vanilla extract, lemon zest and brown sugar until blended. Stir in the melted butter, a little at a time, whisking until mixture is creamy.

3Stir in the applesauce, then fold the wet ingredients into the flour mixture until just combined.

4Divide batter among muffin cups then lightly push a few slices of pear into the top of each muffin. Sprinkle tops with a dusting of vanilla sugar.

5Bake the muffins until risen and golden, about 20 minutes. Remove from the oven and allow to cool in the pan for 5 minutes. Transfer the muffins to a cooling rack.
Adam and Joanne's Tips
You can buy vanilla sugar or make it yourself at home. To make it, split a whole vanilla bean and scrape the seeds into an airtight container. Add about 2 cups of sugar then bury the vanilla pod in sugar and seal tightly with lid. Let sit for 1 to 2 weeks. Use as regular, granulated sugar. To make it on the fly, rub a little vanilla extract into granulated sugar.
If you make this recipe, snap a photo and hashtag it #inspiredtaste — We love to see your creations on Instagram and Facebook! Find us: @inspiredtaste