How to roast beets and carrots with sage. Jump the the Roasted Beets and Carrots with Sage or read on to see our tips for making it.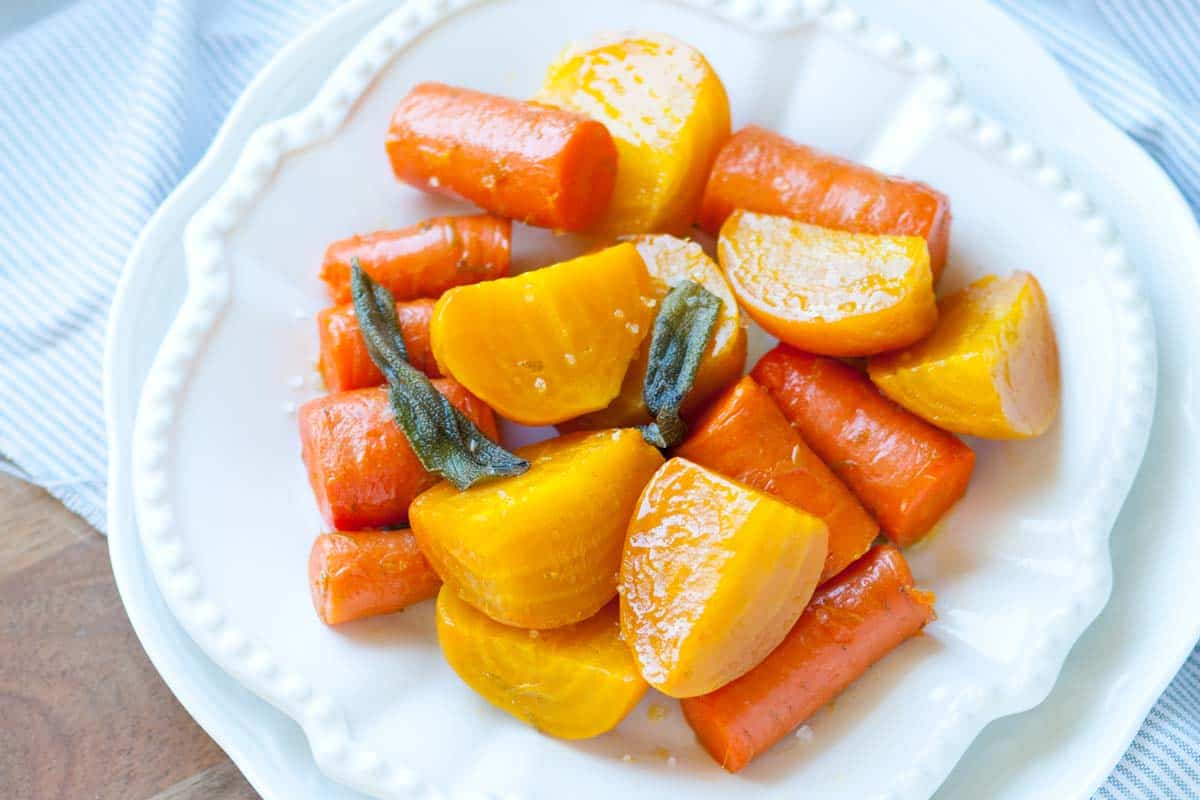 We thought we would share something a little different, today. These roasted beets and carrots are so pretty and delicious. We used yellow beets, which are a little milder than red beets. We also added some carrots to sweeten things up a bit, too.
YOU MAY ALSO LIKE: How to perfectly roast carrots and parsnips in the oven. Jump to the Easy Roasted Parsnips and Carrots Recipe with Mint.
How to Roast Beets and Carrots with Sage
The basis of this recipe is, of course, those sweet and succulent yellow beets. We added a pop of  flavor with  sage and rosemary and a punch from garlic. We also add one more secret ingredient: white wine vinegar. It is magical, the vinegar awakens the whole dish, acting in the same way a spritz of lemon to calamari or horseradish to roast beef.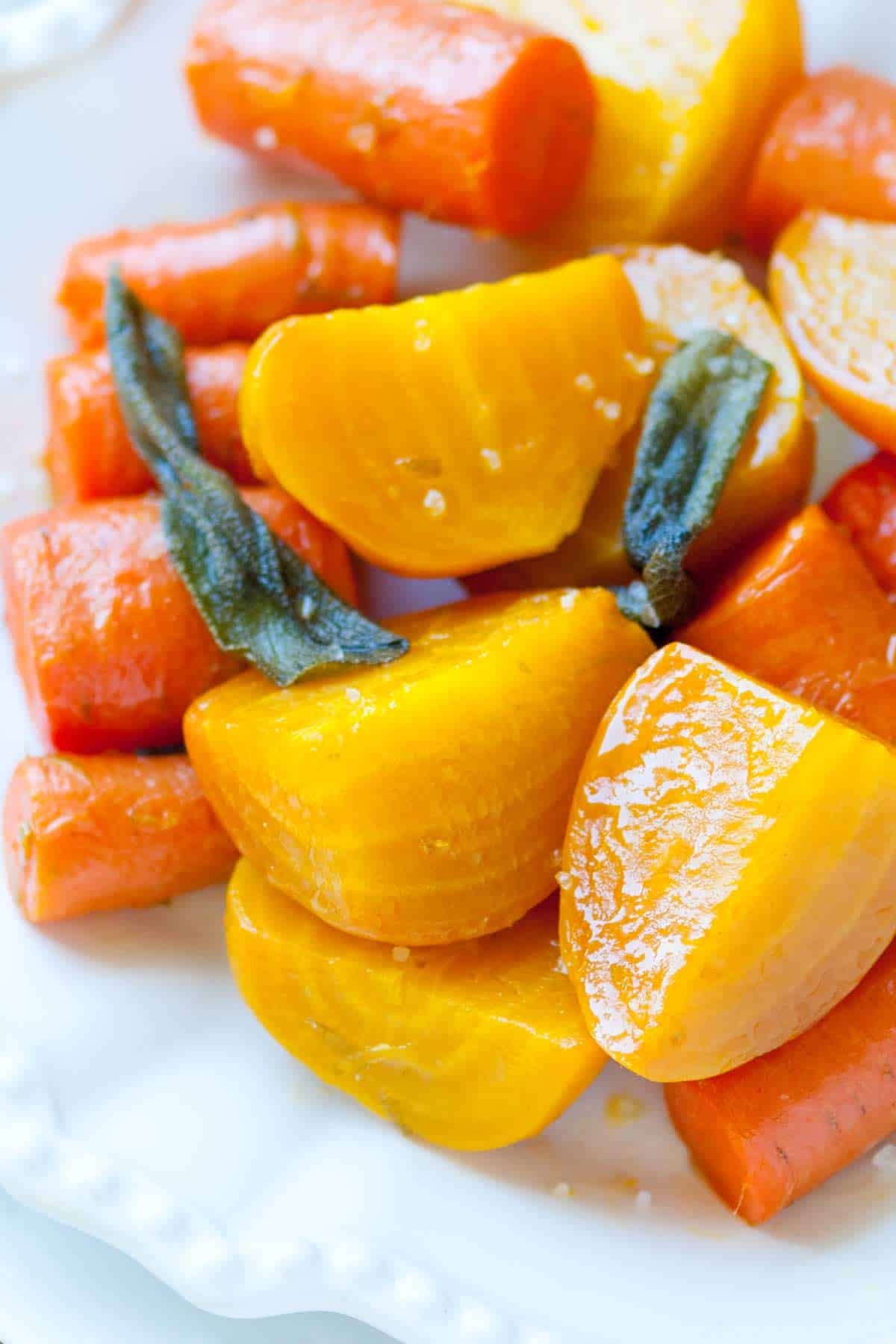 We were happy to eat our roasted beets and carrots directly from the roasting pan, but you could of course serve this as a side dish, on top of an arugula salad or even with some tart and creamy goat cheese.
YOU MAY ALSO LIKE: How to easily roast a whole chicken with lemon and garlic. Jump to the Whole Roasted Chicken Recipe.
Recipe updated, originally posted September 2010. Since posting this in 2010, we have tweaked the recipe to be more clear. – Adam and Joanne
Roasted Beets and Carrots Recipe with Sage
Par-boiling the beets before roasting helps us to peel them. After some time in boiling water, the peels practically fall away from the beets. You can skip par-boiling and use well scrubbed and rinsed vegetables instead.
We're happy to eat these roasted beets and carrots directly from the roasting pan, but they make a great side dish or are perfect served on top of an arugula salad with creamy goat cheese.
You Will Need
1/2 pound yellow beets, without tops (2 medium)
1/2 pound carrots, peeled (3 medium)
2 garlic cloves, smashed
4 sage leaves
1 sprig fresh rosemary
2 tablespoons extra-virgin olive oil
1 1/2 tablespoons white wine vinegar
Salt to taste
Directions
1Heat oven to 400 degrees F.

2Add the beets to a medium pot of simmering water, seasoned with salt. Cook until just tender then remove from the water and plunge into an ice water bath to cool. Once cooled, peel the beets then cut into halves or quarters, depending on preferred size. Cut carrots to a similar size.

3Add beets and carrots to a roasting pan and toss with the smashed garlic, sage, rosemary, olive oil, white wine vinegar and about 1/4 teaspoon of salt. Place into the oven and roast for about 30 minutes or until the beets and carrots become slightly golden and are tender.

4Serve as a side dish or on top of an arugula salad or add some crumbled goat cheese.