Who doesn't love a cupcake? Who isn't a fan of a cookie? How about both, at the same time, with frosting on top? Jump to the Oreo Stuffed Cupcakes with Nutella Buttercream or read on to see our tips for making them.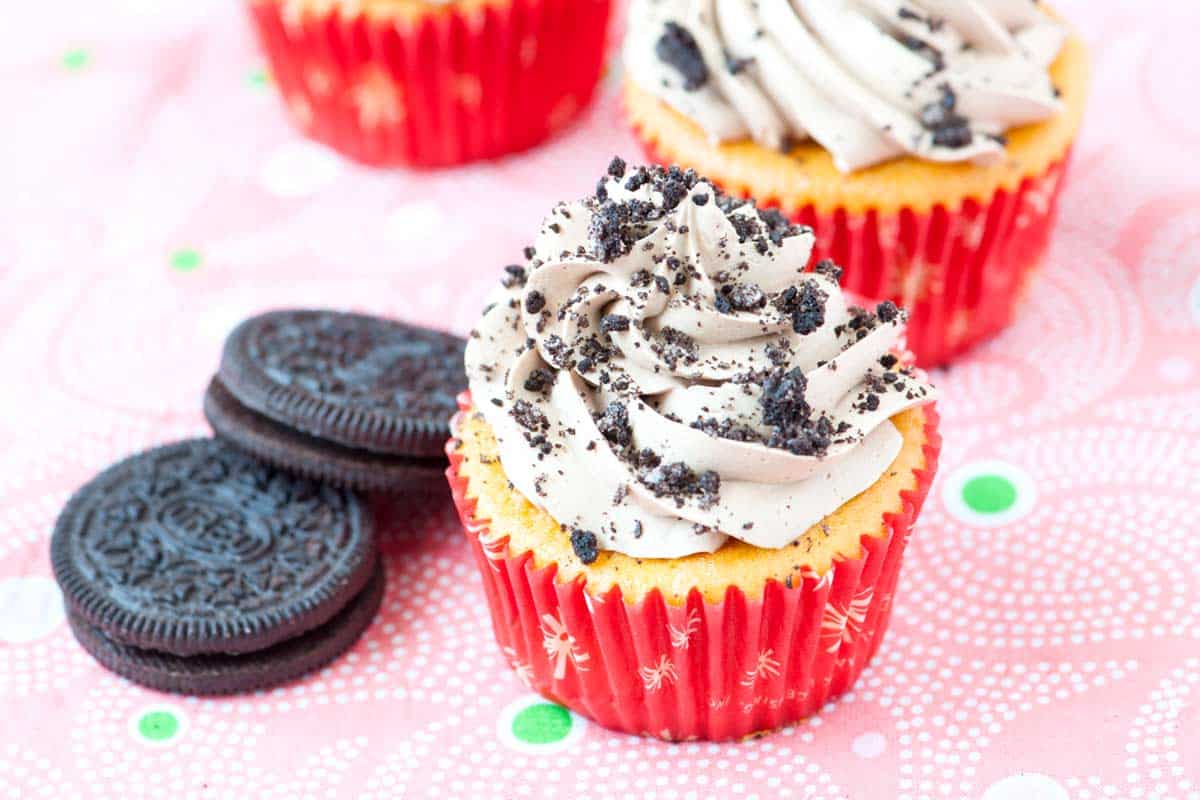 A few weekends back, we were invited to a BBQ that we knew would host many kids. Not having any of our own and not concerned about the sugar high that would liking hit, we decided to bring these Oreo-stuffed cupcakes with Nutella frosting. They were a hit.
Since this was just for fun, we went for a boxed cake mix topped with Italian Buttercream. The buttercream is a bit of extra work, but so incredibly delicious, creamy and not-too-sweet.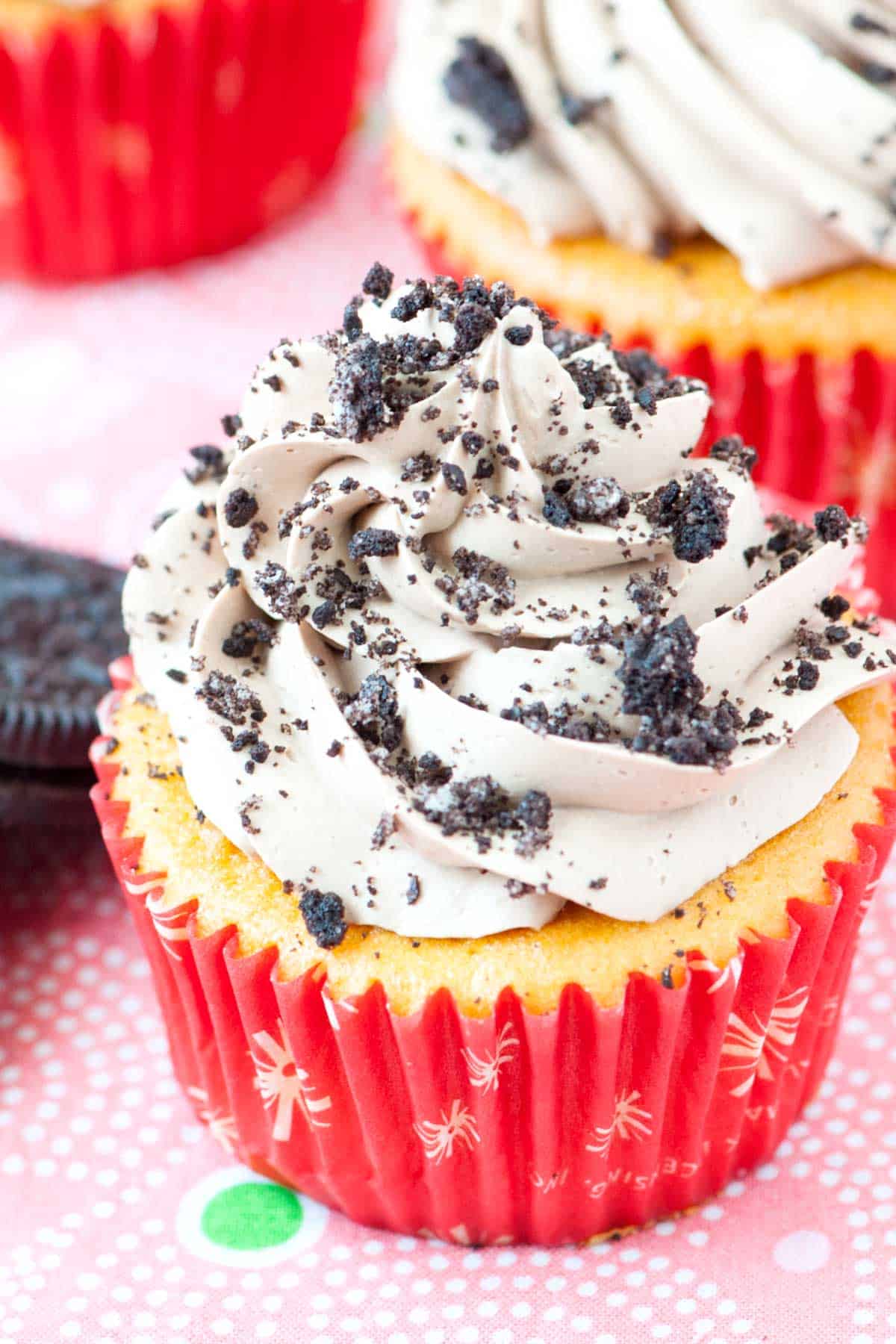 To make Italian buttercream you will need egg whites, sugar and butter. Then you can play with flavors, chocolate, colors, etc. We added Nutella to ours.
How to Make Italian Buttercream
Whip the egg whites until soft peaks form – this means that when you pull the whisk out, the mixture falls just slightly over itself.
Combine sugar with just enough water to cover the sugar in a saucepan. Cook the sugar over medium-high heat until the sugar reaches 240 degree F or until "soft ball stage"
With the mixer on medium speed, slowly pour the sugar syrup into the whipped egg whites.
Continue to whip the egg white and sugar mixture until completely cool (about 12 to 15 minutes).
Whip softened butter into the cooled egg white and sugar mixture.
Add flavorings as desired.
Recipe updated, originally posted June 2011. Since posting this in 2011, we have tweaked the recipe to be more clear. – Adam and Joanne
Oreo Stuffed Cupcakes with Nutella Buttercream
We place an Oreo cookie into the middle of each cupcake. Feel free to use your favorite cookie. The Nutella buttercream is bit more complicated, but worth the effort. It's so light, smooth and creamy.
You Will Need
1 box yellow cake mix and ingredients called for on box (eggs, water and oil)
28 Oreo cookies
1 3/4 cups granulated sugar
1/3 cup water
7 egg whites
2 3/4 cups (625 grams or 5 1/2 sticks) unsalted butter, cubed and at room temperature
1 cup Nutella hazelnut spread
Directions
Bake Cupcakes

1Make cupcakes by following the box instructions. Fill each cupcake liner with batter a quarter full, place one Oreo cookie into batter then continue to fill with cake batter until 3/4 full. Bake per box directions then cool on a wire rack.

2Crush the remaining 4 cookies and set aside for decorating the finished cupcakes.
Make Buttercream

1Add sugar and water to a medium saucepan. Heat over low heat, stirring with a metal spoon, until the sugar has dissolved and the syrup is clear. Increase heat to medium-high and let the syrup come to a boil.

2Meanwhile, place the egg whites into the bowl of a stand mixer fitted with the whisk attachment. Beat egg whites until they have soft peaks — this means that when you lift the whisk the egg whites will softly fall over itself.

3When the sugar reaches 240 degrees F, immediately remove the pan from the heat and, while the mixer is running, slowly drizzle the hot sugar syrup into the bowl with the egg whites. Aim to drizzle the syrup close to the whisk, not down the side of the bowl. When all the syrup has been added, continue to whisk until the bowl feels cool to the touch, about 15 minutes.

4When cooled, while whisking, add the butter, one cube at a time, beating after each addition. Beat in the vanilla and Nutella until the buttercream is smooth and shiny.
To Finish

1Pipe or spread buttercream onto cupcakes and top with Oreo cookie crumbs.
Adam and Joanne's Tips
Make-ahead: Refrigerate the buttercream in an airtight container or a resealable plastic bag in the fridge for up to two weeks. Or freeze for up to two months. When ready to use, allow the buttercream to come to room temperature and beat until it is smooth and spreadable again.
If you make this recipe, snap a photo and hashtag it #inspiredtaste — We love to see your creations on Instagram and Facebook! Find us: @inspiredtaste