Easy baked salmon with lemon and dill! This salmon recipe is one of our favorite dinner recipes! The salmon stays moist and tender thanks to our easy baking method. I love how it practically melts in your mouth.
Watch the video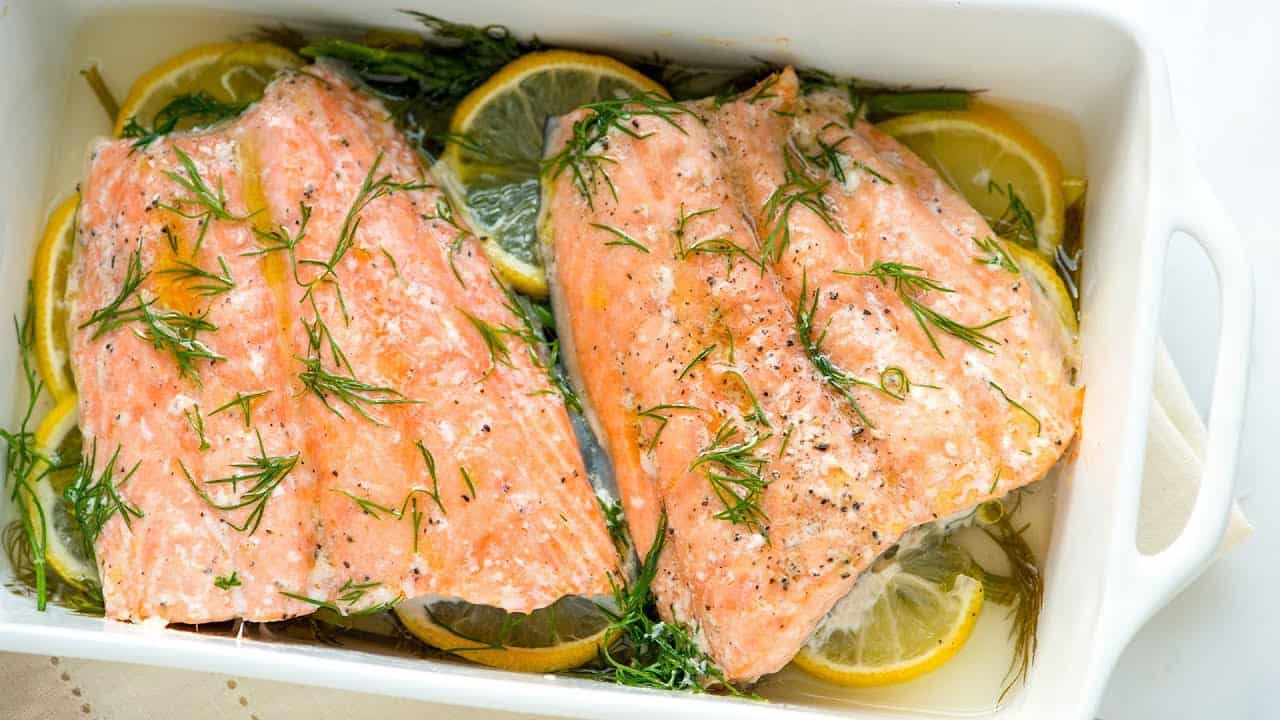 ⭐️ Try our garlic butter baked salmon made with capers and fresh herbs.
#1 Secret for the best baked salmon
This easy baked salmon recipe never fails! The secret for perfectly baked salmon is to bake the salmon in a bit of liquid — you can use wine, stock, and even water. After adding the liquid, cover the salmon with parchment paper or foil and bake. The salmon gently poaches in the oven. You could easily call this recipe oven-poached salmon. It's practically no-fail.
The inspiration for this recipe comes from my mother, who always uses this method for baking salmon in the oven. It's her go-to dish — especially when entertaining. And you know what? Everyone loves it.
Recipe overview. No-fail baked salmon in 3 easy steps!
Make a bed of lemon slices and fresh dill in a baking dish.
Season salmon fillets with salt and pepper, then place on top of the lemon and dill.
Pour liquid into the baking dish (wine, broth, or water), cover the dish with foil or parchment, and bake.
I'm generous with the salt and like to season both sides of the salmon fillets. We've used fresh dill in our photos, but almost any tender herb will work in its place. Think about parsley, cilantro, thyme, or even mint.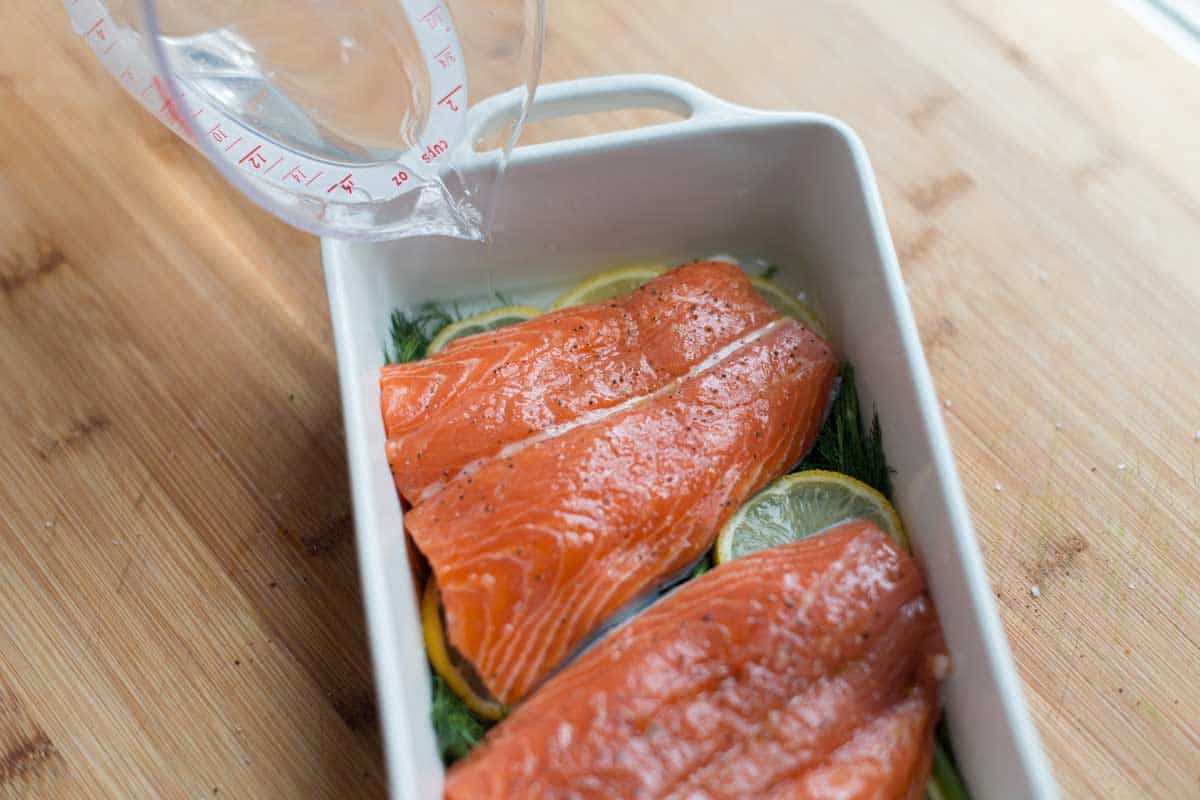 I usually use water for the liquid, but a dry white wine or broth is excellent. This liquid creates a moist, steamy environment for our salmon, which is why this method successfully achieves moist and tender salmon. You can expect the same results when poaching salmon in a skillet on the stove.
What's the best type of salmon to use?
Any salmon fillet will work for this salmon recipe. I especially love salmon with higher fat content, like sockeye, king, and coho. Salmon with higher fat content stays soft and moist after baking them.
We recommend the same varieties of salmon when making our brown sugar baked salmon and this irresistible glazed salmon.
How long does salmon take to bake in the oven?
For this easy salmon recipe, we bake the salmon in a 325° F oven for 15 to 20 minutes (baking time will depend on how thick your salmon fillets are). At this temperature, the salmon gently cooks, and thanks to the liquid we add to the baking dish, it stays moist and tender.
When is salmon cooked?
Salmon is cooked when an internal thermometer reads 125° F when inserted into the thickest part of the fillet. For a visual cue, look for the flesh to be somewhat opaque. Also, when inserting a fork into the salmon, it should flake easily.
Best side dishes for salmon
Salmon works nicely when served with a variety of side dishes. Here are some of our favorites: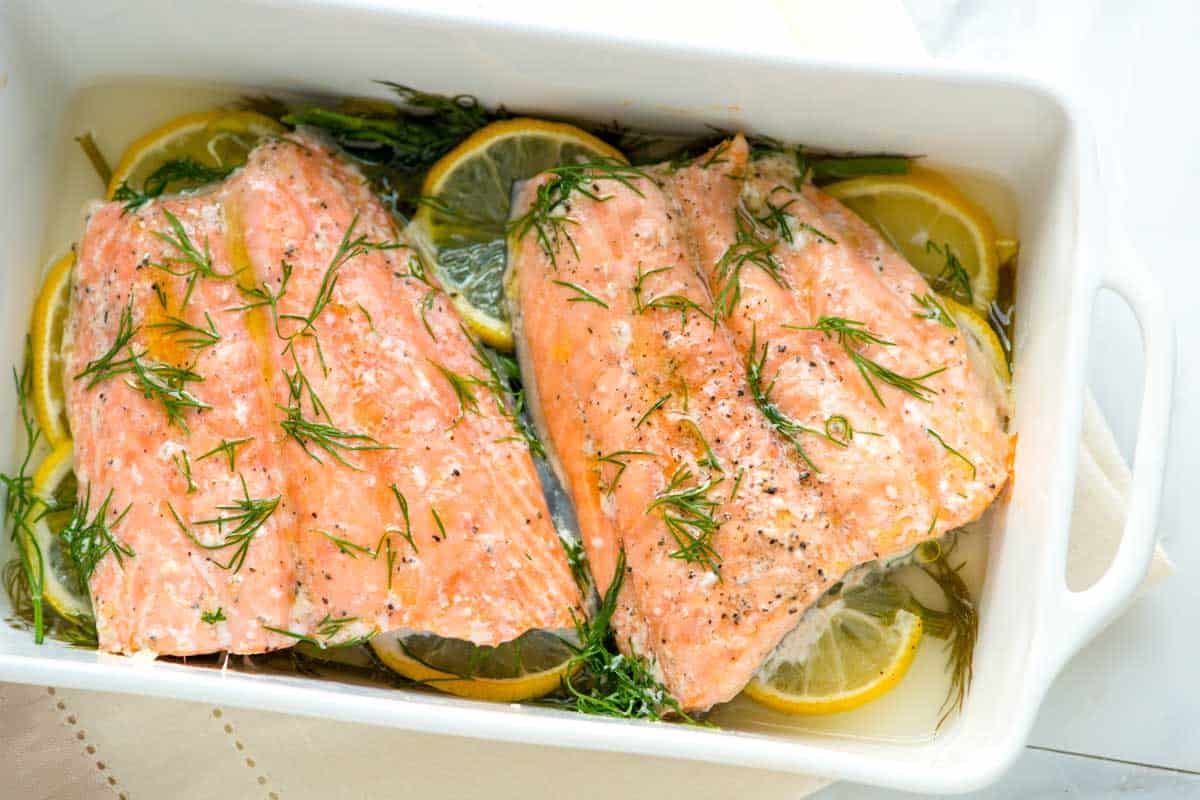 Oven Baked Salmon with Lemon
The trick to perfectly baked salmon is to gently bake it in a little bit of liquid, like wine, stock, or water. Cover the dish and bake until just cooked through. You can call this recipe oven poached salmon. It's practically no-fail. If your salmon is thick, expect that the cooking time will be a few minutes longer than what we share below.
Watch Us Make the Recipe
You Will Need
One 1 ½ pound salmon fillet, or two 12-ounce fillets, preferably wild-caught
1 tablespoon olive oil
Salt and fresh ground black pepper
1 lemon, cut into slices 3 to 4 sprigs of fresh dill, plus more for serving
1/2 cup dry white wine, such as Sauvignon blanc (substitute: fish stock, chicken stock, or water)
Directions
1Heat oven to 325° F (162° C).

2Lightly oil and season both sides of the salmon with salt and pepper.

3Arrange lemon slices and fresh herbs on the bottom of a baking dish large enough to fit the salmon, and then place the salmon, skin-side down, onto the bed of lemon and herbs.

4Pour wine (or stock) into the baking dish, and then cover with aluminum foil. Bake the salmon until the fish flakes easily with a fork, 15 to 20 minutes, depending on the thickness of your fillets. Check the salmon after 10 minutes to see its progress.

5Checking the temperature of the salmon using an internal thermometer is the best way to prevent overcooking. You want the thickest part of the salmon to read 125° F. Take the salmon out of the oven and loosely cover with foil for 5 minutes (the salmon will continue to cook during this time). Serve, scattered with chopped fresh herbs on top.
Adam and Joanne's Tips
How to tell when salmon is cooked: Cook salmon to 125° F (51° C), which means it will be soft, tender, and slightly pink in the center. For a visual cue, look for the flesh to be somewhat opaque. Also, when inserting a fork into the salmon, it should flake easily.
What's the white stuff on cooked salmon? The white stuff around cooked salmon is called albumin. It's perfectly fine to eat, but since it isn't the prettiest thing to look at, I quickly scrape it away and spoon a bit more glaze from the bottom of the dish on top.
Nutrition facts: The nutrition facts provided below are estimates. We have used the USDA database to calculate approximate values.
Nutrition Per Serving
Serving Size
6 ounces
/
Calories
300
/
Protein
37 g
/
Carbohydrate
1 g
/
Dietary Fiber
0 g
/
Total Sugars
0 g
/
Total Fat
13 g
/
Saturated Fat
2 g
/
Cholesterol
91 mg