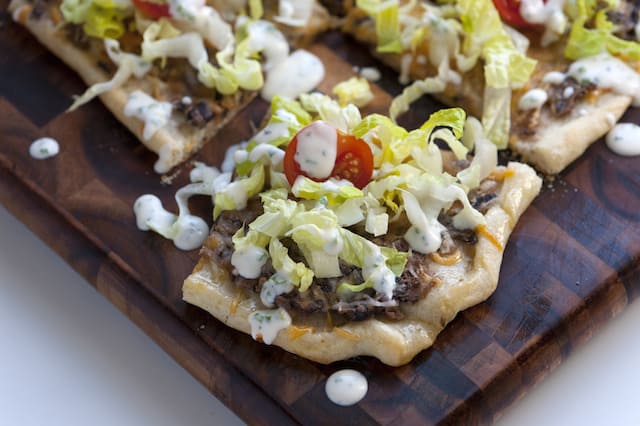 Ever been to California Pizza Kitchen? It was a ritual when I was in high school. There were two pizzas I would order, religiously. First, the Thai Chicken Pizza and second the Tostada Pizza, which was the inspiration for this. Basically it was a pizza crust topped with a creamy black bean spread and gooey cheese. Then, baked in the oven and served with crisp and cold lettuce, tomatoes and a drizzle of ranch dressing. So so so good.
-Joanne
How to make Black Bean Pizza
For this, we used a Pillsbury pizza dough (can), but you could always use a pre-baked dough, homemade dough or refrigerated dough from another brand/store. By the way, this would also be fantastic if you replaced the pizza dough all together with flour tortillas!
If using Pillsbury, we found pre-baking for a few minutes before adding our toppings helped with a crispier crust.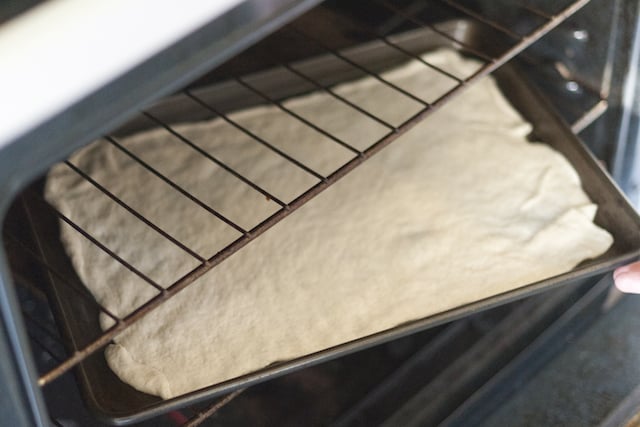 While the dough pre-bakes, get the black bean spread ready. Add minced garlic to some olive oil and cook until it starts to brown.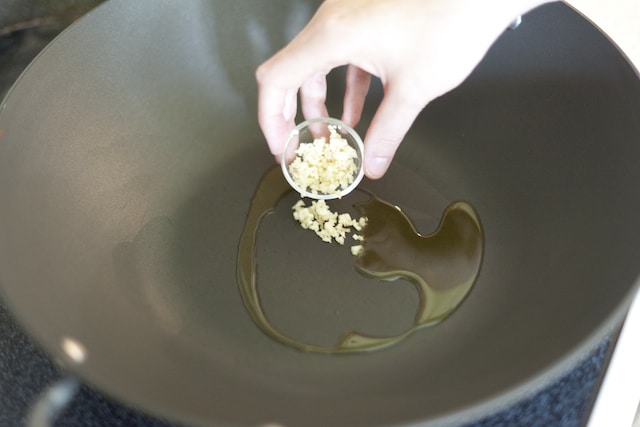 Next, add some dried oregano.
Now, drain and rinse a can of black beans (don't skip the rinsing part, the liquid canned beans are packed in is usually really salty). Then, just add the beans to the garlic and oregano.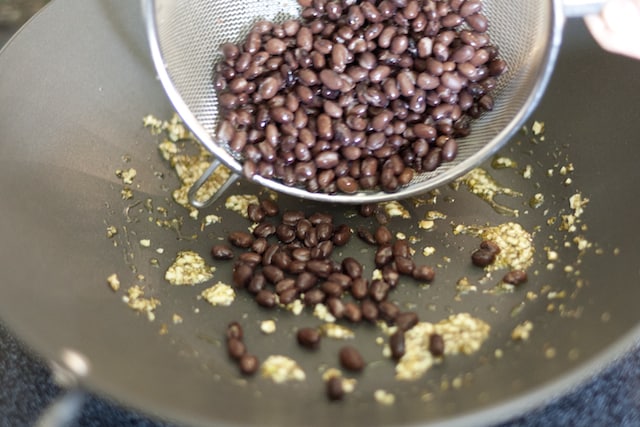 Heat through and add some dashes of hot sauce. We usually use 3-4 dashes, but you can add more or less depending on brand and your preferred level of spice. Just taste as you go and you will be fine.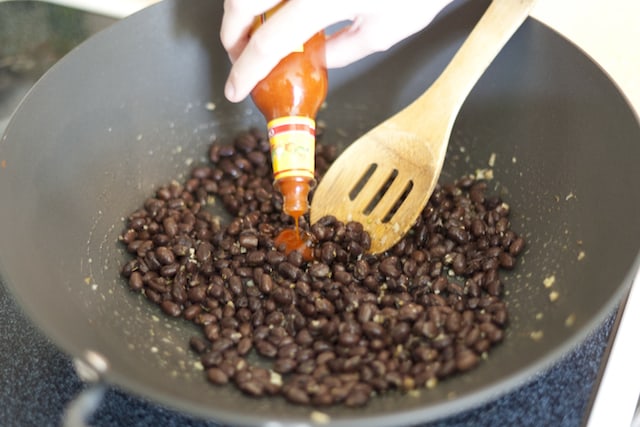 Now, add some water and cook until the water reduce by half. You could always use vegetable, beef or chicken stock instead of water, too!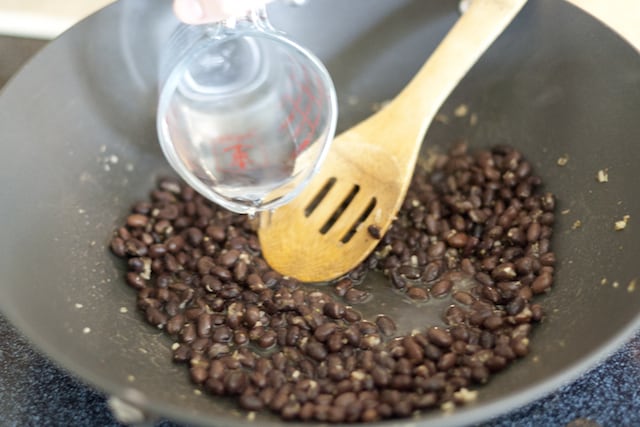 Use a potato masher or fork to mash the beans into a chunky spread. You want some texture here, so don't over do it.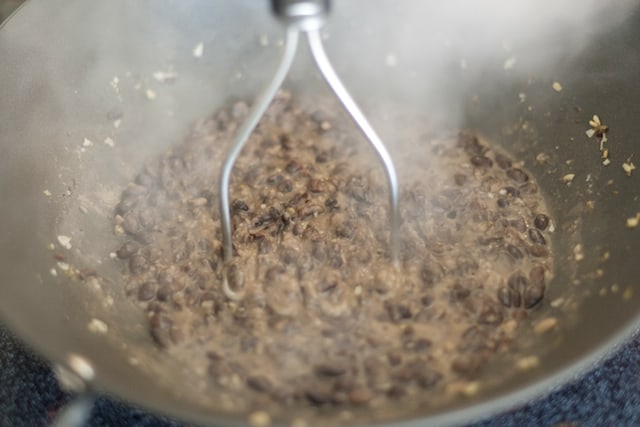 Next, spread the black beans evenly all over the pre-baked pizza dough.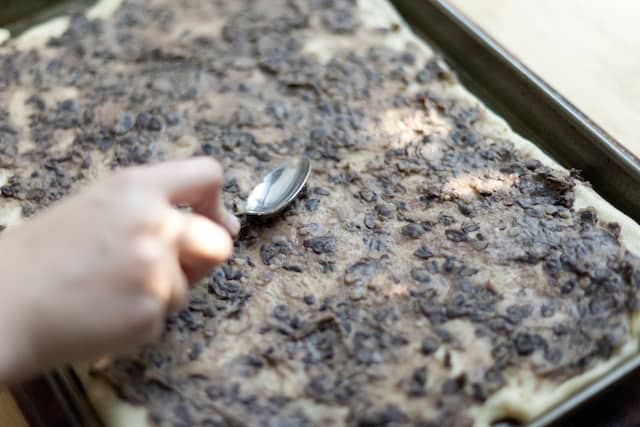 Top with cheese and bake in the oven until crisp on the bottom and the cheese has melted on top. Now, cut the pizza into even squares, rectangles or triangles.
…and top with cool crisp lettuce, cherry tomatoes and a drizzle of ranch dressing.
*Recipe developed for Pillsbury.com

For this, we used a Pillsbury refrigerated pizza dough, however, if you prefer to use a pre-baked crust, skip the first step below and do not pre-bake. When you open the can of black beans, be sure to drain and rinse them, the liquid they are stored in can be salty.
Created By:
Adam and Joanne Gallagher
You Will Need
1 (11 ounce) can refrigerated thin pizza crust (we used Pillsbury)
2 tablespoons olive oil
2 garlic cloves, minced
1 teaspoon dried oregano
1 (15.5 ounce) can black beans, drained and rinsed
3-4 dashes hot sauce
1/4 cup water
2 cups shredded cheddar cheese
2 cups shredded romaine lettuce
8 cherry tomatoes, halved
1/4 cup ranch dressing
salt to taste
Directions
Heat oven to 400°F. Spray or grease 15x10-inch or larger dark or nonstick cookie sheet. Unroll the dough on the cookie sheet; starting at the center, press the dough into a 15x10-inch rectangle. Bake for 5 minutes and remove from oven.
In the meantime, heat a large skillet over medium heat; add garlic and oregano, cook 30 seconds then add black beans and hot sauce. Add water and cook until reduced by half. Use a potato masher or fork to mash the black beans into a chunky paste.
Taste for seasoning, and then add salt or additional hot sauce as necessary. Spread black beans evenly onto the pre-baked dough, top with cheese and bake another 8-10 minutes or until crust is golden brown and the cheese has melted. Slice pizza into 12 squares and top with shredded lettuce, tomatoes and a drizzle of ranch dressing.