Here's a quick and easy dessert or breakfast for two just in time for Valentine's day! It seriously takes less than 15 minutes! We use what we like to call our "fake out" caramel sauce since it technically isn't a caramel sauce, but is pretty darn close and takes a lot less time. I suppose the "Foster" part of this is a play on words, too, considering there aren't any flames involved (not that you couldn't light a candle for fun).
Oh, by the way, if bananas aren't your thing, try strawberries and blueberries, we think that would be delicious!
How to make Quick and Easy Bananas Foster Shortcakes
Bake or heat store bought biscuits or even croissants. Once they are ready, make this easy "fake-out" caramel sauce. You need equal amounts of brown sugar and butter. Heat them over medium heat…
… stir until the sugar melts into the butter.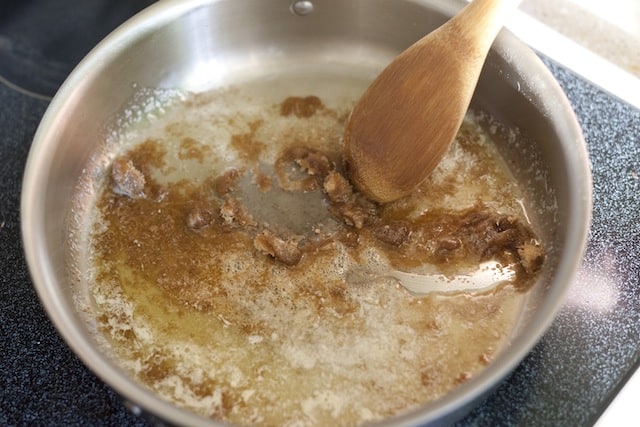 Add 1-2 tablespoons of water to thin the sauce out and help the sugar and butter come together.
Add sliced bananas and heat through. (strawberries or blueberries work, too)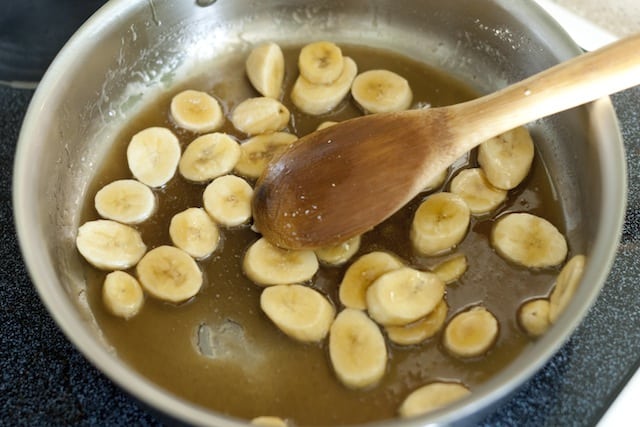 Top your warm biscuits with the bananas and extra sauce, some whipped cream and enjoy!
We created this recipe for Betty Crocker and are so happy we can share it with you!

Bananas Foster Shortcakes
Flaky biscuits topped with bananas foster, an easy dessert for two. If you do not have biscuits (we used frozen Pillsbury buttermilk biscuits) on hand, replace with croissants. Also, the bananas can be substituted for strawberries or blueberries.
Created By:
Adam and Joanne Gallagher
You Will Need
2 frozen or refrigerated buttermilk biscuits
4 tablespoons unsalted butter
1/4 cup brown sugar
2 bananas, peeled and sliced
1 -2 tablespoons water
whipped cream, optional
Directions
Preheat oven and bake biscuits as directed on package.
In the meantime, melt the butter in a large frying pan with a lid over medium heat. Add the brown sugar and whisk until it melts into the butter then add the water and whisk until smooth. Cover and set aside (off the heat) until the biscuits are finished baking.
To serve, add the banana slices to the sauce and cook until the bananas become tender, about 2 minutes. Split warm biscuits horizontally; place on 2 individual serving plates. Place bananas with sauce on bottom halves of biscuits then top with a dollop of whipped cream (if using). Cover with top halves of biscuits and drizzle with extra sauce.