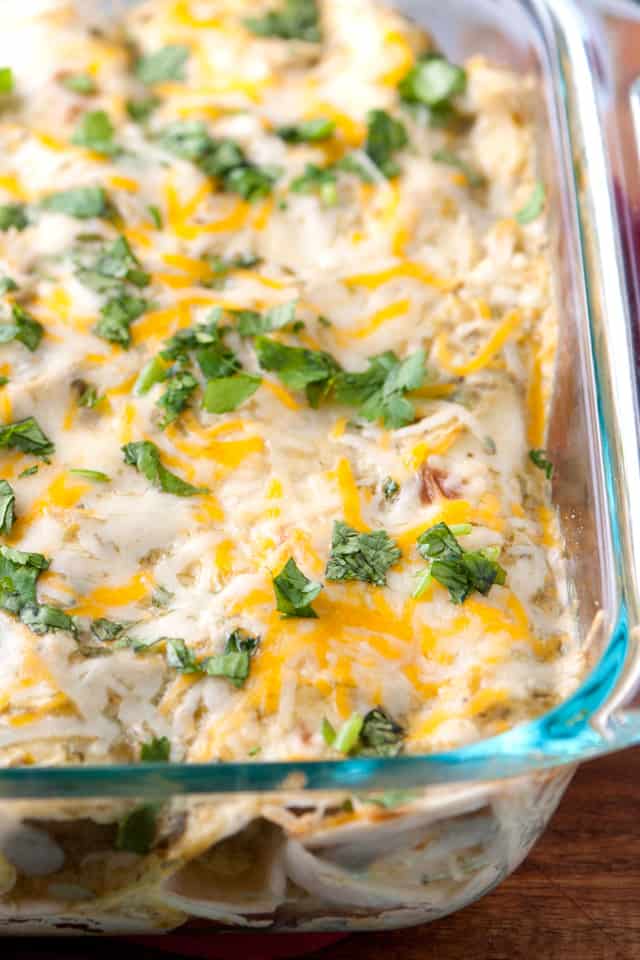 The other day was packed with baking. From cookies to cupcakes, we were inundated with flour and powdered sugar. By the end of the day, we were craving anything that didn't come on a baking sheet or that required frosting. (read: this feeling only lasted until we were ready for dessert, but before it, we were sugared OUT).
What did we turn to? This chicken enchiladas recipe.
It's spicy, savory and cheesy. More than that, though, it's easy. Make this for two or a crowd. You can make your own salsa verde, but we needed savory eats STAT, so we reached for store-bought.
How to Make Our Salsa Verde Chicken Enchiladas Recipe
You're going to need cooked chicken for this. We cooked up a few chicken tenderloins, but you could use rotisserie chicken from the store. If you are starting from scratch, just season the chicken with salt and pepper then cook in a frying pan until cooked through.
Then, use two forks to shred the chicken. You could cube it, but we think shredding helps the chicken soak up more of the sauce.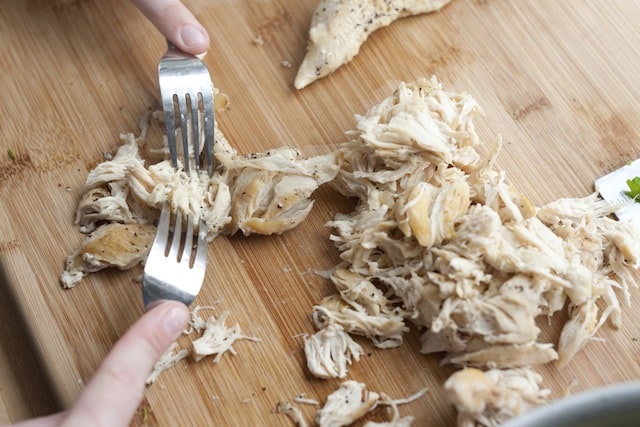 Now, for the sauce.
Salsa Verde Enchilada Sauce
To make the creamy sauce, heat minced garlic over medium heat for 30 seconds or so…
Then, add salsa verde (green salsa). Salsa verde is a combination of tomatillos, peppers and garlic. We used Goya brand, but have also used Ortega and been happy! After the salsa, throw in some sour cream — this makes the sauce creamy and balances the heat from the salsa. Most salsa verde jars will be medium heat.
Reserve 1 cup of the sauce then add the shredded chicken, some cheese and fresh cilantro.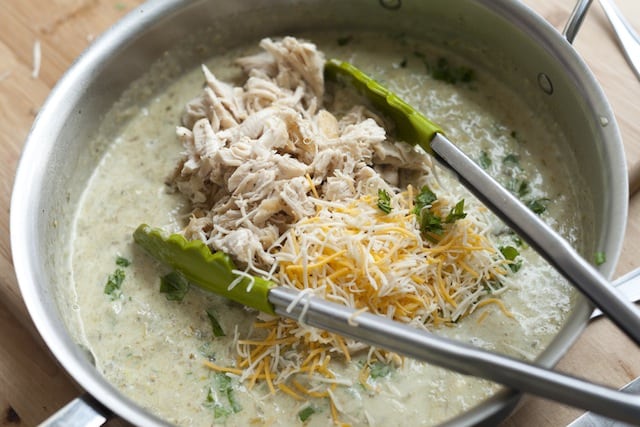 Add a few spoon-fulls to tortillas and roll up. Place the tortillas seam-side down into a baking dish and cover with the reserved sauce and extra cheese.
Bake in the oven until the cheese has melted and the sauce is nice and bubbly. So good.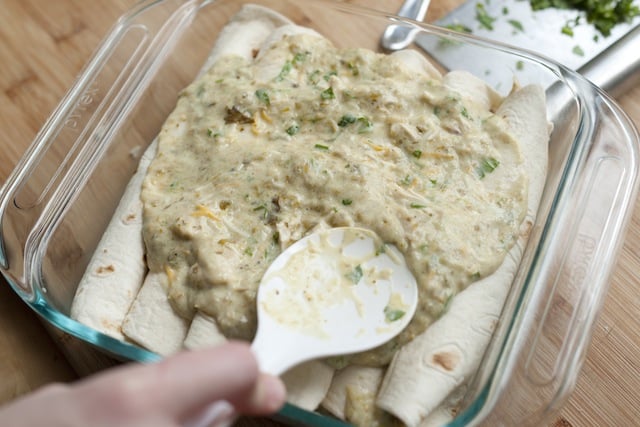 We love this chicken enchilada recipe — it's easy and so delicious. If you liked this, you might also like our recipe for Shredded Beef Tacos or our Homemade Salsa Verde Recipe (tomatillo salsa). We also found the Pioneer Woman's White Chicken Enchiladas Recipe and  Skinny Chicken Enchiladas from Skinny Taste — both look amazing.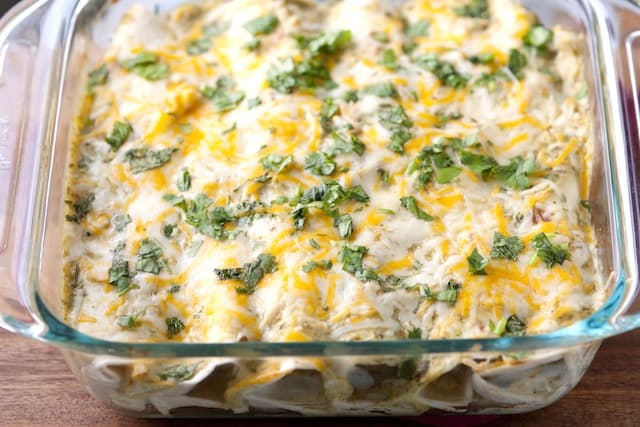 Easy Salsa Verde Chicken Enchiladas Recipe
This recipe uses store-bought salsa verde. You can find this either in the international aisle of the grocery store or with the salsas. We used Goya brand for this. If more than one option exists, choose one that says "medium."

To reduce calories, use nonfat or light sour cream and 2% cheese.
Created By: Adam and Joanne Gallagher
Yield: 2
You Will Need
2 teaspoons olive oil
2 teaspoons minced garlic
2 cups Mexican salsa verde
1/2 cup sour cream
2 cups shredded cooked chicken
1/2 cup shredded cheddar or Monterey jack cheese
1/4 cup chopped fresh cilantro
6 six-inch flour tortillas
Directions
Heat oven to 350 degrees F.
Heat a large skillet over medium heat, add olive oil then cook garlic for 30 seconds. Add salsa verde and heat through. Remove from heat the stir in sour cream, chicken, half of the cheese and half of the cilantro.
Reserve 1 cup of sauce for the top of the enchiladas. Add 2-3 tablespoons of the reserved sauce to the bottom of a 9-inch x 9-inch baking dish.
Add about 3 tablespoons of the chicken to the center of each tortilla and roll, placing seam-side down in the dish. Cover with reserved sauce and cheese. Bake about 20 minutes until heated through and the cheese is melted on top. Top with remaining cilantro and serve.