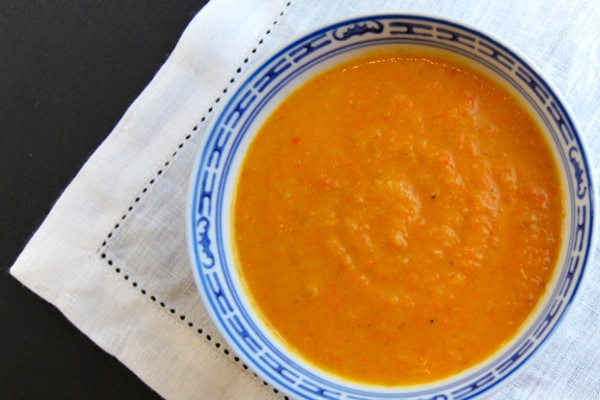 Not sure why, but recently both Adam and I have been in the mood for soup.  Maybe its our reactions to the weather slowly changing from summer to autumn … whatever it is we are happy enough since soup has to be one of our favorite foods!  A go-to soup for us is this Creamy Vegetable Soup, the ingredients are either already in your fridge or will not break the bank at the store.  The soup is thick, comforting and very filling.  It takes about 5 minutes to prep all the vegetables for this one and only another 30 minutes to complete cooking, then all you do is whirl it around you blender add a splash of cream and you are good to go.  Personally, I think this soup works well while tucked under a blanket and watching a favorite show, but I think Adam would have it anywhere at anytime.
You Will Need
2 tablespoons olive oil
1 pound carrots, washed
1 large sweet onion (Vidalia works well)
4 sticks of celery
2 garlic cloves, halved
2-3 medium potatoes (Yukon Gold works well)
4 cups chicken stock
1 bay leaf
2-3 sprigs fresh thyme
1/4 cup cream
salt and pepper
Directions
Cut the carrots, onions and celery into 1/2 inch cubes, then put them into a large soup pot with the olive oil over medium-high heat.  Sprinkle the vegetables with about 1/4 teaspoon salt and 1/8 teaspoon pepper, then cook for 5 minutes.
While the vegetables are cooking peel and cut the potatoes into 1/2 inch cubes.
After the 5 minutes, add the halved garlic to the pot as well as the potatoes, then cook for another 5 minutes.  (Not mincing the garlic allows for a more "mellow" garlic flavor in the soup)
Add the bay leaf, thyme and chicken stock and bring to a boil, reduce the heat and simmer for 20 minutes or until all the vegetables are cooked through.  Remove the soup from the heat.  Take out the bay leaf and thyme stems (the leaves will fall off the stem during cooking).  Pour the soup into a blender and blend until your desired consistency, I personally like this soup pretty smooth.  Pour the blended soup back into the soup pot, add the cream season to taste and heat through, but do not boil.