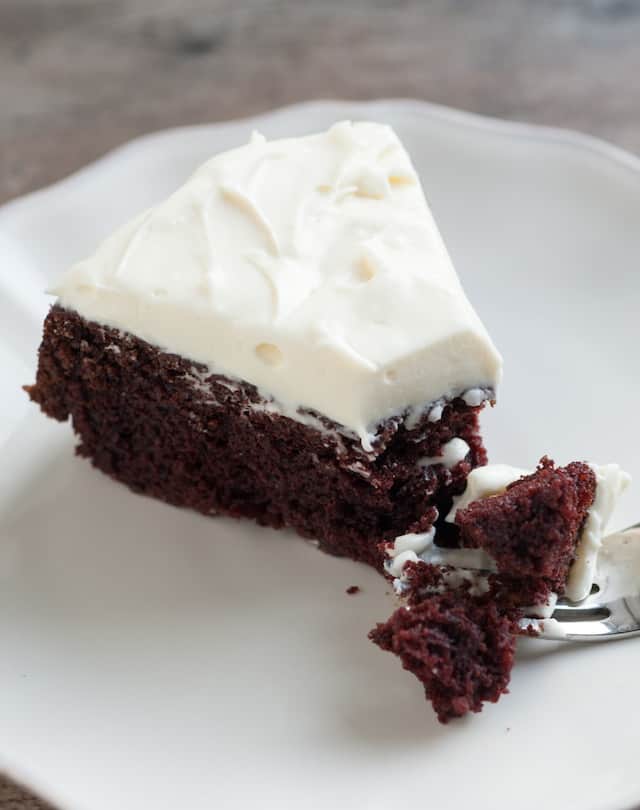 No fuss. That's the first rule when baking in our home…there are a couple reasons for that:
1. Dishes, we hate them — the less dishes to clean, the happier we are.
2. We want to eat it now. We are not patient and when a 9-inch cake is sitting on our counter, we get all weak in the knees and cannot stand to wait! Could you?
This cake is rich, crazy moist and has the most tender crumb. The frosting is so easy, too. You'll want a big slice of this one, promise.
Our Favorite Moist and Easy Guinness Chocolate Cake
First, we combine melted butter and stout. (This recipe uses about 1/2 of the bottle, so grab a chilled glass and enjoy the rest while the butter melts).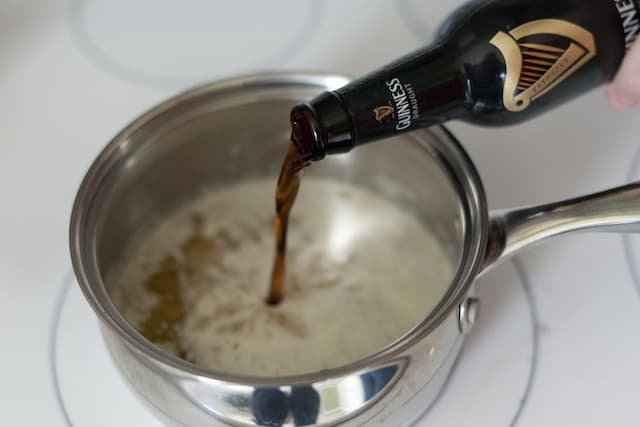 We whisk in some rich cocoa powder — then we pour into the dry ingredients and mix.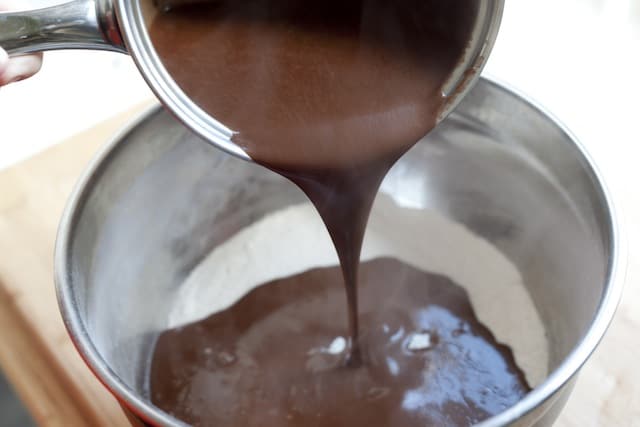 In goes some eggs and sour cream — making it moist as ever — and you're done.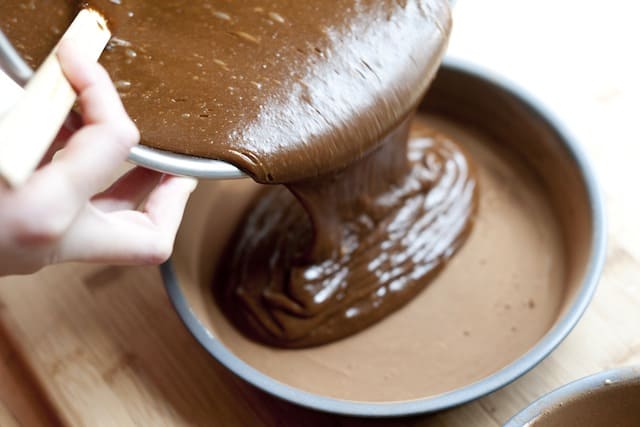 How to Make Fluffy White and Creamy Frosting
This is such an easy cream cheese frosting (and is actually our favorite because it's so fluffy and light). Just beat cream cheese and powdered sugar together. Then, to make the frosting extra creamy, add cream — it's so delicious.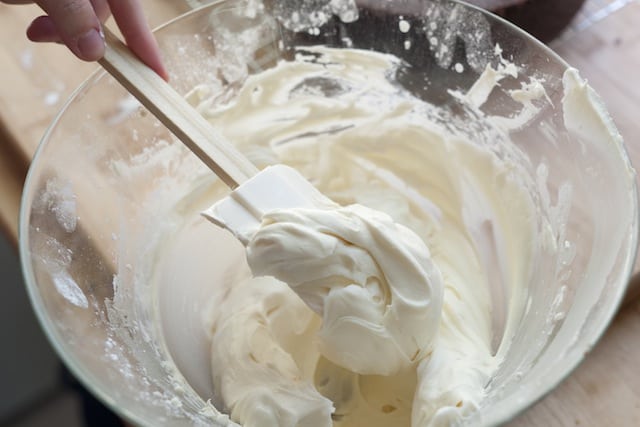 You just can't lose with this one— it really is one of our favorite recipes. Easy, fast and so delicious.
If you Liked Our Guinness Chocolate Cake, You May Also Like
Guinness Chocolate Cake Recipe with Creamy White Frosting
About half a bottle of beer is added to an already moist and rich cake. The cake is deep, dark and chocolately with just a hint of stout.

Since the cake is quite rich, we love topping with a simple no-fuss cream cheese frosting.
Created By:
Adam and Joanne Gallagher
You Will Need
For the Cake
3/4 cup (about half of a 11.2 ounce bottle) Guinness Stout beer
3/4 cup (1 1/2 sticks) unsalted butter plus more for pans
1/2 cup unsweetened cocoa powder plus more for pans
1 1/2 cups all purpose flour
1 1/2 cups sugar
1 1/2 teaspoons baking soda
1/2 teaspoon salt
2 large eggs
1/2 cup sour cream
1/2 teaspoon vanilla extract
For the Frosting
8 ounces (1 package) cream cheese, room temperature
1 teaspoon vanilla extract
1 1/4 cups powdered sugar
1/2 cup whipping or heavy cream
Directions
Cake
Heat oven to 350 degrees F. Butter then dust the bottom and sides of a 9-inch round cake pan.
Melt butter in a medium saucepan over medium heat then add beer and warm through. Remove from heat, and then whisk in cocoa powder until completely smooth. Cool 1 minute.
In the meantime, add flour, sugar, baking soda and salt to a large mixing bowl then use a clean whisk to combine. Make sure you whisk for 20 seconds or so, you want to make sure everything is combined. In another small bowl, whisk together the eggs, sour cream and vanilla until well blended.
Pour cocoa and stout mixture into the dry ingredients then use a spatula or large spoon to gently stir together. You do not need to beat, just stir until incorporated. Now, add the egg and sour cream mixture and continue to stir until incorporated.
Evenly fill prepared cake pan then bake in the oven about 40 minutes until a tooth pick can be inserted and come out clean and when you tap the top of the cake, it bounces back. Transfer cake, in pan, to a cooling rack and cool 10 minutes then turn cake out of the pan onto the rack and cool completely.
Frosting
Add cream cheese and vanilla extract to a large bowl then use a hand mixer on medium speed until smooth. Add powdered sugar a 1/4 cup at a time, mixing after each addition.
Add cream and beat until frosting is light and creamy. Frost top of cake.
Notes and Tips
Recipe adapted and inspired from two fantastic Stout cakes, one from Nigella Lawson's book, Feast and the other printed in Bon Appétit Magazine, September 2002.