That title pretty much says it all, doesn't it? I mean, really.
After making that Guinness Chocolate Cake and Guinness and Beef Stew, we had a few bottles left over, so we decided to throw another Guinness recipe your way.
You don't mind, do you?
We didn't think so.
How to Make Our Sausage, Cheddar and Guinness Pie Recipe
Start the recipe off right, and brown sausages on all sides. They don't need to be cooked all the way through, only browned. We used Johnsonville brats, but use whatever sausage you like!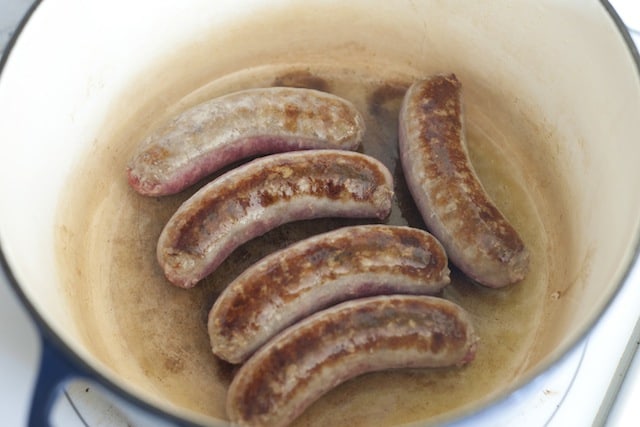 Transfer the sausages to a plate for a little bit, and then cook some onions and carrots. Cut the carrots and onion coarsely and make them big. Cook the onions and carrots down for a couple minutes then add some garlic — about 3 cloves.
After adding a little butter, flour, beef stock and the beer– it looks like this.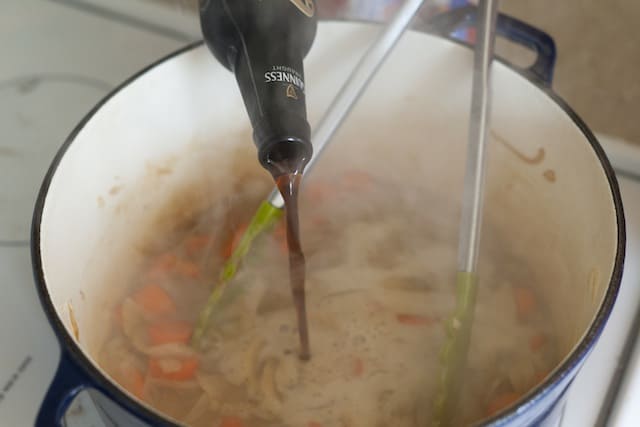 Then, we slice the sausages and add lots of cheddar cheese.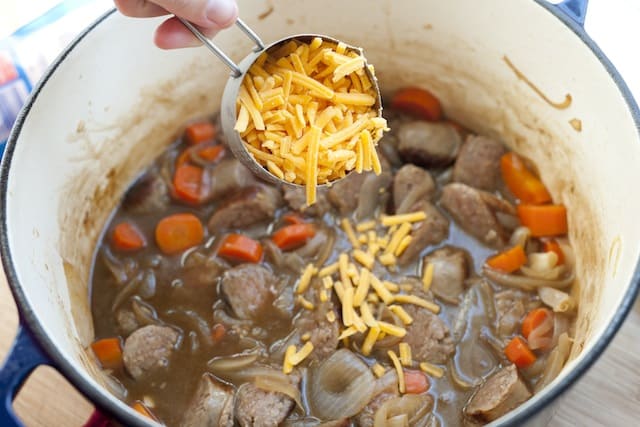 Then, eat as is or add everything to a baking dish, cover with pastry and bake until golden brown.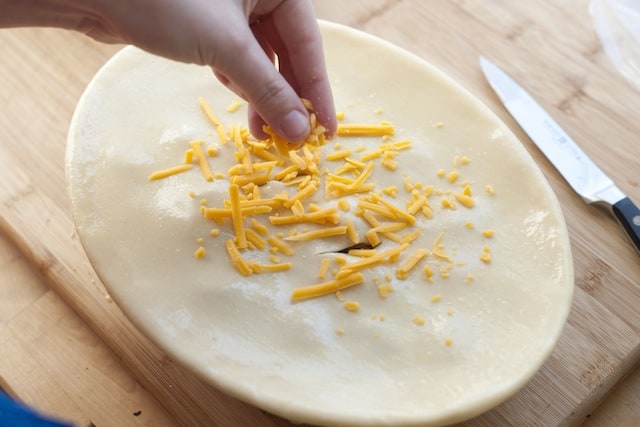 Pretty awesome, right?
We just love this one — in fact, we've also made this without the pastry and instead served over mashed potatoes.
You May Also Like
Sausage, Cheddar and Guinness Pie Recipe
This Guinness pie recipe with sausages and cheddar is simple to make and if you preferred, skip adding the pastry and serve over mashed potatoes, instead.
Created By:
Joanne and Adam Gallagher
You Will Need
1 tablespoon olive oil
6 bratwurst sausages (we used Johnsonville)
1 onion, sliced into 1/4-inch half moons
3 carrots, cut into 1/4-inch rounds
3 cloves garlic, minced
1 tablespoon butter
1 heaping tablespoon flour
1 cup beef stock
1 cup Guinness Stout beer (about 3/4 bottle)
1 1/4 cup shredded cheddar cheese, divided
1 egg + 1 tablespoon water, whisked together (egg wash)
1 9-inch pie crust (we used store-bought)
salt and pepper
Directions
Heat oven to 375 degrees F.
Heat oil in a large deep pot over medium heat (we used a Dutch oven). Add sausages and brown on all sides. Transfer sausages to a plate, and then add onions and carrots. Cook about 3 minutes, stirring occasionally, until onions begin to soften.
Add butter and flour then cook, stirring constantly for one minute until the flour has been absorbed. Add stock and beer then stir. Bring to a simmer, and then add sausages back into the pot, simmer for 8 minutes.
Remove sausages and slice into 1/2-inch rounds then add back to the pot. Add 1 cup of cheese and stir into gravy. Taste for seasoning then adjust with salt and/or pepper.
Pour everything into a medium 2-3 quart baking dish. Brush the top and sides of baking dish with egg wash.
Unroll pie crust and use a rolling pin to shape it so that it will cover the top of the baking dish. Top baking dish with crust. Brush the top of the crust with additional egg wash and sprinkle with the remaining 1/4 cup of cheese. Bake in the oven about 30 minutes until the crust is golden brown on top and flaky.