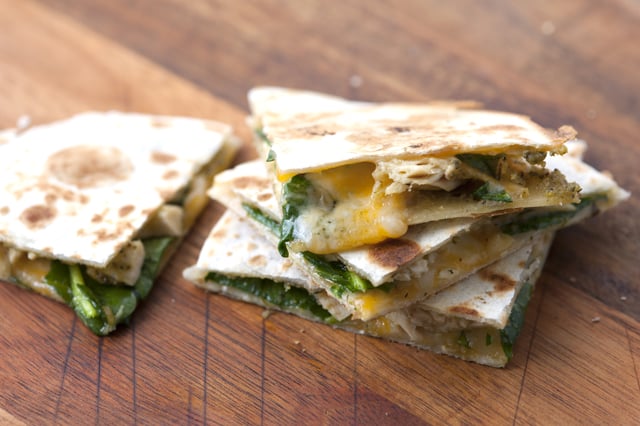 You've gotta try these … they started as an "umm…I'm hungry, let me look in the fridge and see what we can pull together…" kinda thing but ended up as one of our absolute favs for  lunch, dinner or more than that, what we whip up for friends when they drop by. We love them, they love them … win, win!
Pesto and Quesadillas, Really?
Sounds a little strange, right? But, trust us … it totally works! Pesto is flavor-overload. Basil, garlic, parmesan cheese … it's all there. Bonus – you can buy pesto at the store. Add that to flour tortillas and more cheese and you're golden.
Then, pack in the flavor with shredded chicken and fresh tender spinach leaves.
We saved some time with rotisserie chicken from the store, but you could make your own. See our Simply Roasted Chicken for some inspiration.
Looks easy, right? We also shared this with Today's Dish over at Betty Crocker.

Try these easy quesadillas with a spin of basil pesto!
Created By:
Adam and Joanne Gallagher
You Will Need
8 6-inch flour tortillas
4 tablespoons basil pesto
1 cup shredded cooked chicken
1 cup packed fresh spinach leaves
1/2 cup shredded cheddar cheese
Directions
Heat a heavy-bottomed skillet over medium heat. (We use a cast iron pan).
To assemble one quesadilla, spread 1 tablespoon of pesto on 1 tortilla and top with chicken, spinach and cheese. Top with another tortilla. Repeat with remaining tortillas.
Add one quesadilla to the pan and cook 1-2 minutes on both sides until heated through and cheese has melted. Repeat with remaining quesadillas. Cut into four and serve immediately.