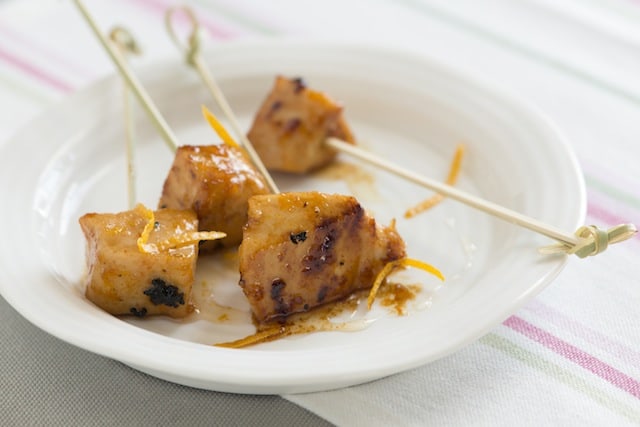 These little honey baked chicken bites combine three of our favorite things – honey, chicken and orange. The trio goes SO well together. Not only that, but I bet you have at least two of those things in your kitchen right now. This is so easy and perfect for kids, parties or a quick dinner. Maybe you could serve these with some Cheddar Roasted Broccoli or with our light, but so tasty Lemon and Herb Couscous Salad? Both would be awesome, but us? — we just munched on the chicken by itself — they disappeared before we could even grab plates!
We went party, so we stuck a skewer into each piece of chicken to turn them into finger food. Yum.
Like, I said earlier — it's all about chicken (we used chicken breast), the honey ….
… and the orange. We throw a ton of orange peel in to the honey — when the chicken bakes the kitchen immediately smells like oranges, we just love that!
You could stop there, but Adam walked in and requested a little heat — so, we added a few dashes of hot sauce, too. A seriously genius addition, I might add! If you're serving to kids, you might want to hold back here, otherwise — go for it!
Bake until golden brown – so easy!

Sweet Honey Baked Chicken Bites
Serve this alone as an appetizer or alongside mashed potatoes or veggies for dinner. If serving as an appetizer, try skewering each chicken piece with a toothpick just before serving to turn them into finger food!
Created By:
Adam and Joanne Gallagher
You Will Need
2 chicken breasts
2 tablespoons butter, melted
2 tablespoons honey
2-6 dashes hot sauce
1 tablespoon grated orange peel
1/2 teaspoon salt
1/4 teaspoon pepper
Directions
Heat oven to 350F. Line a baking sheet with aluminum foil or parchment paper.
Stir together butter, honey, hot sauce, orange peel, salt and pepper in a medium bowl.
Cut chicken breasts into 1-inch chunks.
Add chicken to sauce then toss to coat. Then, arrange chicken on baking sheet in one layer. Bake 15-20 minutes until the internal temperature of the chicken reaches 165 degrees F.
To create a beautiful golden brown crust, heat oven to broil then broil chicken 1-2 minutes until golden brown.