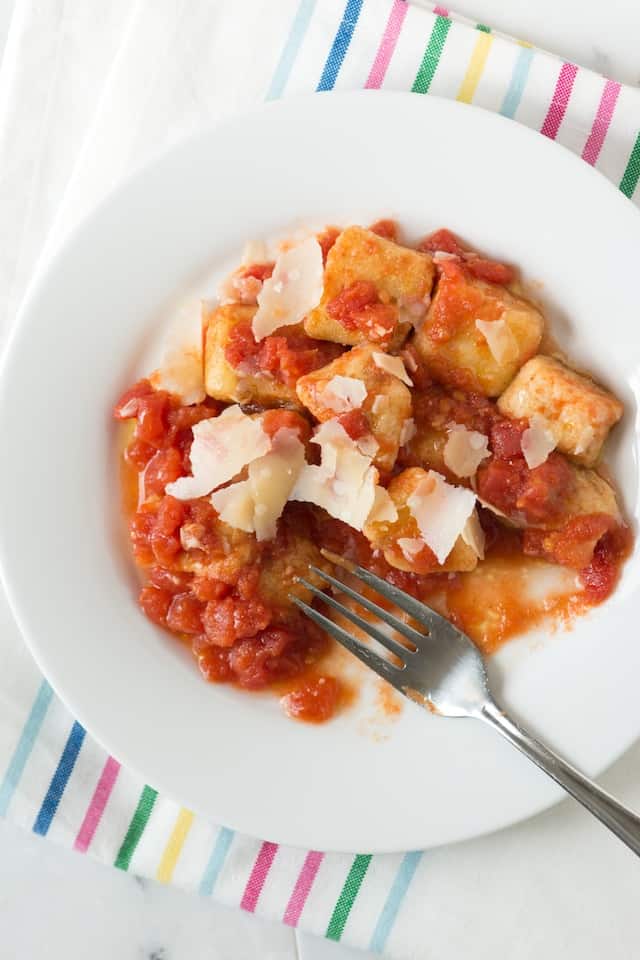 You would not believe how excited we are to share this ricotta gnocchi recipe with you! We've talked about it for months, tried it more times than we can remember (this is seriously a huge go-to recipe for us) and it has been sitting at the top of our Drafts folder, ready to post for weeks! We've tried to get it posted, live and in front of you more times than we can say, but for some reason or another, we've held it back.
I think we just wanted to make sure we gave it the attention it deserves – like I said, this one is close to our hearts.
Why You Need to Try Your Hand at Our Ricotta Gnocchi Recipe:
It's easy. We promise. The dough literally takes less than 15 minutes to make.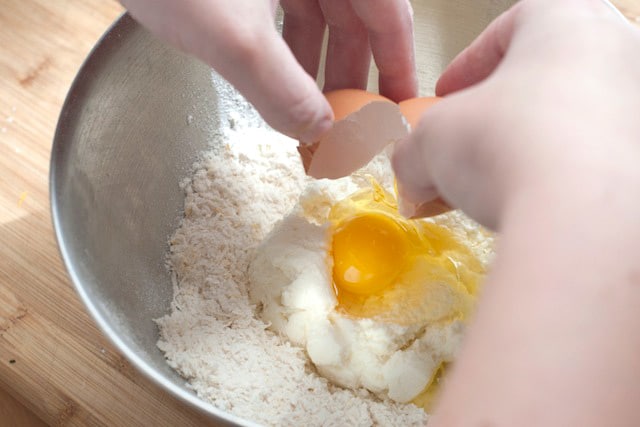 In a large bowl, we combine lemon zest, parmesan cheese, an egg and ricotta cheese with flour — The dough comes together within 20 to 30 strokes of a spoon. Then we turn it out onto a work bench, divide the dough into four then roll into long ropes.
The ropes are cut into bite-size pieces and thrown onto a baking sheet with flour.
It's at this point when you can either boil or freeze the gnocchi for later– That means the twenty minutes you spend for dough making and flour clean-up means fresh gnocchi later. Think of the love you would receive if you pulled this out on a Wednesday night! All you need is a pot of boiling, salted water and you're home free.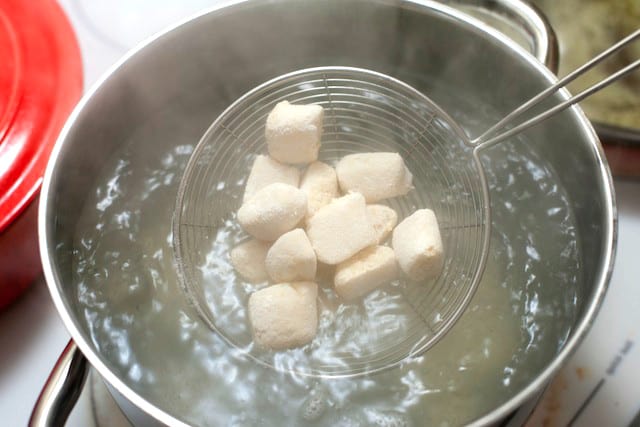 Make Ahead – Make Ricotta Gnocchi Now, Freeze It and Enjoy Later
The beauty of this recipe is that it really only takes 15 to 20 minutes hands-on time. After that, you can cook it (which takes only minutes) or save it for another day.
To freeze, throw onto a baking sheet with a little flour. (The flour helps to prevent the gnocchi from sticking to each other). Slide the baking sheet into your freezer and wait until they are hard – about 1 hour. Then, throw into freezer bags or an air-tight container.
When you're ready to cook, just cook in boiling water until they begin to float. Easy!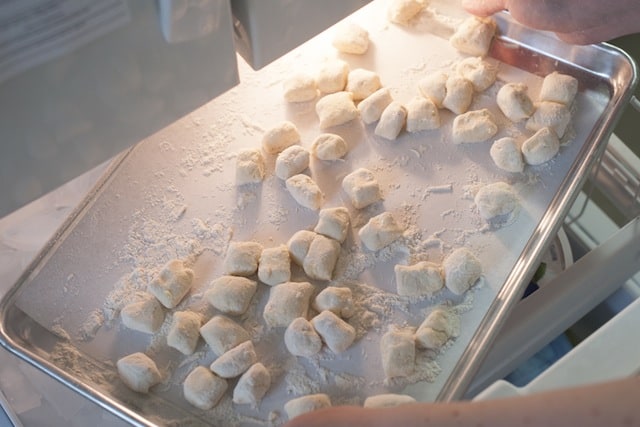 Adding a Buttery Crust to Ricotta Gnocchi
Gnocchi is delicious tossed in a little olive oil and parmesan cheese.
You could also add a buttery crisp crust.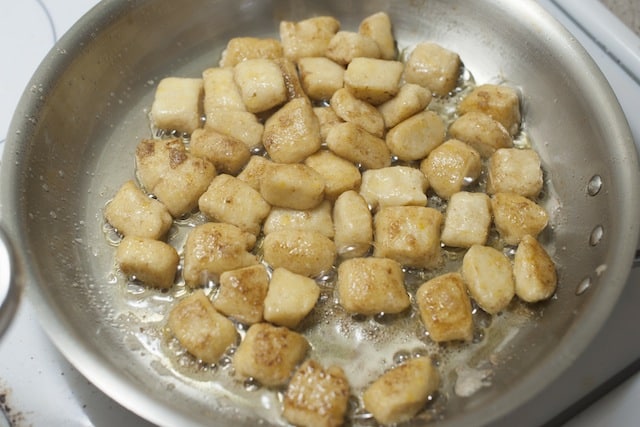 To do this, melt some butter in a pan with one smashed clove of garlic. Once the gnocchi float to the top of your pot of boiling water, throw them into the butter and cook until browned on all sides.
You can even add fresh herbs to the butter, too – sage or rosemary would be lovely.
Or, add a can of sweet San Marzano tomatoes, season with a little salt and pepper then serve like we did.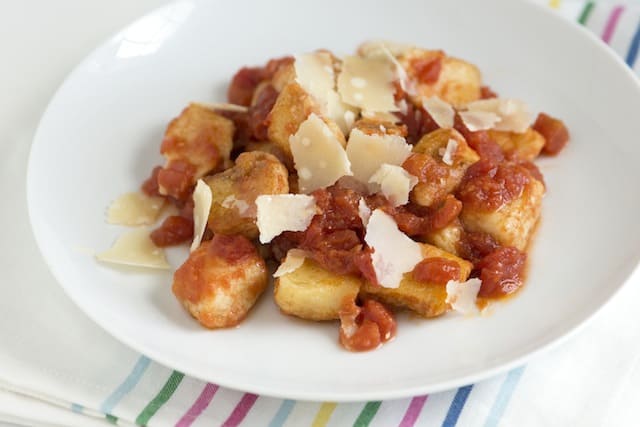 We love how the tomatoes are light enough, they don't weigh anything down. Yum!
Did you enjoy this Ricotta Gnocchi Recipe? If so, you may also enjoy these:
Simple Ricotta Gnocchi Recipe
Making restaurant-quality ricotta gnocchi is easy to do at home. You can make the dough in under twenty minutes then cook or freeze for later. Directions for making the dough, cooking gnocchi and freezing are all shown below.
Created By:
Adam and Joanne Gallagher
You Will Need
3/4 cup (95 grams) all-purpose flour, plus more for your work bench
1/2 cup (28 grams) packed finely grated Parmesan cheese (about 1 ounce)
Zest of 1 lemon
1 cup (250 grams) whole milk ricotta cheese
1 large egg
Simple Butter and Tomato Sauce
2 tablespoons butter
1 medium crushed garlic clove
1 (14 ounce) can San Marzano tomatoes
Extra parmesan cheese for serving
Directions
Line a baking sheet with parchment paper or aluminum foil. Add about 3 tablespoons of flour then set aside.
In a large bowl, use your fingers or a whisk to mix lemon zest with 3/4 cup (95 grams) flour and the Parmesan cheese. (The lemon zest can clump, make sure you break it up so that it's evenly mixed in). It is important to not add wet ingredients until the dry ingredients are well mixed.
Now, make a well in the center of the flour mixture and add the ricotta cheese and egg. Using a wooden spoon (or your fingers), stir until the dough comes together. The dough should come together within 20 to 30 strokes of your spoon. (Be careful not to overwork the dough. If you do, the dough could become tough and heavy).
Transfer the dough onto a well-floured work bench then using your hands bring it together and shape into a square. (If the dough is tacky, add a little more flour). Cut the dough into 4 even pieces.
Now, gently roll each piece into 12-inch long ropes ( and about 3/4-inch thick). While rolling, add a little extra flour as needed to prevent the rope from sticking to your hands or the work bench.
Use a bench scraper or knife to cut ropes into 3/4-inch wide pieces. Transfer gnocchi to baking sheet with flour and shimmy or shake the sheet so that the flour lightly coats each piece.
(If freezing, place baking sheet with gnocchi into freezer and freeze about 2 hours until gnocchi are hardened. Then, transfer frozen gnocchi to plastic container or resealable bag. When you are ready to cook gnocchi, remove from freezer and continue with the directions below).
To cook (refrigerated or frozen) gnocchi, bring a large pot of salted water to a boil. Add gnocchi and cook 2 to 3 minutes or until gnocchi begin to float.
If making our Butter and Tomato Sauce - While the gnocchi cook in the water, melt butter in a large frying pan over medium heat. Add garlic clove and cook 2-3 minutes until lightly browned. Remove and discard garlic clove.
Remove gnocchi from the water using a slotted spoon then add to the butter and allow to brown, 2 to 3 minutes. Then, add can of tomatoes and heat through, about 1 minute. Serve with Parmesan cheese shavings on top.
Notes and Tips
Recipe Adapted and Inspired by Michael Symon