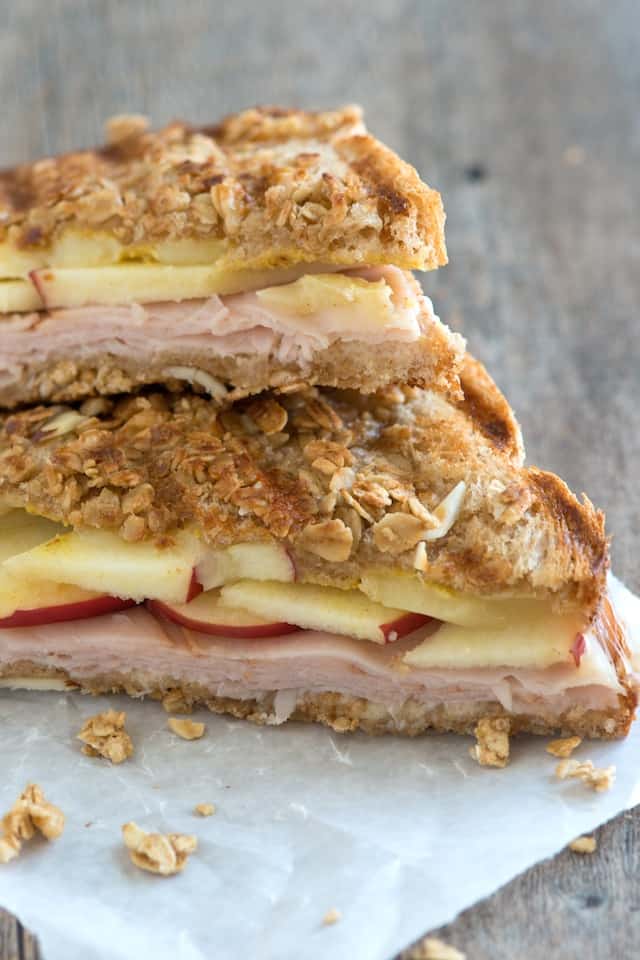 We're big sandwich lovers — point us in the direction of a fantastic sandwich shop and we'll run there. It's the combo of amazing flavor and fun twists all in a completely non-pretentious package. It's just a sandwich, right?
This granola panini recipe is easy, fun and makes you want a second. Its got lots of smoked turkey, sharp cheddar cheese, sweet apples and spicy mustard. More than that, though, it's got a wonderful sweet crunch from granola. So simple and so perfect! Lunch, snack, dinner … whatever. We know you'll love it!
Making Our Crunchy Granola Crusted Panini Recipe
We use a panini press, but you could certainly use the stove top for this. All we do is line up slices of smoked turkey, sharp cheddar cheese and apples on mustard and mayo slathered bread. We actually really love using a whole grain/whole wheat bread for this. It's a little heartier and really works with the granola.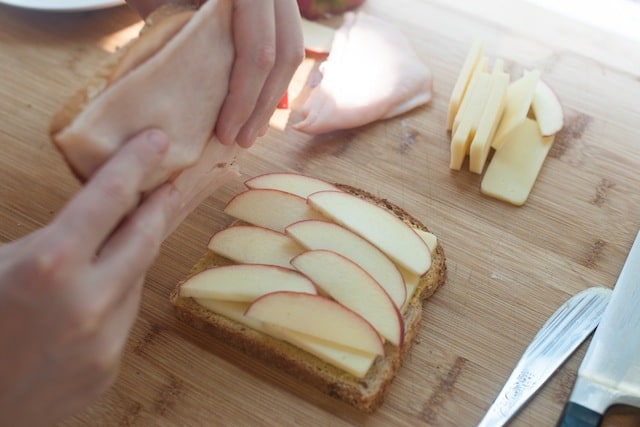 Then, we butter the outer sides of the bread and press a bunch of granola into the butter. Onto the panini press it goes and in minutes you have one seriously amazing sandwich!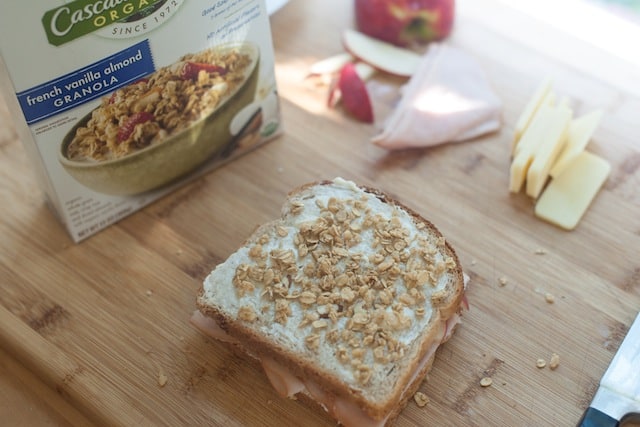 Melted cheese, warm turkey, a sweet crunch from apples and crunchy buttery granola!  Yum!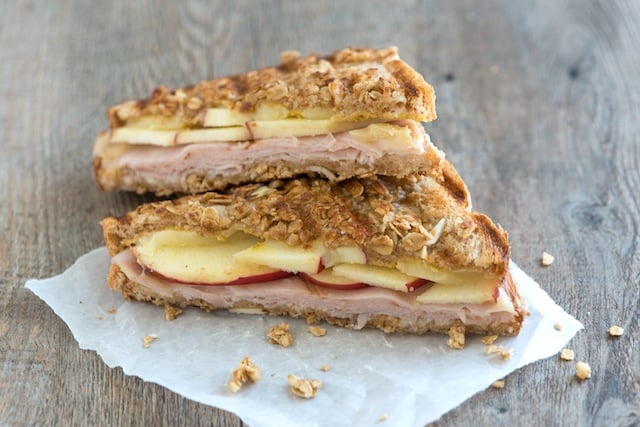 Did you like our Granola Panini Recipe? If so, you might also enjoy these:
Granola Crusted Apple, Turkey and Cheddar Panini Recipe
This easy panini recipe has melted cheese, warm turkey, a sweet crunch from apples and crunchy buttery granola! If you do not have a panini press, use the stove top - heat a skillet to medium heat then cook panini until golden brown on both sides and cheese has melted.
Created By:
Adam and Joanne Gallagher
You Will Need
4 slices multigrain bread
1 tablespoon mayonnaise
2 teaspoons brown mustard
8 slices deli-style turkey
4 ounces sharp cheddar cheese, sliced
1/2 of one apple, sliced
1 tablespoon butter
4 tablespoons granola (click to see our homemade granola recipe)
Directions
Heat panini grill 3 to 5 minutes.
Spread two bread slices with mayonnaise, and then spread two more bread slices with mustard.
Place half of the turkey, cheese and apples onto bread slices with mayonnaise. Cover with bread slices spread with mustard.
Spread top and bottom of sandwich with butter then press about 1 tablespoon of the granola onto the butter.
When grill is heated, place sandwiches on grill. Close grill; grill 3 to 5 minutes or until bread is golden brown and cheese is melted.
Notes and Tips
Substitute turkey with ham, roast beef or make it meat-free and use roasted red peppers. Try using pears or peaches instead of apples.