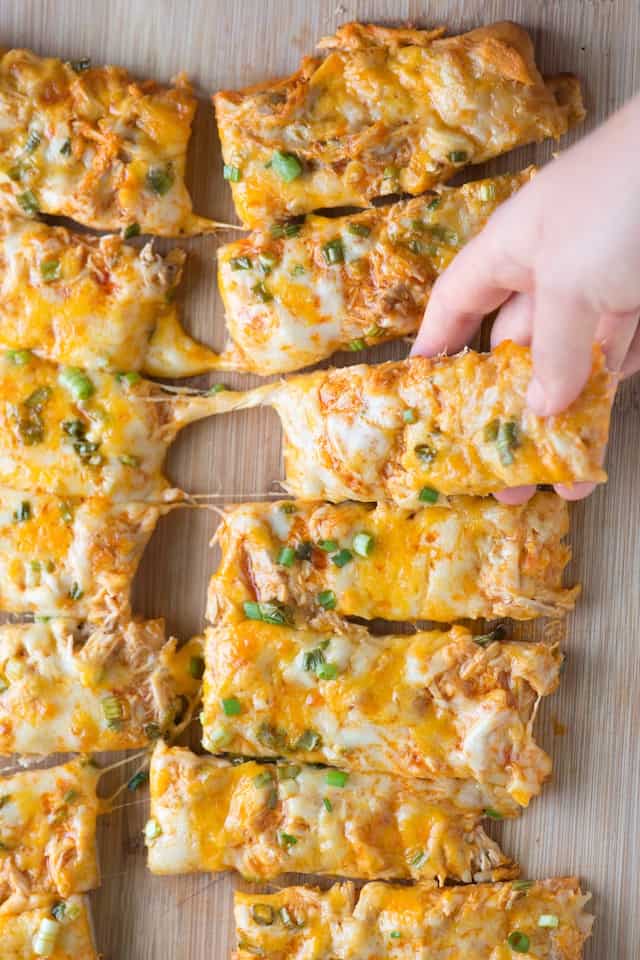 – Sponsored Post –
We're buffalo chicken fanatics. This could be the reason why we feel piling lots of shredded chicken tossed in a spicy buffalo wing sauce and cheese onto pizza is perfectly normal. It is, right?
Making Crazy Good Buffalo Chicken Pizza Sticks
This one is so incredibly easy to make. Shredded cooked chicken is tossed in a whole cup of store-bought buffalo wing sauce. Buffalo wing sauce is sold next to the hot sauces and are a little creamier than regular hot sauce. You could make your own, too. Just follow our sauce recipe, which we toss chicken in for our Easy Baked Chicken Hot Wings Recipe.
Then, we throw it all on top of partially cooked pizza dough and top with cheese.
Bake until bubbly and you're done and ready to serve.
The pizza dough we used is actually from Pillsbury. We're sure you've noticed their products in your grocery store – we used their Classic Pizza Crust for this. Pillsbury did pay us to develop this recipe using their pizza crust.
If you can't find Pillsbury's pizza crust, feel free to use any dough, store-bought pizza or homemade.
Pizza + Chicken + Buffalo Wing Sauce + Cheese = Perfect Party Appetizer
We love cutting the pizza into sticks. This way, eating is way more fun. Wouldn't this make a perfect appetizer for parties, maybe even a football party?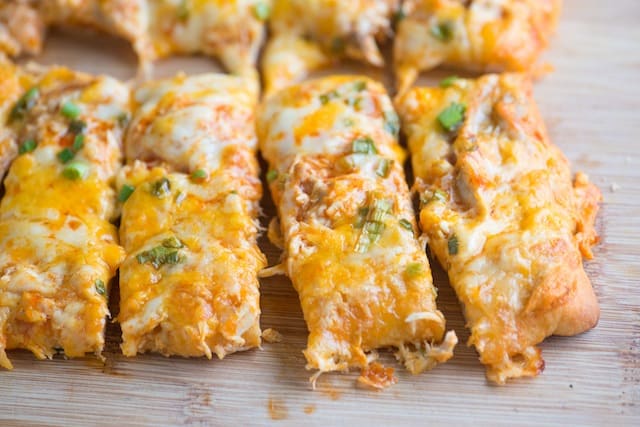 Did you like our Cheesy Buffalo Chicken Pizza Sticks? If so, we bet you'll get a kick out of these:
Buffalo Chicken Pizza Sticks
Why we love this recipe. These pizza sticks are absolutely perfect for parties or a fun dinner. It's fast, too. Plus, store-bought buffalo wing sauce makes things extra easy.

What you need to know. You can find buffalo wing sauce sold next to hot sauces - it looks a little creamier than regular hot sauce. If you are not a fan, you could always substitute your favorite barbecue sauce for the buffalo sauce.

Equipment you'll need. You will need a baking sheet, small saucepan and a spoon.
Created By:
Joanne and Adam Gallagher
You Will Need
1 (13.8 oz) roll Pillsbury Classic Pizza Crust (Substitute 12 ounces of refrigerated pizza dough)
3/4 cup (237 ml) buffalo wing sauce (look for "wing sauce" not "hot sauce")
2 cups (210 grams) shredded cooked chicken
1 cup (60 grams) grated cheddar cheese
1 cup (60 grams) grated mozzarella cheese
2 green onions, thinly sliced
Directions
Heat Oven and Prepare Baking Sheet
Heat oven to 400 degrees F (200 degrees C). Then, spray a baking sheet (with sides) with cooking spray.
Pre-Bake Pizza Crust
Form pizza dough into a 15-inch by 10-inch rectangle (this doesn't have to be exact, just close). Place dough onto baking sheet then bake for 8 minutes.
Prepare Buffalo Chicken
While the pizza crust bakes, add buffalo wing sauce and shredded chicken to a medium saucepan over medium heat. Cook, stirring occasionally, 3 to 5 minutes or until thoroughly heated.
Top and Bake Pre-Baked Pizza
Evenly spread the buffalo chicken over the baked pizza crust then scatter the cheddar cheese, mozzarella cheese and half of the sliced green onions on top.
Bake pizza 6 to 10 minutes until cheese has melted and starts to bubble. Scatter remaining sliced green onions on top. Then, serve