These cute and easy appetizer cups are filled with hummus, cucumber, and tomato. Perfect for easy entertaining!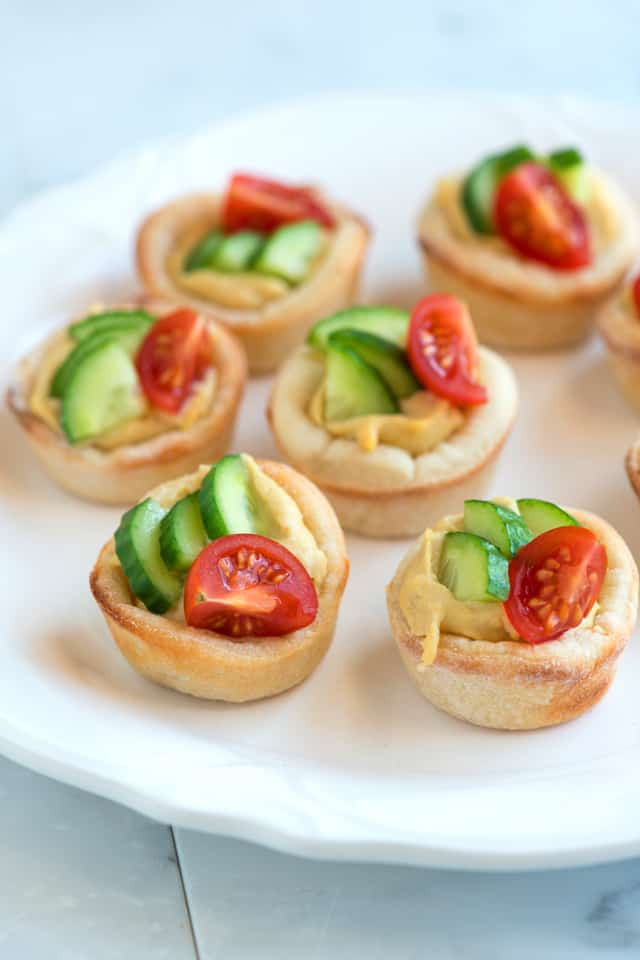 This recipe is sponsored by Pillsbury.
We are huge fans of hummus. We snack on it during the day and entertain with it at night. We've even come up with our own simple hummus recipe, since we love it so much. These cute easy appetizer cups filled with hummus, cucumber and a little tomato are perfect. We promise they'll be gone in minutes.
The cups are made from pizza dough.  This time, we used pizza dough from Pillsbury. We're sure you've noticed their products in your grocery store – we used their Classic Pizza Crust for this. Pillsbury paid us to develop a bunch of recipes using their pizza crusts, so we thought we'd share with you.
If you can't find Pillsbury's pizza crust, feel free to use any dough, store-bought or homemade.
Hummus Cups – A Cute and Easy Appetizer
To make the pizza cups, we roll pizza dough until thin then use a round cookie cutter to make small rounds of dough. Then, we press them into mini muffin cups and bake until golden brown. Let them cool then fill with hummus and veggies!
Did you like our Easy Appetizer Recipe? If so, we bet you'll love these:
Easy Hummus Cups With Cucumber and Tomato
These are such an easy appetizer. Our hummus cups can be made 1 hour in advance. Just make sure they are covered with plastic wrap to prevent the tomatoes, cucumber and hummus from drying out. Also, store in the refrigerator.
Created By:
Joanne and Adam Gallagher
You Will Need
1 ( 13.8 oz) roll Pillsbury Classic Pizza Crust (Substitute 12 ounces of refrigerated pizza dough)
1/2 cup (120 grams) hummus
1/2 cup diced cucumber
5 cherry tomatoes, quartered
1/8 teaspoon salt
Directions
Heat oven to 400 degrees F (200 degrees C). Then, lightly spray 20 mini muffin cups with cooking spray.
Form pizza dough into a 14-inch by 12-inch rectangle (this doesn't have to be exact, just close).
Then, use a 2 1/2-inch round cookie cutter to cut out 20 circles of dough. Press each circle of dough into the muffin cups. Now, use a fork to pierce the bottom of each pizza cup. Three to four pricks with a fork should do it. (This will help prevent the bottoms of the pizza cups from rising).
Bake pizza cups 8 to 10 minutes or until edges are light golden brown. Transfer cups to a cooling rack then cool completely.
Once cooled, fill each pizza cup with a heaping teaspoon of hummus, and then top with a few pieces of cucumber and a tomato quarter.
Finish with a light sprinkle of salt.