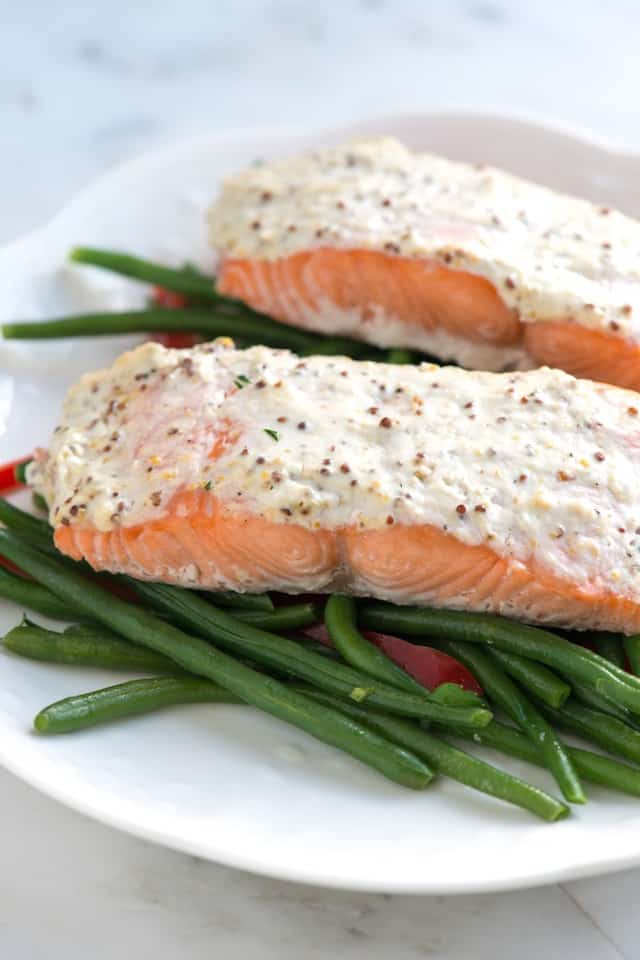 Moist and tender baked salmon in less than 30 minutes. This one is so simple and really delicious. We spread a mixture of sour cream, whole ground mustard and parmesan cheese on top of salmon. Then, we slide them into the oven for about 15 minutes. Easy and the sour cream crust is so good against mild, flaky salmon.
A Baked Salmon Recipe For the Weekday or Special Occasions
It's true. Since this recipe takes less than 30 minutes, it is completely possible to make on a Wednesday night. It's also perfect for special occasions. You could serve with a light salad, mashed potatoes, our mashed cauliflower or your favorite side.
Savvy Salmon Tricks – How Not to Overcook Baked Salmon
We've done it plenty of times in the past. It's a complete let down, but don't worry we've got a couple tricks to help us all out.
Here's the first trick. You only want to cook salmon until it's barely done in the center – you can tell when it's ready by using a knife and peeking into the middle of the salmon. If it's firm, but still has a small amount of uncooked salmon in the center take it out of the oven then loosely cover with aluminum foil. Then, let it rest for 10 minutes. During this time, the center will cook just enough to be perfect.
Another trick is to use a thermometer. We take our salmon out when the center reaches 125 degrees F (51 degrees C). Then, remove, cover with foil and rest.
Finally, (and, yes we realize that this one is coming from a recipe website) – Don't trust the recipe cooking time.
Let us explain. Ovens vary, it stinks, but it's true. So, while our filets of salmon might take 10 minutes to bake, yours may take longer.
So, be mindful of how your salmon is cooking. It's completely fine to check the salmon a little earlier than the recipe states. In fact, you'll usually find us checking twice. To check, remove the salmon from the oven, close the oven door (to keep the heat in) then check the fish the same way we mentioned above. If it needs more time, slide it back into the oven. If not, pat yourself on the back, you just prevented overcooked salmon.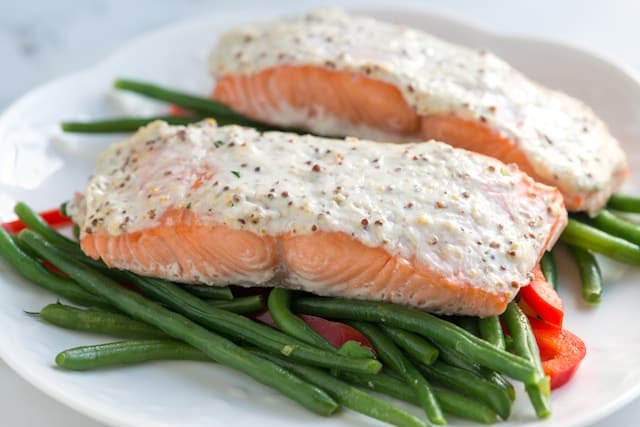 Did you like our Sour Cream Baked Salmon Recipe? If so, we bet you'll love these:
Sour Cream Baked Salmon Recipe
This simple baked salmon recipe is perfect for a weekday, but could also fill in for a special occasion. The fish is lightly coated with a mixture of sour cream, mustard and parmesan cheese. It's brightly flavored and quite delicious. When baking the fish, be careful not to overcook. (There's lore tricks above in the article for how not to overcook salmon). For moist salmon, bake until the salmon is barely done at the thickest part then remove from the oven cover with foil and let rest.
Created By:
Joanne and Adam Gallagher
You Will Need
Four 6-ounce salmon filets
1/2 cup sour cream (whole fat)
1 1/2 teaspoons whole grain mustard
1/3 cup grated parmesan cheese
Salt and pepper
Directions
Heat oven to 425 degrees F (200 degrees C). Lightly oil a rimmed baking sheet or baking dish. (Instead of oiling the pan, you could also line with parchment paper).
In a small bowl, combine sour cream, mustard and the cheese. Season with salt and pepper to taste.
Place salmon onto baking sheet then spread about 2 tablespoons of sour cream mixture on top of each salmon filet.
Bake 10 to 15 minutes until barely done in the center at the thickest part of the salmon. The center should be firm, but with a small amount of uncooked salmon in the very center. Depending on how thick the salmon is, it may need a few minutes longer. (The internal temperature should be around 125 degrees F).
Remove from oven then cover lightly with aluminum foil and let rest 5 to 10 minutes. During this time, the salmon will continue to cook.
Serve salmon with your favorite sides.