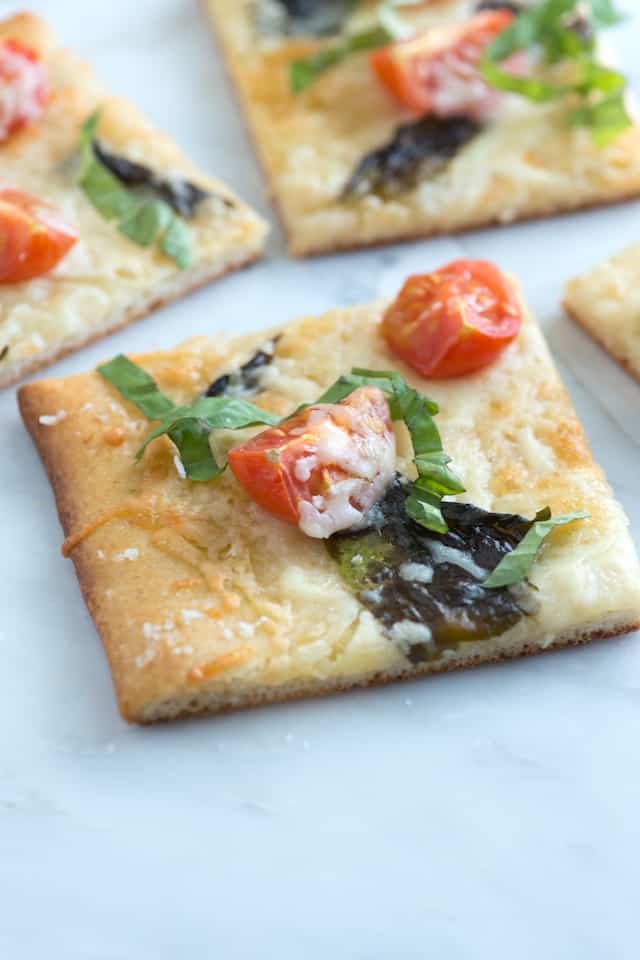 – Sponsored Post –
This pizza recipe is so incredibly simple and combines a few of our favorite things: cheese, basil, tomato and sea salt. We partially bake pizza dough with olive oil and a little flaked sea salt around the edges, making a sea salted crust. Then, we add lots of Italian cheeses, fresh basil and cherry tomatoes and bake until the cheese is bubbly and the crust golden brown.
The pizza dough we used is actually from Pillsbury. We're sure you've noticed their products in your grocery store – we used their Classic Pizza Crust for this. Pillsbury did pay us to develop this recipe using their pizza crust.
If you can't find Pillsbury's pizza crust, feel free to use any dough, store-bought pizza or homemade.
Tomato Basil Pizza Recipe with Sea Salt – Eat as a Pizza or Alongside Sliced Italian Meats
Since our pizza recipe is so simple, it's perfect for dinner, but just imagine this on a wooden board next to thinly sliced salami, prosciutto or other meats. It would make one seriously delicious antipasto plate, don't you think?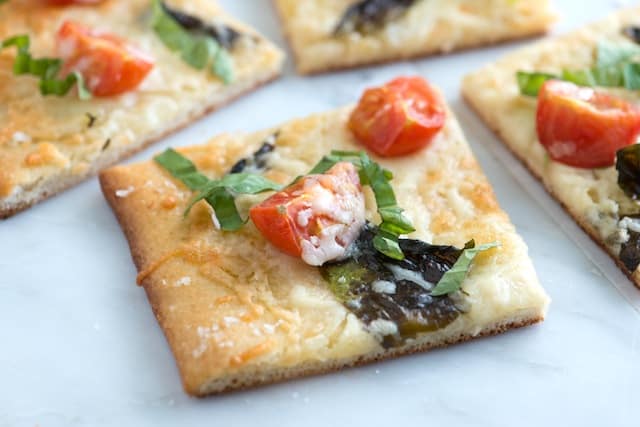 Did you enjoy our Tomato Basil Pizza Recipe with Sea Salt? If so, we bet you'll love these:
Tomato Basil Pizza Recipe with Sea Salt
This is a very simple pizza recipe and could be served as a pizza or served more as a flatbread alongside sliced meats, such as salami. We like to use a flaked sea salt for this. A great option is to use Maldon Sea Salt, which is often sold in specialty grocery stores.
Created By:
Joanne and Adam Gallagher
You Will Need
1 (13.8 oz) roll Pillsbury Classic Pizza Crust (Substitute 12 ounces of refrigerated pizza dough)
2 tablespoons olive oil
1 teaspoon flaked sea salt
1 1/2 cups (90 grams) shredded Italian cheese blend (Ours combined provolone, mozzarella and parmesan)
10 to 12 fresh basil leaves plus more for serving
8 cherry tomatoes, halved
Directions
Heat oven to 400 degrees F (200 degrees C). Then, spray a baking sheet (with sides) with cooking spray.
Form pizza dough into a 15-inch by 10-inch rectangle (this doesn't have to be exact, just close). Place dough onto baking sheet. Then, use your fingers or a pastry brush to coat top of pizza crust with about 1 tablespoon of olive oil. Sprinkle the sea salt around the edge of pizza (about 1-inch from edges). Then, bake for 8 minutes.
Scatter the cheese, tomato halves and basil leaves over partially baked crust, but leaving the salt crust uncovered.
Now, lightly sprinkle tops of tomatoes with about 1/4 teaspoon of salt then drizzle another teaspoon of olive oil over pizza.
Bake 6 to 10 minutes or until cheese has melted and edges are light brown.
Just before serving, cut into squares and scatter sliced or torn basil leaves over pizza.