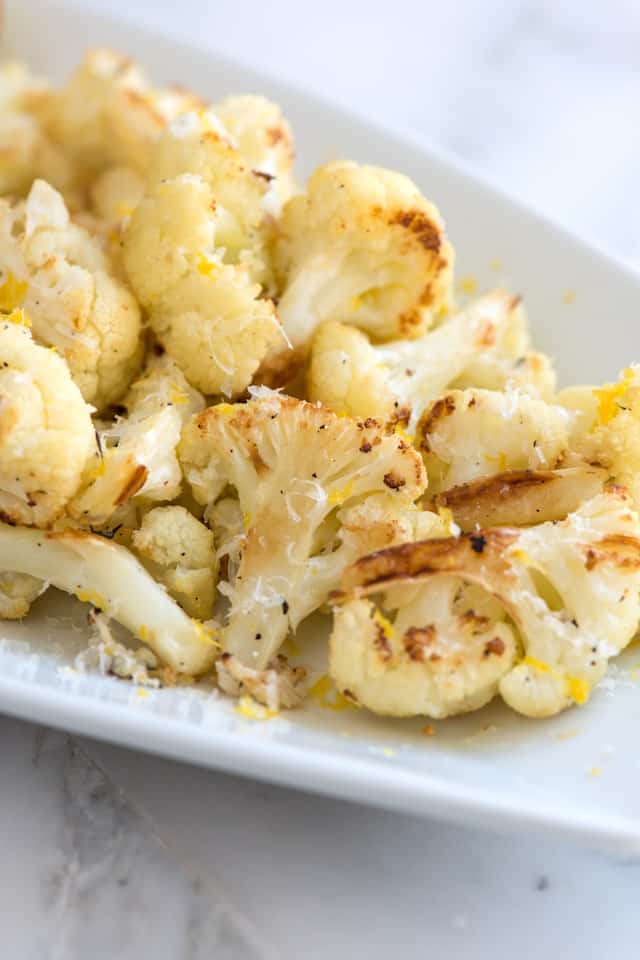 We're hooked on roasted cauliflower.
It's sweet, nutty and so easy to make. Perfect as a side, for topping pastas or eaten as a snack. We're even thinking that it might convert a few anti-cauliflower cooks out there. (Fingers crossed).
It's So Easy To Make Our Roasted Cauliflower Recipe
Start by cutting the cauliflower into florets then toss them onto a large baking sheet, add a little olive oil, salt, pepper and some thyme — fresh or dried thyme work.

Slide the cauliflower into a hot oven — we go for 450 degrees F — and roast, turning once until the florets have caramelized a little on all sides — it takes about 20 minutes.
Roasted Cauliflower Loves Parmesan Cheese and Lemon
We love to toss a handful of parmesan cheese on top and continue to roast for another 5 minutes. The cheese melts and browns a little — so delicious.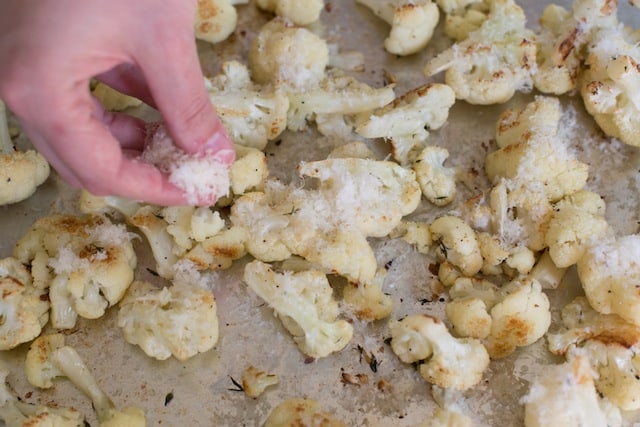 Then, once the parmesan roasted cauliflower is out of the oven, scatter lemon zest and some lemon juice on top. The lemon brightens the flavor up a bit and works so well with the sweet and nutty flavor of the cauliflower.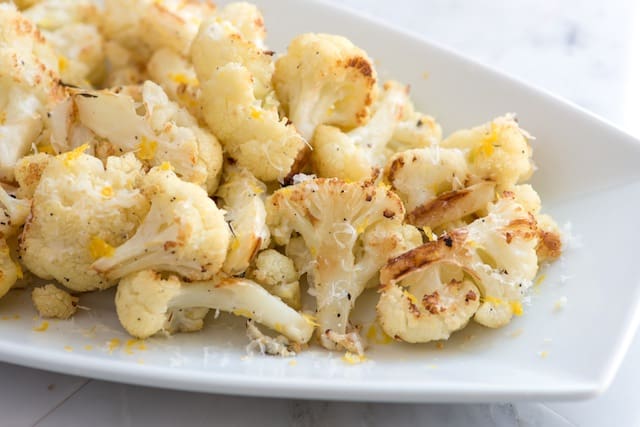 We just love this recipe — we eat it as if it were popcorn. We hope you try our roasted cauliflower recipe soon, we're sure you'll love it. We certainly do.
You May Also Like
Cheesy Roasted Cauliflower Recipe with Lemon
Why we love this recipe. Roasting brings out cauliflowers natural sweetness. Topped with parmesan cheese and bright lemon, this is a lovely side dish (even for those that may not be cauliflower fans).

What you need to know. We love the addition of cheese and lemon, but you can add flavors as you wish -- try curry powder, rosemary or other flavors.

Equipment you'll need. A chef's knife, large baking sheet, measuring spoons, microplane or fine grater and kitchen tongs.
Created By:
Joanne and Adam Gallagher
You Will Need
1 medium cauliflower cut into florets (about 5 cups cauliflower florets)
2 tablespoons olive oil
1/2 teaspoon chopped fresh thyme leaves (1/4 teaspoon dried thyme)
1/2 teaspoon kosher salt
1/4 teaspoon freshly ground black pepper
1/2 cup (12 grams) finely grated parmesan cheese
1 teaspoon lemon zest
Juice from half a lemon
Directions
Heat Oven and Prepare Baking Sheet
Heat oven to 450 degrees F (230 degrees C). Then, line a large baking sheet with aluminum foil or parchment paper.
Prepare Cauliflower
Add cauliflower florets to baking sheet and top with olive oil, thyme, salt and pepper. Using kitchen tongs or hands, toss until florets are well coated. Spread florets out into a single layer.
Roast cauliflower about 20 minutes until tips and edges have turned golden brown. Halfway through roasting, it helps to toss the cauliflower so it roasts evenly.
Now, scatter parmesan cheese over cauliflower and place back into the oven for 5 minutes until cheese has melted and begins to brown.
Remove from oven then scatter lemon zest and juice over the top.