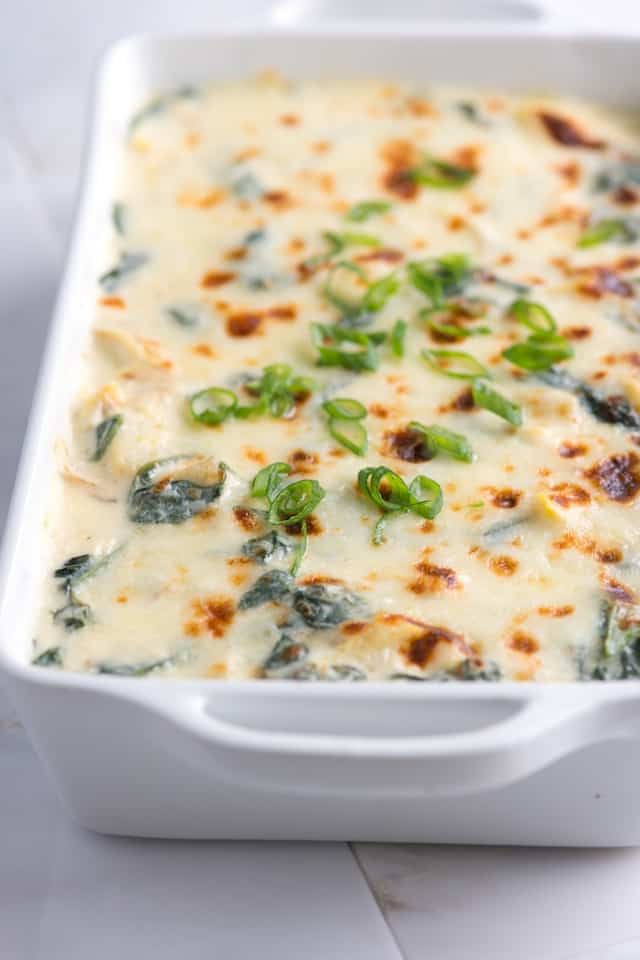 Warm gooey dip with not one, but three cheeses, lots of artichoke, fresh spinach and garlic — Do I have your attention, yet? 
Serve this with pita wedges, chips, bread or vegetables. This would also be amazing smeared onto bread instead of mayo for sandwiches or added to the top of seared chicken for dinner.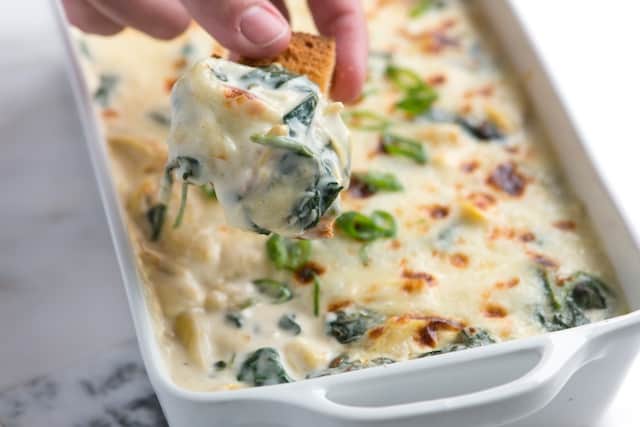 You can even make it ahead of time — about three days in advance. Just keep it covered and stored in the refrigerator then when you're ready to serve, add some cheese the top and bake. Easy.
Creamy Dreamy Spinach Artichoke Dip Recipe – How We Make It
Our spinach artichoke dip comes together in about 30 minutes — it's pretty easy, too.
Start with Garlicy Artichokes and Wilted Spinach
We start with canned artichoke hearts packed in water. We drain and rinse them then cook them with garlic and olive oil until warm and a toasted around the edges. You can also used thawed frozen artichoke hearts or artichoke hearts packed in oil.
Next, we throw lots of spinach into the pan and allow it to wilt.
Finish with a Creamy Three Cheese Sauce
After that, we make the creamiest sauce … ever. Butter and flour are cooked together then milk is added. That all thickens and we add three cheeses — cream cheese, feta cheese and mozzarella. The artichokes, spinach and the sauce is added to a baking dish and baked for about 15 minutes until bubbly.
Gosh this one is good — Seriously good.
You May Also Like
Spinach Artichoke Dip Recipe
Why we love this recipe. This dip is unbelievably creamy - it's practically addictive. We love serving alongside vegetables, pita wedges, bread or chips.

What you need to know. This dip should be served warm. You can make this up to 3 days in advance, just store covered tightly in the refrigerator and reheat before serving. If making ahead, reserve the extra cheese for the top of the dip until you are ready to heat and serve. We use artichokes from cans. You can find frozen artichokes. If using frozen artichokes, thaw before making recipe. Also available are jarred artichokes packed in oil. You can use these without rinsing.

Equipment you'll need. A chef's knife, small baking dish, wide skillet or pan with sides, spoon or spatula and whisk.
Created By:
Joanne and Adam Gallagher
You Will Need
2 cans (397 grams or 14 ounces) artichoke hearts in water
1 tablespoon olive oil
3 garlic cloves, minced
One 6-ounce (170 grams) bag fresh spinach leaves (about 4 cups)
3 tablespoons butter
3 tablespoons all-purpose flour
1-1/2 cups (355 ml) milk, plus more as needed (2% or whole milk)
4 ounces (113 grams) cream cheese (half 8-ounce package)
1/4 teaspoon cayenne pepper
1/2 teaspoon dried oregano
1/2 cup (4 ounces or 113 grams) crumbled feta cheese
1 cup (4 ounces or 113 grams) grated mozzarella cheese, divided
2 tablespoons green onion, sliced (optional)
Salt and freshly ground black pepper, to taste
Directions
Heat Oven and Prepare Dish
Heat oven to 350 degrees F (177 degrees C). Butter or spray a small baking dish with non-stick cooking spray. (The pan should hold 4 to 5 cups. An 8-inch round pan, 8-inch x 4-inch loaf pan, 8-inch square pan or small oval baking dish will work).
Cook Artichokes and Spinach
Open artichoke cans. Drain, rinse and coarsely chop artichokes.
Heat olive oil in a wide skillet with sides over medium heat then add minced garlic and cook about 1 minute until fragrant. Add artichokes then cook 2 to 3 minutes until warmed through and beginning to brown around the edges.
Add spinach then season lightly with salt and freshly ground black pepper. Wait about 30 seconds then as the spinach wilts, toss with artichokes. (The spinach reduces significantly in size).
Transfer garlic, artichokes and spinach to a bowl and set aside.
Prepare Creamy Dip
Place skillet back onto medium heat then add the butter. Once melted, whisk in the flour until a paste forms. Cook about 1 minute then pour in the milk. Bring to a gentle simmer, stirring often. The sauce will thicken. If it seems too thick, add milk as needed.
Turn heat to low then add cream cheese, cayenne pepper and oregano. Stir until cream cheese melts into the sauce. Now, add feta cheese and half (1/2 cup) of the mozzarella cheese. Stir until completely melted.
Stir in garlic, artichoke and spinach from earlier then transfer dip to baking dish and top with remaining mozzarella cheese (1/2 cup).
Bake dip 15 to 20 minutes until bubbly and cheese begins to brown on top. To make the cheese even more browed on top, turn oven to broil and broil 1 to 2 minutes. Serve warm.