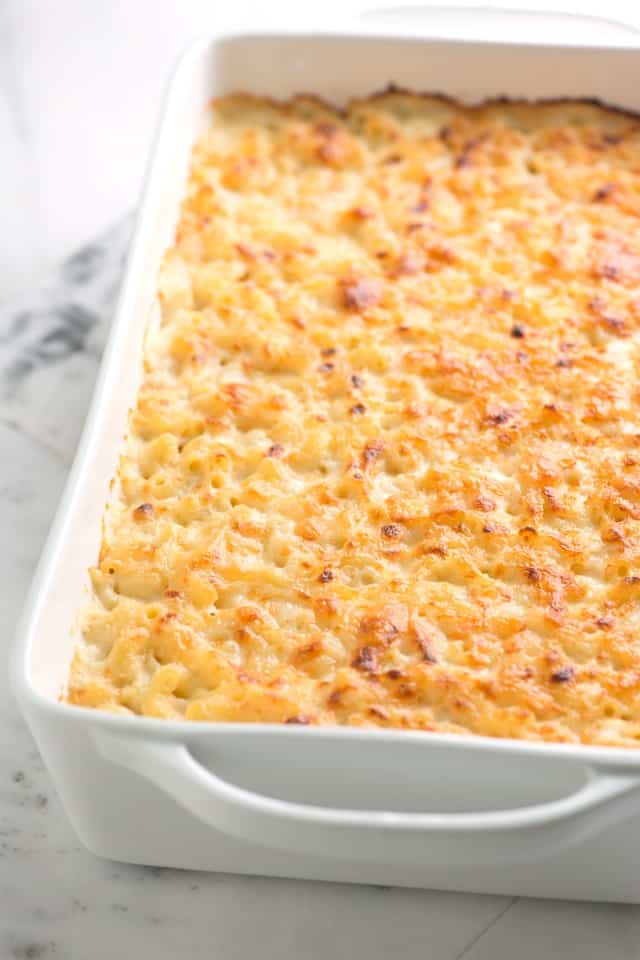 Like many, my favorite food growing up was macaroni and cheese. I would take it anyway I could get it — out of a box or made from scratch by Mom. In fact, it's one of the first things I learned to make as a child.
Mounds of cheese melted into a velvety creamy sauce and tossed with pasta. It's heavenly.
Below, you'll notice we share a bunch of tips from our experiences in our kitchen. If you have some advice or tips to add, please share in the comments below.
Crazy Good Macaroni and Cheese Recipe – Our Tips
One of my favorite parts of the last few weeks was testing, learning and eating macaroni and cheese. Not a bad couple of weeks, right?
After each try, we got a little closer to our favorite recipe and how to make it the best — every time.
One note. There are two common ways to make mac and cheese. The first uses a combination of butter and flour to make what's called a "roux." Milk is added and whisked into the butter and flour. Starches from the flour swell and thicken the milk and we're left with a thick, creamy, glossy sauce.

The second is custard-based and uses egg yolks to thicken the sauce. For this recipe, we went with the first option (it's how our Mom's make it and, in our opinion, a little easier). There are definitely two camps. Here's a great comparison of the two methods.
Butter, flour, milk and cheese. That's all you really need to make our creamy and cheesey macaroni.
Here are a few tips so you can make the best — It's the little things that make a big difference in the end.
The Pasta – Shape and Cooking It
We're traditionalists when it comes to mac and cheese. We choose elbow macaroni and try to find a brand that adds little grooves to the sides of the pasta. The sauce sticks better. Other pastas like penne, cavatelli or spiral shapes work well.
It's really important to undercook the pasta before tossing with the cheesy sauce. Whether you enjoy the mac and cheese as stovetop pasta or baked pasta, the pasta will continue to cook in the hot sauce. By undercooking slightly, you remove the risk of mushy pasta. We cook pasta 1 to 2 minutes under what the pasta package calls for.
The Milk
We use what we have in the fridge — that's most likely 2 % reduced fat milk. Whole milk works wonders, too. In the past, we've used 1% and even skim milk, but they were never as creamy. It still tastes great, but you do loose some richness.
The milk is added to our "roux" or butter-flour paste.
There's a lot of talk about whether to use hot or cold milk when making macaroni and cheese. Julia Child say's hot milk —  we're not usually one's to disagree with Julia. With that said, there are quite a few arguments out there that pushes for cold milk. The theory on both sides are to prevent lumps in the final sauce.
We've made the sauce both ways and really haven't been able to find a winner. So, here's what we've concluded: use warm milk and, more importantly, while adding the milk to the butter-flour mixture, add slowly and constantly whisk.
The Cheese
There's no room for mild cheeses, here. Our standby is sharp white cheddar cheese. It's flavorful and melts beautifully. Depending on the cheese you buy, you risk graininess as they melt. Martha Stewart says yellow and extra sharp cheddars can become grainy — another win for sharp white cheddar cheese.
You could just stick with one cheese, but we love adding a little extra punch. Pecorino-Romano or Romano cheese works wonders for this. (Romano is the American and Canadian term for Perorino-Romano cheese).
Another common cheese used is Gruyere — we love it, but it's expensive so we usually skip it.
One more note about cheese: If you can, grate the cheese yourself. Store-bought grated cheeses are drier (and a litte more expensive). They don't seem to melt as well as cheese you've hand grated. It is a little more effort, but we really think it's worth it in the end.
Gosh we wish we could give you that spoonful of cheesy macaroni through the computer screen. Yum.
You May Also Like
Macaroni and Cheese Recipe
Why we love this recipe. We've love most mac and cheeses, but this one is at the top of our list. It's easy to make, can be served as stovetop mac and cheese or baked and it's unbelievably cheesy and creamy.

What you need to know. When choosing pasta for this, choose something that holds onto sauce nicely -- elbow macaroni, penne or spiral pasta works well. If you can, grate the cheese yourself, store-bought grated cheese does not melt as nicely. We really like using white cheddar cheese for this. It is usually much sharper that yellow cheddar and melts perfectly into the sauce. Many recipes like this call for Gruyere cheese instead of Romano. Gruyere is lovely in this recipe, so feel free to substitute it for the Romano.

Equipment you'll need. Measuring jugs, cups and spoons, 3-quart baking dish (a 13-inch by 9-inch baking dish works well), large pot, large and high-sided pan, whisk and spoon or spatula.
Created By:
Joanne and Adam Gallagher
You Will Need
1 pound box (453 grams) pasta
5 cups (1182 ml) milk, whole or 2% are best
1/2 cup (8 tablespoons or 113 grams) unsalted butter (1 stick)
1/2 (70 grams) cup all-purpose flour
1 teaspoon Dijon mustard
1/8 to 1/4 teaspoon cayenne pepper
1/8 teaspoon ground nutmeg
4 1/2 heaping cups (18 ounces or 510 grams) sharp white cheddar cheese
1 1/2 cups (5 ounces or 142 grams) Romano cheese or Pecorino Romano cheese
1/2 teaspoon kosher salt, or to taste
Directions
Heat Oven and Prepare Baking Dish
If baking and not serving stovetop mac and cheese, heat oven to 375 degrees F (190 degrees C). Butter, or spray with non-stick cooking spray, a 3-quart casserole dish.
Cook Pasta
Bring a large pot of salted water to the boil, add pasta then follow package directions, but cook 1 minute less than the package calls for. Drain then rinse pasta with cold water.
Prepare Cheese Sauce
Add milk to a large microwave-safe measuring jug and microwave 1 to 3 minutes until warm. Alternately, you can add milk to a large saucepan over medium heat then heat milk until warm.
Melt butter in a large, high-sided pan over medium heat. When the butter begins to bubble, add the flour. Cook, whisking constantly 2 to 3 minutes until butter smells fragrant and nutty -- the color of the butter-flour mixture will be light brown.
While whisking, slowly pour warm milk into butter and flour mixture. Continue to cook, whisking constantly until the sauce bubbles and thickens.
Remove pan from the heat. Stir in mustard, cayenne, nutmeg, 4 cups of cheddar and all of the Romano cheese. Stir until the heat from the sauce melts the cheese.
Taste then add salt. We usually add a 1/2 teaspoon, but cheese can sometimes be salty, so add based on your taste.
Note -- If you prefer, skip the next steps for baking and serve now as stovetop macaroni and cheese by tossing drained and rinsed pasta with sauce.
Bake Pasta
If the drained and rinsed pasta will fit into the pan, add it to the cheese sauce. If the pasta will not fit, add both the pasta and sauce to a separate large bowl and stir well.
Then, pour into prepared baking dish. Top with remaining 1/2 cup of cheddar cheese.
Bake about 30 minutes or until bubbling then turn oven to broil and broil 3 to 5 minutes until top has blistered and become lightly browned.
Let stand about 10 minutes before serving.