We are big egg salad fans. We used to add lots of ingredients, but over time we've learned to hold back. We've found that we enjoy egg salad more the fewer ingredients we add.  A little mayonnaise for moisture, celery for crunch, herbs for freshness and a spritz of lemon to brighten things up. Simple.
Simplified Egg Salad Recipe
Egg salad starts with hard boiled eggs. If you're usure of how to make them, check out our step-by-step tutorial. Basically, you add eggs to water in a saucepan, bring to a simmer, cover and then take off of the heat. The eggs continue to cook for about 12 minutes and they're done.
We usually plunge the eggs into cold water to cool them down then peel.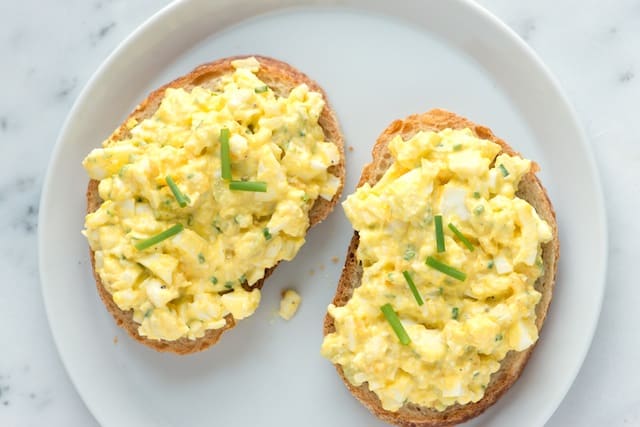 From there, chop the eggs finely and add to a bowl with a little mayonnaise, celery, herbs (we like chives) and lemon juice. Stir until combined then season with salt and pepper. Done.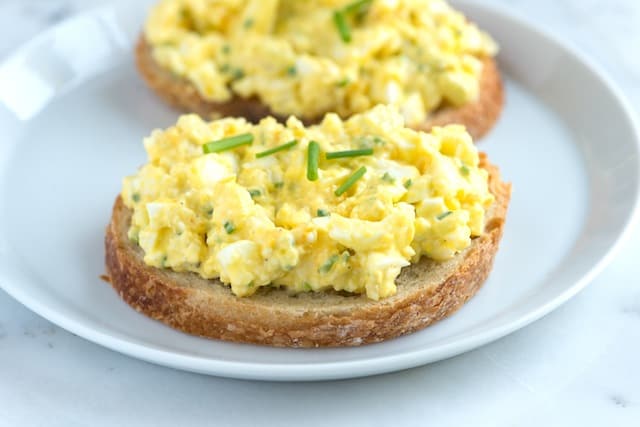 Easy, right? What do you add to your egg salad recipe? Tell us in the comments below.
You May Also Like
Simple Egg Salad Recipe
Over time, Joanne and I have realized that we enjoy our egg salad simple and with as few ingredients as possible. We add a little mayonnaise for moisture, celery for crunch, fresh herbs and a small amount of lemon juice to brighten things up.
What You Need to Know:
To make hard-cooked (hard-boiled) eggs, in a saucepan, cover eggs with 1 inch (2 1/2 cm) of cold water, bring to a boil then immediately remove from heat and cover with lid. Let eggs stand, covered in the hot water for 12 minutes. Then plunge eggs into ice cold water to stop the cooking. A full tutorial with photographs can be found here:
How to Cook Hard Boiled Eggs
.
Special Equipment:
Saucepan, knife, bowl and measuring spoons.
Created By:
Joanne and Adam Gallagher, www.inspiredtaste.net
Yield:
2 (1/2 cup) servings
You Will Need
4 hard-cooked eggs, peeled and chopped
2 tablespoons (30 ml) mayonnaise, or Greek yogurt (try homemade mayonnaise)
1 medium-length celery stalk, finely chopped (about 3 tablespoons)
1 tablespoon (15 g) finely chopped chives, parsley or dill
1 teaspoon (5 ml) lemon juice (optional)
Salt and black pepper, to taste
Directions
Stir eggs, mayonnaise, celery, chives and lemon juice in a bowl. Season with salt and pepper.
Notes and Tips
Egg salad is best eaten the same day as making.