Avocado adds a twist to classic egg salad. Easy avocado egg salad recipe with celery, fresh herbs and lemon juice. Jump to the Avocado Egg Salad Recipe now or read on to see how we make it.
We love egg salad. In fact, we've shared our go-to egg salad recipe before. We really don't like to add too many ingredients to it — a little mayo, some celery and fresh herbs are all we need.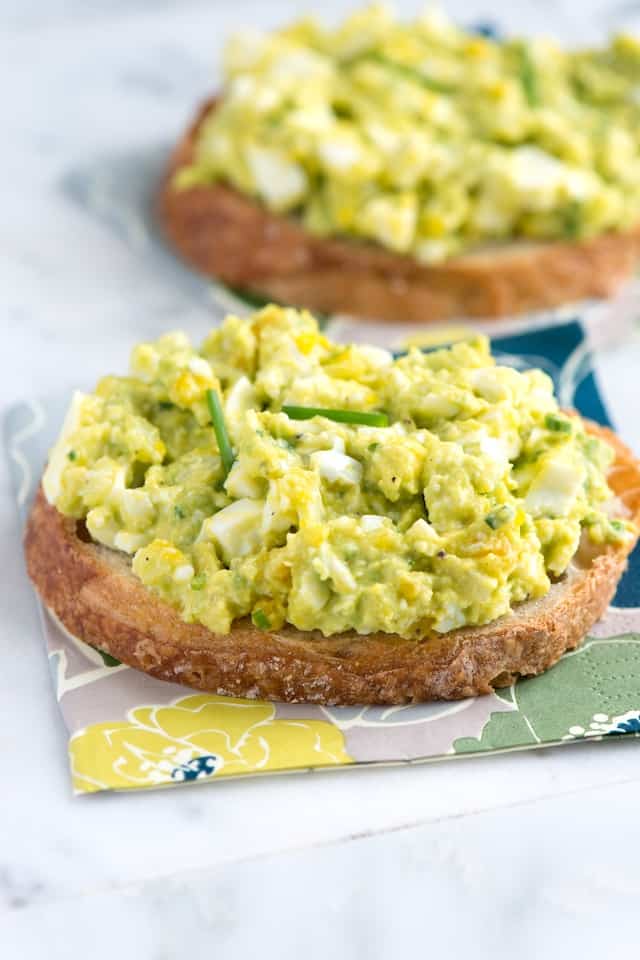 That is until we stumbled across the idea of adding avocado to it. The thought of combining two of our favorite ingredients into one creamy and easy egg salad made us giddy.
We love any reason to buy avocados. Take a look at one of our most popular avocado recipes: 15-Minute Avocado Pasta! The pasta sauce is made from creamy avocado instead of cream or butter. It's light and delicious!
How to Make Our Quick and Easy Avocado Egg Salad Recipe
This recipe is so simple!
Simply mash avocado with a tiny bit of mayonnaise then stir in chopped eggs, celery, lemon juice and herbs.
Looking for a mayo-free version, try swapping it out for nonfat or low-fat yogurt or just stick to avocado and leave the mayonnaise out completely.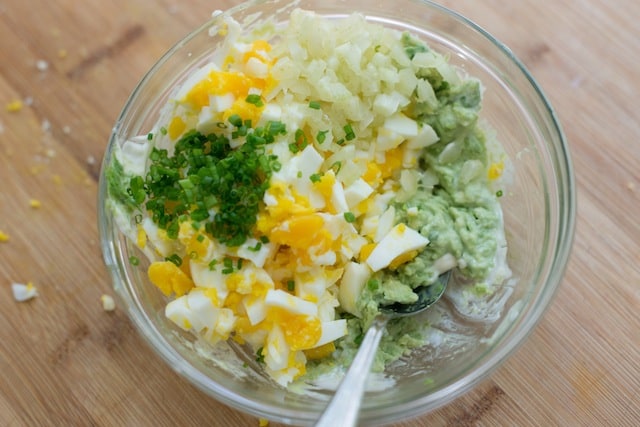 When you stir everything together, try to keep things a little chunky. Then, season with salt and pepper and enjoy as you would any egg salad.
We like to make open-faced sandwiches, but spooning this on top of a big salad would be delicious.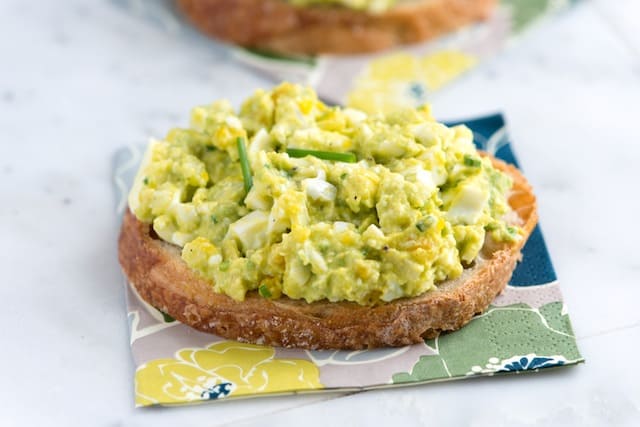 You May Also enjoy this: Take a look at our Step-by-Step Tutorial for How to Cook Hard Boiled Eggs! It's really easy and can be done in advance.
Recipe updated, originally posted June 2013. Since posting this in 2013, we have tweaked the recipe to be more clear and added a quick recipe video. – Adam and Joanne

Easy Avocado Egg Salad Recipe
This egg salad combines two of our favorite things: eggs and avocado. In addition to the avocado, we add a little mayonnaise for moisture, celery for crunch, fresh herbs and a small amount of lemon juice to brighten things up.
What You Need to Know:
To make hard-cooked (hard-boiled) eggs, in a saucepan, cover eggs with 1 inch (2 1/2 cm) of cold water, bring to a boil then immediately remove from heat and cover with lid. Let eggs stand, covered in the hot water for 12 minutes. Then plunge eggs into ice cold water to stop the cooking. A full tutorial with photographs can be found here:
How to Cook Hard Boiled Eggs
.
Special Equipment:
Saucepan, knife, bowl and measuring spoons.
Created By:
Joanne and Adam Gallagher
Yield:
Serves 2, Makes about 1 cup
You Will Need
1 medium avocado, pitted and peeled
2 tablespoons mayonnaise, or Greek yogurt (try homemade mayonnaise)
1 1/2 teaspoons fresh lemon juice
4 hard-boiled eggs, peeled and chopped
1 medium-length celery stalk, finely chopped (about 3 tablespoons)
1 tablespoon finely chopped chives, parsley or dill
Salt and black pepper, to taste
Directions
Mash avocado, mayonnaise and lemon juice together in a medium bowl. Stir in the eggs, celery and chives. Season with salt and pepper, to taste.
Notes and Tips
Egg salad is best eaten the same day as making.