Briny Kalamata olives and a vinegary feta cheese dressing make this potato salad extra delicious. It's perfect as a side dish and can easily double as dinner.
A simple potato salad recipe with a twist …
Lots of sweet crisp green beans, potatoes, olives, briny feta cheese and a sharp Sherry vinaigrette makes this a favorite in our house.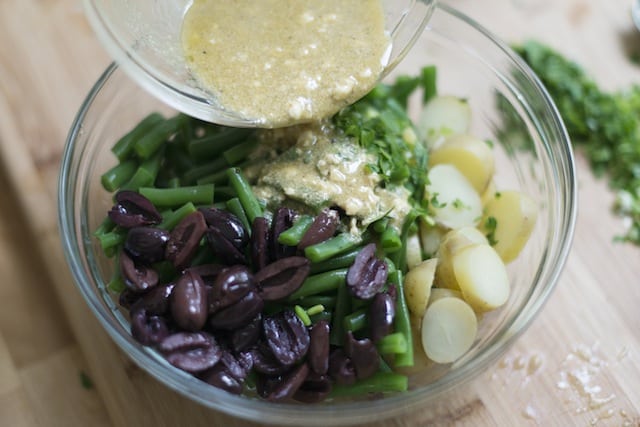 It's zesty and makes a great side. You could totally make this your dinner, too. Eat as is or top it with grilled chicken or shrimp.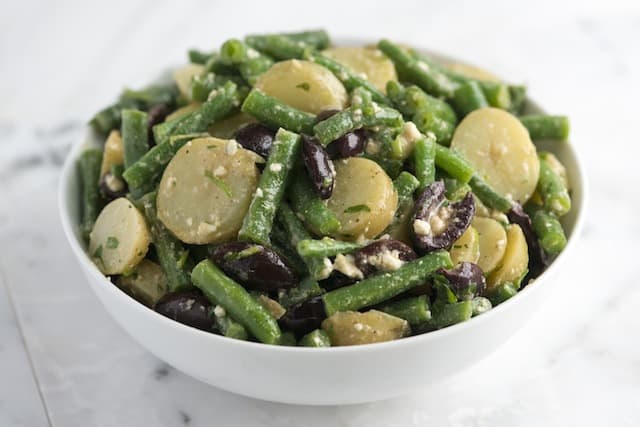 Simple, flavorful and so pretty.
You May Also Like
Feta, Green Bean and Potato Salad Recipe
Briny Kalamata olives and a vinegary feta cheese dressing gives this potato salad lots of flavor. The vinegary dressing made from Sherry vinegar and a splash of lemon juice really brightens up the potatoes.

What You Need to Know: Sherry vinegar is made from Sherry (a fortified wine). It's quite delicious and well rounded in flavor. If you are unable to find it, Champagne or red wine vinegar are good substitutes.

Special Equipment: Large pot, bowls and a whisk.
Created By:
Joanne and Adam Gallagher
Yield:
8 (1/2 cup) servings
You Will Need
1 pound (450 g) small yellow or white potatoes
1 pound (450 g) green beans, ends trimmed and cut into 1-inch pieces (4 cups)
1/2 cup (80 g) pitted Kalamata olives, halved
1 tablespoon finely chopped spring onion
1 tablespoon finely chopped parsley
2 tablespoons sherry vinegar
3 tablespoons olive oil
2 teaspoons Dijon-style mustard
2 teaspoons lemon juice
2 ounces feta cheese
Salt and black pepper, to taste
Directions
In a pot, cover potatoes with 2 inches of water. Season with salt — 1 teaspoon for every quart of water. Bring water to a boil then reduce to a low simmer. Cook 15 to 20 minutes or until potatoes can easily be pierced with a fork.
While potatoes cook, set up an ice bath. Add cold water to a medium bowl then add ice. Transfer potatoes to ice bath. Then, slice potatoes into 1/2-inch rounds.
Bring water that potatoes were cooked in to a boil then add green beans. Cook 2 to 3 minutes or until bright green and crisp-tender. Set up a second ice bath. Transfer green beans to ice bath.
Combine potatoes, green beans, olives, spring onion and the parsley in a large bowl.
Whisk vinegar, olive oil, mustard and the lemon juice until creamy. Add the feta cheese, stir well then season with salt and pepper. Toss salad with dressing to coat.
Leave at room temperature 10 to 15 minutes. Toss again, season with salt and pepper (as needed) then serve.