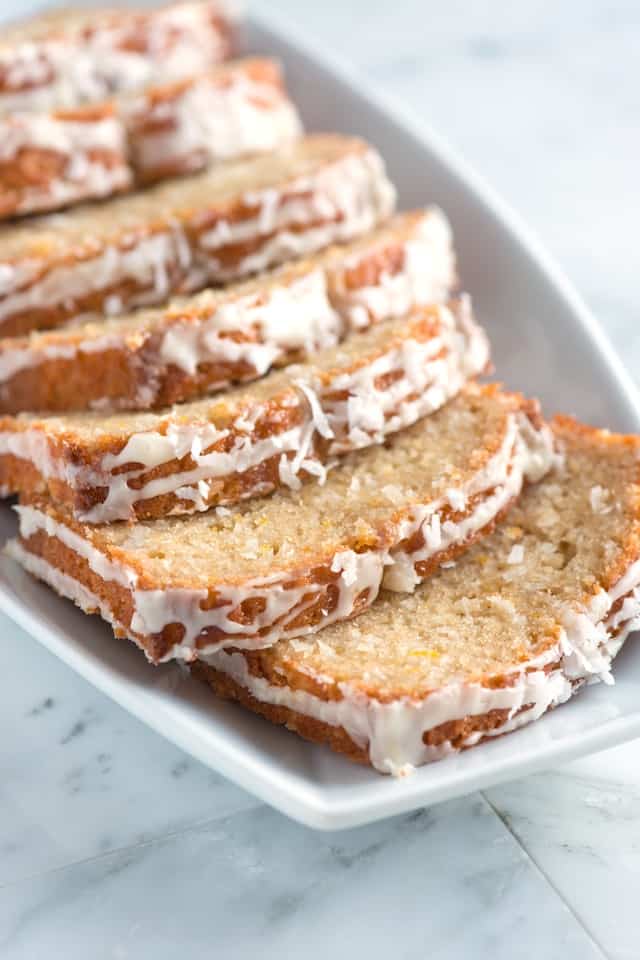 – Sponsored Post –
We've found a new favorite quick bread recipe. We've made this orange coconut bread twice in the last week and really cannot get enough. It's been our breakfast, afternoon snack and even dessert.
A whole cup of yogurt is added to make it extraordinarily moist.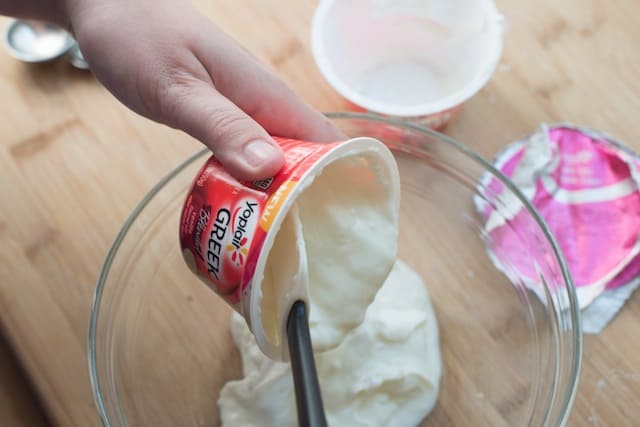 This time, we've used Yoplait Greek yogurt. It's a new product from Yoplait and comes in six flavors: blueberry, strawberry raspberry, tangerine, pineapple, coconut and vanilla. All of the flavors would be fantastic in this (especially the coconut flavor), but we actually went with vanilla.
We love baking with yogurt and like to keep vanilla (or plain) on hand. The vanilla yogurt from Yoplait isn't too sweet and has a nice vanilla kick to it – perfect as a backdrop for the other flavors in our bread.
It's extra easy to make this recipe. The batter is mixed and into the oven in no time — 10 minutes, tops.
How to make our coconut bread with orange, cinnamon and yogurt
Making this bread is as simple as making muffins. Mix together dry ingredients in a bowl then do the same with the wet ingredients. Combine them then pour into a loaf pan and bake.
Once cooled, you have the option to glaze the loaf. We like it both ways – glazed and unglazed. If you do glaze, you'll be happy to know it only requires two ingredients. Just mix powdered sugar and orange juice together and you're done.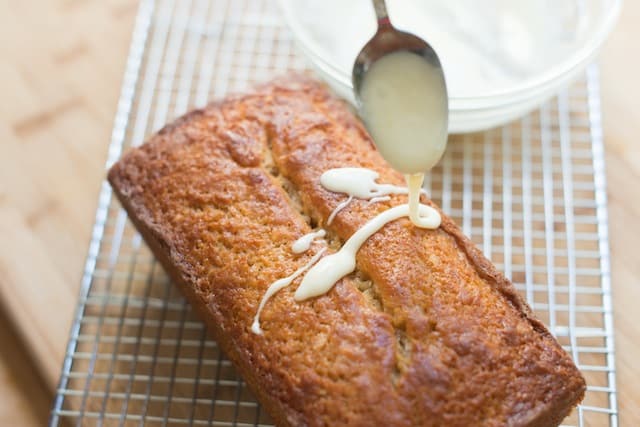 If you don't glaze, we highly recommend toasting the bread slices then buttering. As the bread toasts, so does the coconut. It's pretty darn delicious.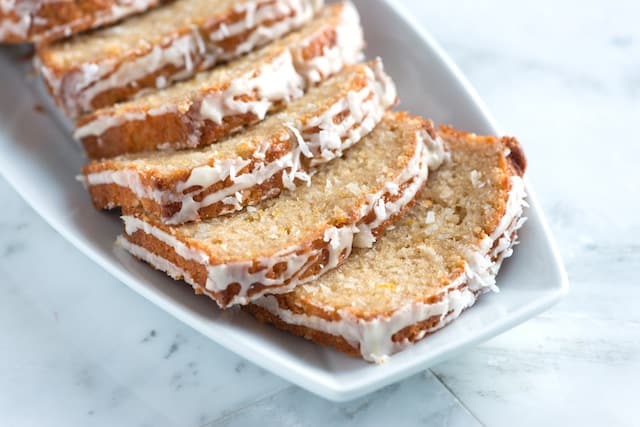 So there you have it, our new favorite quick bread. You must give it a try, we know you'll love it.
Disclosure: This is a sponsored post, we've partnered with Yoplait, who paid us to develop this recipe.
You May Also Like
Orange Coconut Bread
This easy quick bread is absolutely packed with fresh orange zest and shredded coconut. It's extraordinarily moist and is perfect served at room temperature or toasted and buttered.
Created By:
Joanne and Adam Gallagher
You Will Need
1 1/2 cups (210 g) all-purpose flour (we use Gold Medal unbleached all-purpose flour)
2 teaspoons baking powder
1 teaspoon ground cinnamon
1/2 teaspoon kosher salt
1 cup (280 g) vanilla yogurt (we used two 5.3-ounce tubs Yoplait Greek vanilla yogurt)
1 cup (200 g) sugar
3 large eggs
1 1/2 cups (5 ounces or 140 grams) sweetened flaked coconut
1 tablespoon grated orange zest (1 orange)
1 teaspoon vanilla extract
1/3 cup (80 ml) vegetable oil
Glaze, optional
1/2 cup (60 g) powdered sugar
1 tablespoon orange juice
1 tablespoon sweetened flaked coconut
Directions
Adjust oven rack to middle position and heat oven to 350 degrees F (177 C). Spray a 9 x 5-inch (23 x 13-cm) loaf pan with nonstick cooking spray (or use butter or oil).
Whisk flour, baking powder, cinnamon and salt in a large bowl. Whisk yogurt, sugar, eggs, coconut, orange zest and vanilla in separate bowl.
Pour yogurt mixture into flour mixture. Stir with a spoon or spatula until just mixed. Add vegetable oil and fold into the batter.
Pour the batter into prepared loaf pan and bake for 50 to 55 minutes or until a toothpick placed into the center of the loaf comes out clean. Cool loaf in pan for 15 minutes then transfer to a cooling rack and cool completely.
To glaze loaf. Stir powdered sugar and orange juice together until smooth then drizzle over loaf.
Wait 10 minutes for glaze to set before serving.
Notes and Tips
We have also used a 8.5 x 4.5-inch loaf pan with success (in fact, since it is a little smaller, the batter domes nicely).