Chimichurri is a magical sauce.  It's a zesty and green sauce made with fresh herbs, garlic, vinegar, chili pepper and olive oil that livens up pretty much anything you throw at it. It's as versatile as your favorite white t-shirt.
Steak, shrimp, fish, vegetables and chicken all love it — especially if they're grilled or roasted. It even passes tossed with pasta or spooned over tomato slices. You can use it 100 different ways.
This all made sharing this recipe with you difficult. How could we highlight the sauce enough to show you just how much we adore it?
We talked about sharing some kind of steak, like this Chimichurri Recipe over Steak from Food Network or possibly shrimp like this Chimichurri Shrimp with Lime Rice.
Then we landed on an idea — Share it spooned over what we happily make each and every week – chicken thighs.
Imagine this: perfectly cooked chicken thighs with golden brown and crispy skin served with a generous spoonful of tangy green goodness. This one should be added to your dinner rotation. It's that good.
Our Favorite Chimichurri Recipe
Some versions of chimichurri sauce call for pureeing it in a blender or food processor. You could certainly do that, but we like our sauce on the chunky side so we chop everything by hand. Not to mention doing it by hand is sensory overload — it smells amazing!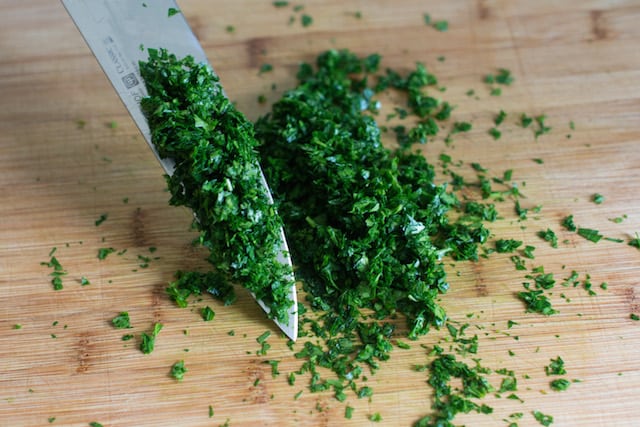 Once everything is chopped and minced, we pour in some red wine vinegar and olive oil.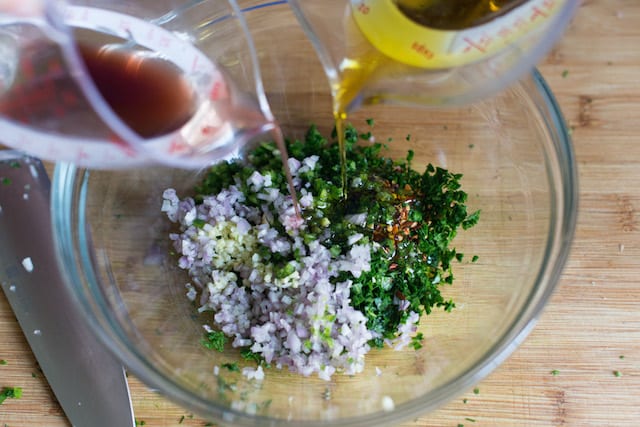 After a good stir, we leave it for 20 minutes so all the flavors mingle.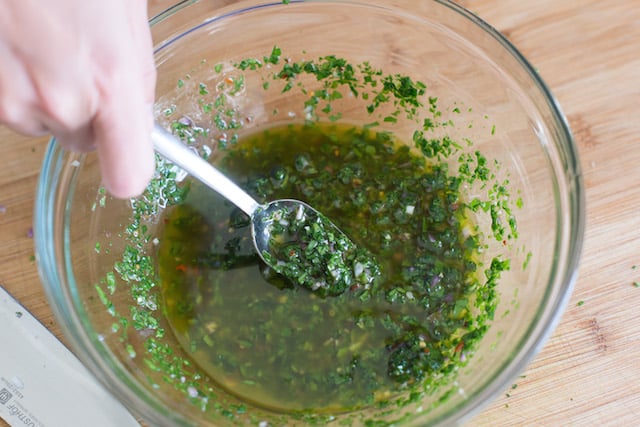 The sauce is excellent the day you make it, but it will last a few days in your refrigerator (you just might notice the parsley's green dulls slightly).
Our Secret to Perfectly Cooked Chicken Thighs
We cook chicken thighs often. We actually prefer them over chicken breast — they're a little cheaper and have more flavor.
The real secret to chicken thighs is a cold pan.
We season the chicken with some salt and a little oil then place them skin-side down in a cold, oven-safe pan. Then, we turn on the burner and watch as the fat from the skin slowly renders and the skin turns golden and crispy.
Then we flip the chicken and slide it into the oven to finish cooking.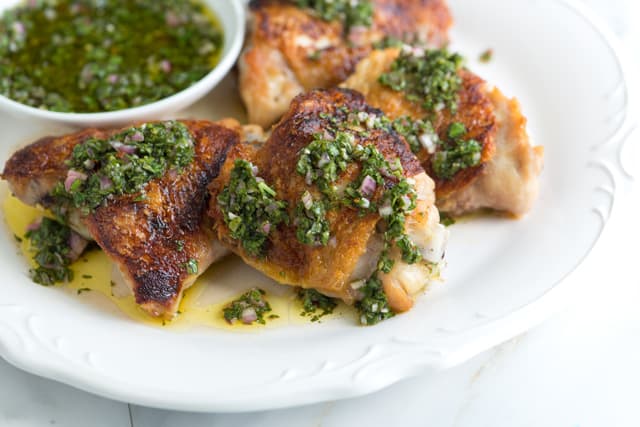 I hope we've inspired you to make your own batch of chimichurri and highly recommend throwing it on top of some perfectly cooked chicken thighs. Enjoy!
You May Also Like our Easy Lemon Chicken Recipe, Butterflied Rosemary Roasted Chicken Recipe or our Lemony Chicken Breast Recipe with Cucumber Feta Salad. You can also take a look through all of our chicken recipes, here.


Chimichurri Chicken Thighs Recipe
Chimichurri sauce is a zesty and green sauce made with fresh herbs, garlic, vinegar, chili pepper and olive oil that livens up pretty much anything you throw at it -- these chicken thighs are no exception.

We like our sauce on the tangy, vinegary side. If you prefer things to be a bit more tame, reduce the amount of vinegar to 3 or 4 tablespoons.

It is likely that you will have some chimichurri sauce leftover -- the recipe below makes about 1 cup of sauce. It will keep, covered in the refrigerator for a few days. When you use it next, it tastes best if you bring it to room temperature first.
Yield:
Makes 3 to 4 servings as a main course
You Will Need
For the Chimichurri Sauce:
2 cups (50 grams) packed parsley leaves and tender stems
3 to 4 garlic cloves, finely minced (1 tablespoon minced)
1 medium shallot, finely chopped
1 teaspoon kosher salt
1/2 to 1 teaspoon crushed red pepper flakes or 1 jalapeño or fresno chili pepper, chopped
1/2 cup (120 ml) olive oil
1/3 cup (80 ml) red wine vinegar
For the Chicken:
6 skin-on, bone-in chicken thighs (about 2-1/4 pounds)
1 tablespoon neutral flavored oil (such as vegetable oil, canola or grape seed oil)
Kosher salt
Directions
Make Chimichurri Sauce: Finely chop the parsley then add to a bowl with the garlic, shallot, salt, red pepper flakes (or chopped chile pepper), olive oil and the red wine vinegar. Stir. (Or, puree all ingredients in a food processor or blender).
Let the sauce stand at room temperature for 20 minutes before serving.
Prepare the Chicken Thighs: Heat the oven to 400º F. Rub chicken thighs with the oil and season them with salt.
Nestle the chicken thighs skin-side down into a cold, large oven-safe skillet. Heat the pan over medium heat and cook undisturbed until most of the fat renders and skin is golden brown, 10 to 15 minutes.
Flip the chicken. Transfer skillet to the oven and cook 15 to 20 minutes longer, or until a thermometer inserted into the thickest part of the chicken reads 175º F. Transfer to a plate and let rest 5 minutes before serving with chimichurri sauce spooned on top.
Notes and Tips
We use kosher salt. If you don't have it on hand, keep this in mind: 1 teaspoon fine sea or table salt = about 1 1/4 teaspoons kosher salt.