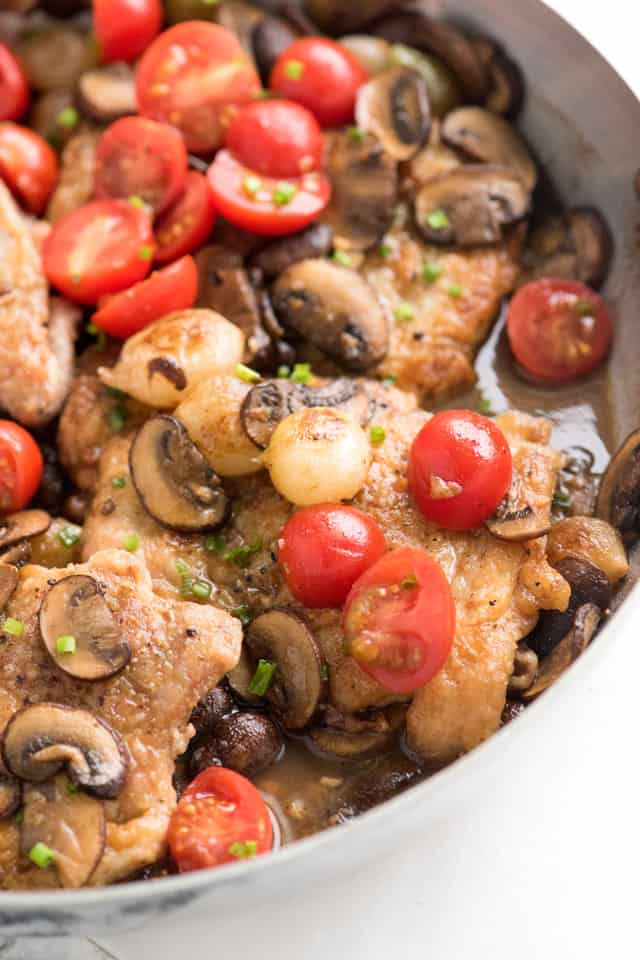 Chicken Marsala is such a classic recipe. Our version is simple, uses only one pan, is quick to make and calls for chicken, mushrooms, Marsala wine and fresh tomatoes. Make this for a few or many. This is definitely one to keep in your back pocket.
In search of more chicken recipes? Take a look at our Easy Lemon Chicken (so good) or our Rosemary Roasted Chicken.
How to Make Our Easy Chicken Marsala Recipe
We do two things a little differently when we make chicken Marsala. First, we like to use chicken thighs in place of the more traditional chicken breast. They taste incredible and lately, we've found them sold for a lot less than what it costs to buy skinless chicken breasts. If you prefer to stick with the more classic version and use chicken breasts, go for it.
Whether you use chicken thighs or chicken breasts, the trick to the best chicken Marsala is pounding the chicken thin then dredging in flour. You don't need a lot of flour at all, just a thin coating over the chicken.
Once the chicken is added to hot oil, the flour helps the chicken brown and the pounding you did earlier results in perfectly tender chicken.
After cooking the chicken (which takes about 10 minutes), you can move onto the sauce, which is done in the same pan as you cooked the chicken in. Score for one-pan dishes!
Making the Sauce
The sauce is very simple — mushrooms, onion (that's the second thing we do a little differently), garlic, Marsala wine, chicken stock and a little butter.
It isn't all that common to see onions in this dish — or in our case pearl onions. Even so, we really like adding them. (Adam loves them).
One tip: Use thawed, frozen pearl onions, don't go and buy fresh. Peeling pearl onions is a frustrating job and one that we've only made the mistake of doing once. Not fun! Buying frozen onions skips that step.
We also love adding a handful of fresh cherry tomatoes to the pan right at the end. As they begin to warm they release a little acidity to the dish. Plus, the pop of color is really nice in such a brown dish.
We actually got the idea to add tomatoes from this chicken Marsala recipe and have not looked back since. And while we're on the subject of adding extra ingredients, Tyler Florence adds prosciutto to his chicken Marsala.
Choosing Marsala Wine, Storing It and What To Do With It
We call for dry Marsala wine in our recipe, but if you already have it on hand, sweet will work. We like to buy mid-priced Marsala wine over the $5 or less options you can sometimes find in grocery stores. The mid-priced options tend to have a bit more flavor. In general, buy something you could actually see someone drink.
If you are worried about buying a whole bottle of wine for just one recipe, here are a few recipes you might like that will help use up the bottle: Our Tiramisu Recipe, this Spaghetti with Spinach Pesto and Turkey Meatballs and this recipe from Gourmet for Strawberries with Marsala Wine.
Or, keep it just for this recipe. The nice thing about Marsala wine is that it will last for quite some time (we've had ours open for months without issue). Either store it in the refrigerator or keep in a cooler, darker area of your kitchen. This goes for other fortified wines, too — think Madeira wine.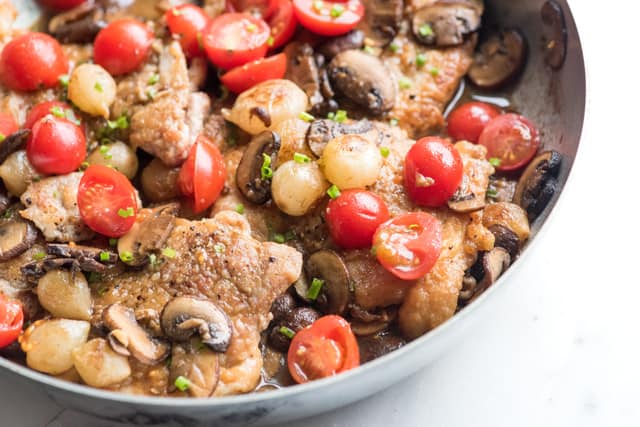 One-Pan Chicken Marsala Recipe
Chicken Marsala is such a classic recipe. We do two things a little differently to what you might be used to. First, we use boneless, skinless chicken thighs in lieu of chicken breasts. They taste incredible and lately, we've found them sold for a lot less than what it costs to buy skinless chicken breasts. If you prefer to stick with the more classic version and use chicken breasts, go for it.
Another thing we do a little differently is to add a handful of pearl onions and fresh cherry tomatoes. The onions become browned and sweet and the tomatoes liven everything up at the end. Both are optional, but if you do plan to add the onions, look for frozen pearl onions in the freezer section -- they are so much easier to work with than if you were to peel fresh pearl onions on your own. (Not fun!)
You Will Need
4 boneless, skinless chicken thighs or chicken breasts (1 to 1-1/2 pounds)
1/3 cup (45 grams) all-pourpose flour
Salt and freshly ground black pepper
2 tablespoons olive oil
8 ounces cremini mushrooms, sliced (about 3 cups)
1 cup (4 ounces or 115 grams) thawed frozen pearl onions, optional
1 clove garlic, minced (about 1 teaspoon)
1/2 cup (120 ml) dry Marsala wine
1/2 cup (120 ml) low-sodium chicken stock
1 tablespoon unsalted butter
1 cup (4 ounces or 115 grams) cherry tomatos, halved
Directions
Prepare the chicken: Place the chicken thighs side-by-side on a cutting board and cover with a piece of plastic wrap. Gently pound the chicken with a meat mallet or rolling pin, until they are about 1/4-inch thick. Season chicken with salt and pepper.
Heat the oil in a large skillet over medium heat.
While the oil is heating up, add the flour to a shallow dish then dredge both sides of the pounded chicken pieces in the flour, shaking off the excess. When the oil is hot and shimmering, slide the chicken into the pan and cook until golden brown on both sides, about 10 minutes. Hold cooked chicken on a large plate in a single layer.
Note: If your pan is not large enough to fit all the chicken, simply cook the chicken in batches.
Prepare the Sauce: Lower the heat to medium-low then add the mushrooms and cook them, stirring occasionally until browned and their moisture has evaporated; about 5 minutes.
Add the pearl onions and garlic. Season with a 1/4 teaspoon of salt and some pepper then cook, stirring occasionally until the onions begin to brown, about 3 minutes.
Pour the Marsala into the pan and simmer until reduced by half, about 1 minute. Scrape the bottom of the pan to release any bits stuck from cooking the chicken and mushrooms then add the chicken stock. Stir then simmer for another minute until the sauce has reduced slightly.
Lower the heat to low, stir in the butter then return the chicken to the pan. Taste the sauce for seasoning then adjust with additional salt and pepper as necessary. Scatter the tomatoes on top and simmer gently until the chicken has heated through.
Notes and Tips
Choosing Marsala Wine:
You will usually see two varieties of Marsala wine in the store: dry and sweet. We prefer to use dry Marsala in this recipe, but if sweet is all you have it should work as well since the rest of the dish is so savory. No matter which you choose, go for something you would consider drinking - we usually go for a mid-range bottle instead of the under $5 options.
What Should I Serve This With:
Since this has such a nice sauce, serving it with something to soak that up is best. You can't go wrong with
mashed potatoes
(or
mashed cauliflower
).
Cheesy garlic bread
or our
oven-roasted broccoli
would be good, too.