How to soak and cook chickpeas including cooking chickpeas in a slow cooker. Have you ever wondered what to do with dried chickpeas (or other dried beans)? We used to as well until we learned how to cook them.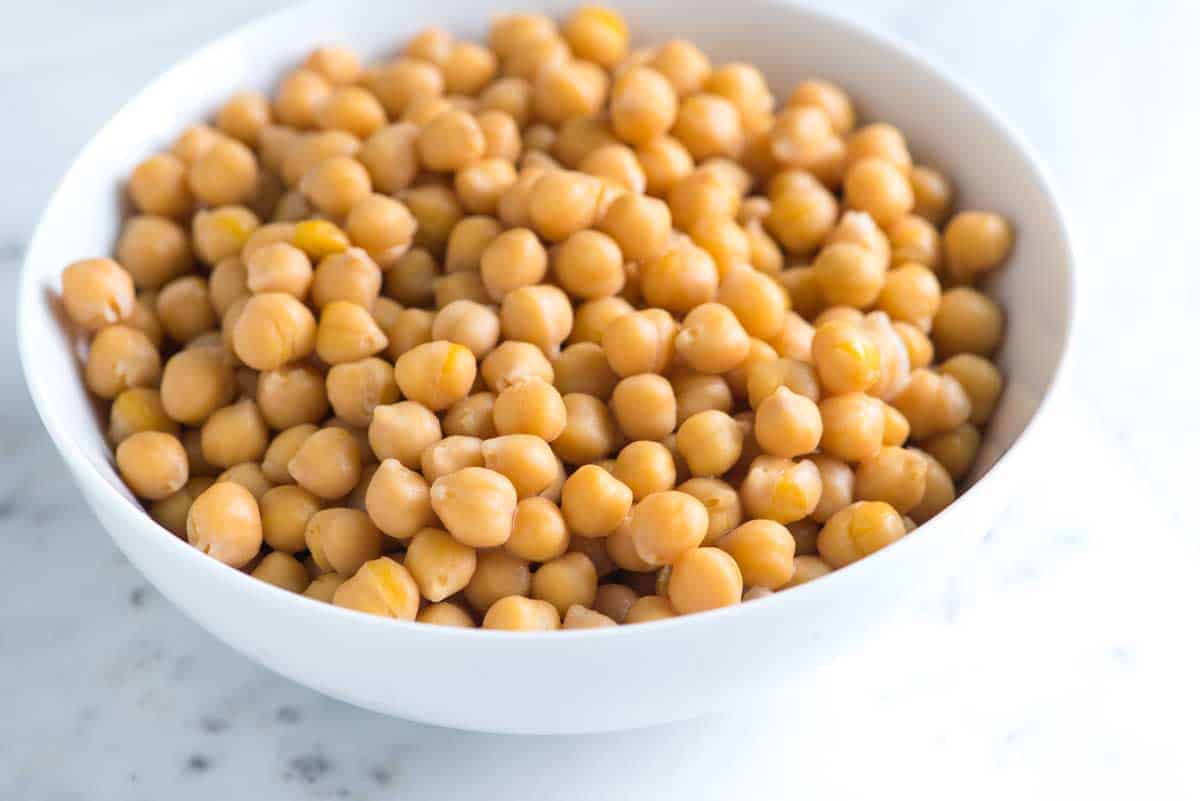 YOU MAY ALSO LIKE: How to Make Smooth Hummus – With just a few simple tricks, you really can make creamy smooth hummus at home and yes, we really do think it's better than store-bought.
How to Cook Dried Chickpeas
There's more than one way to deal with dried chickpeas. Here's three methods we use in our kitchen:
Method 1: Long soak and simmer, about 10 hours or overnight plus 2 hours
Method 2: Quick soak and simmer, about 3 hours
Method 3: In the Slow Cooker, 4 hours on high heat or 8 hours on low heat
All three methods work really well and depending on your day you may find one makes more sense for you.
STORING: Cooked beans should be stored in an airtight container or food-safe bag without additional liquid. Cooked beans will keep 3 to 4 days in the refrigerator. To freeze the beans, lay cooked beans that have been patted dry in a single layer on a baking sheet lined with parchment paper. Slide the baking sheet into the freezer and wait about 30 minutes until the beans are mostly frozen. Then add the beans to a freezer bag and store for months in the freezer.

Method 1: The Long Soak and Simmer
Before cooking you will need to soak the dried beans. Look through the dried beans and pick out anything that doesn't look like a bean — sometimes a rock or something else from the bulk aisle sneaks in.
Add the beans to a large bowl and cover with several inches of water. As the beans rehydrate, they triple in size — adding plenty of water is key. Soak the beans 8 hours or overnight. 
After soaking the beans, you can cook them (see how below).
Method 2: The Quick Soak and Simmer
Just as in method 1, you will need to soak the beans. Instead of soaking for 8 hours, you can speed up the process.
Look through the dried beans and pick out anything that doesn't look like a bean. Add the beans to a large pot, cover with several inches of water and bring to a boil. Boil for 5 minutes then take the pot off of the heat and let the beans sit in the water for 1 hour.
After soaking the beans, you can cook them (see how below).
How to Cook the Soaked Chickpeas
Whether you use method 1, the long soak, or method 2, the quick soak to rehydrate your beans, you will still need to cook them.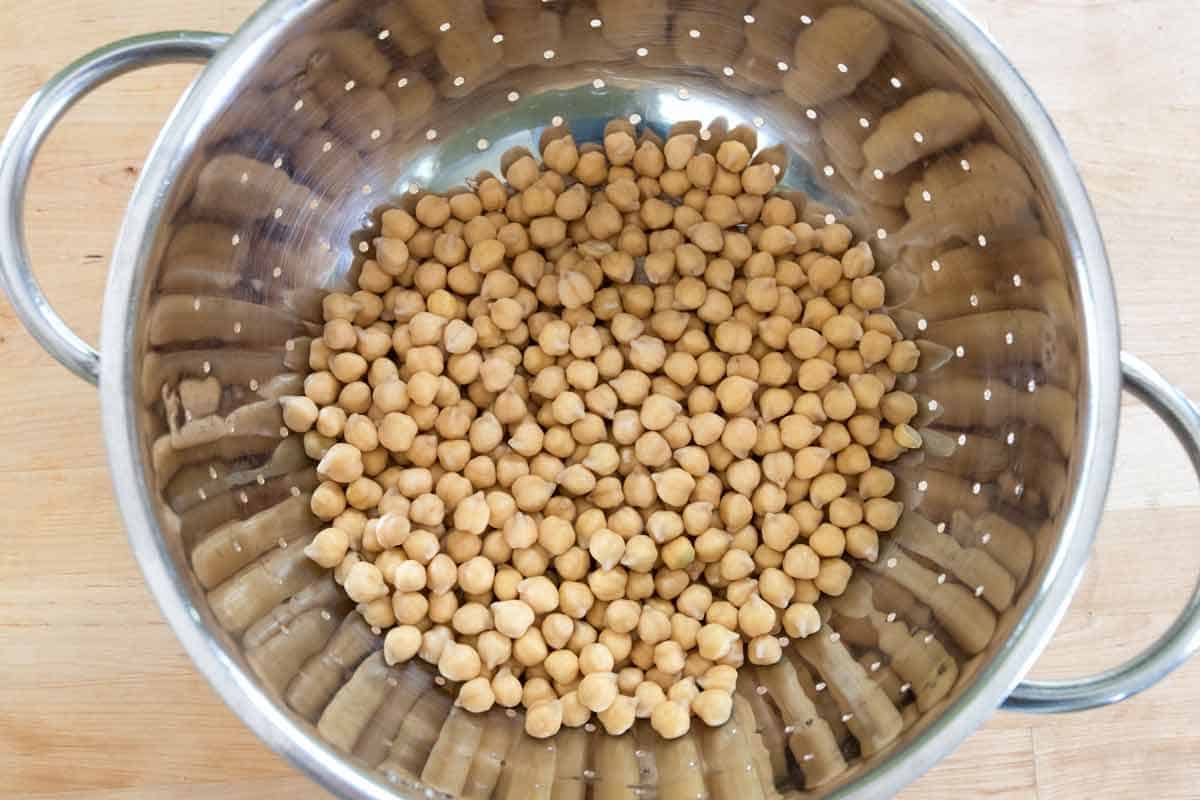 After the beans have been soaked, drain and rinse them well. Add them to a large pot, cover the beans with several inches of water, and bring everything to a boil.
Reduce the heat and simmer until they reach your desired tenderness,  1-1/2 to 2 hours.
When simmering, you can keep the pot lid off or on, but slightly ajar (allowing some steam to escape while cooking). Beans simmered without a lid will be cooked, but firm (Perfect for salads or chili). Beans cooked with the lid on, but ajar, will be creamier, softer and break apart more easily. These are perfect for hummus or dishes where you want the beans to break apart.
Keep in mind that depending on how you plan to use the beans you may want them to be firmer or softer. If you are making hummus, you'll want the beans to be soft. On the other hand, if you plan to add the beans to a stew, you may want them on the firmer side since they will continue to cook in the stew.
The beans can be cooked by themselves or with a few extras added in for flavor. We usually add a bay leaf, but adding a garlic clove, quarter of an onion, some carrot or celery is also a great idea.
You can add some salt, as well, but only add salt towards the end of cooking since adding it in the beginning can cause the beans to become a little tough. We like adding a generous pinch of salt when there is 30 minutes left.
Method 3: In the Slow Cooker
Another option is to cook them in a slow cooker. The benefit of this is there is no soaking step — everything is added to the slow cooker you turn it on and walk away. Pretty easy.
Add 1 pound of dried chickpeas and 7 cups of water to a slow cooker. Cook on high for 3 to 4 hours or on low for 6 to 8 hours.
Adding baking soda? Baking soda is often added when cooking dried beans. Some say it can reduce the gassy effects of fresh beans since it binds to sugars and helps to break them down, making the beans easier to digest.
If you plan to add baking soda, here's our suggestions: Add about 1 tablespoon to the soaking water for both method 1 and 2. If using a slow cooker, add 1/4 teaspoon along with the beans and water before turning the slow cooker on.
How many cups of chickpeas will 1 cup of dried chickpeas make? Dried chickpeas will triple in size when cooked (if not a little bit more). So 1 cup of dried chickpeas will make about 3 cups of cooked chickpeas.
Here's Three Recipes We Know You'll Love
Roasted Red Pepper Hummus Recipe: How to make simple, creamy roasted red pepper hummus with sweet red bell peppers, canned chickpeas, garlic and tahini.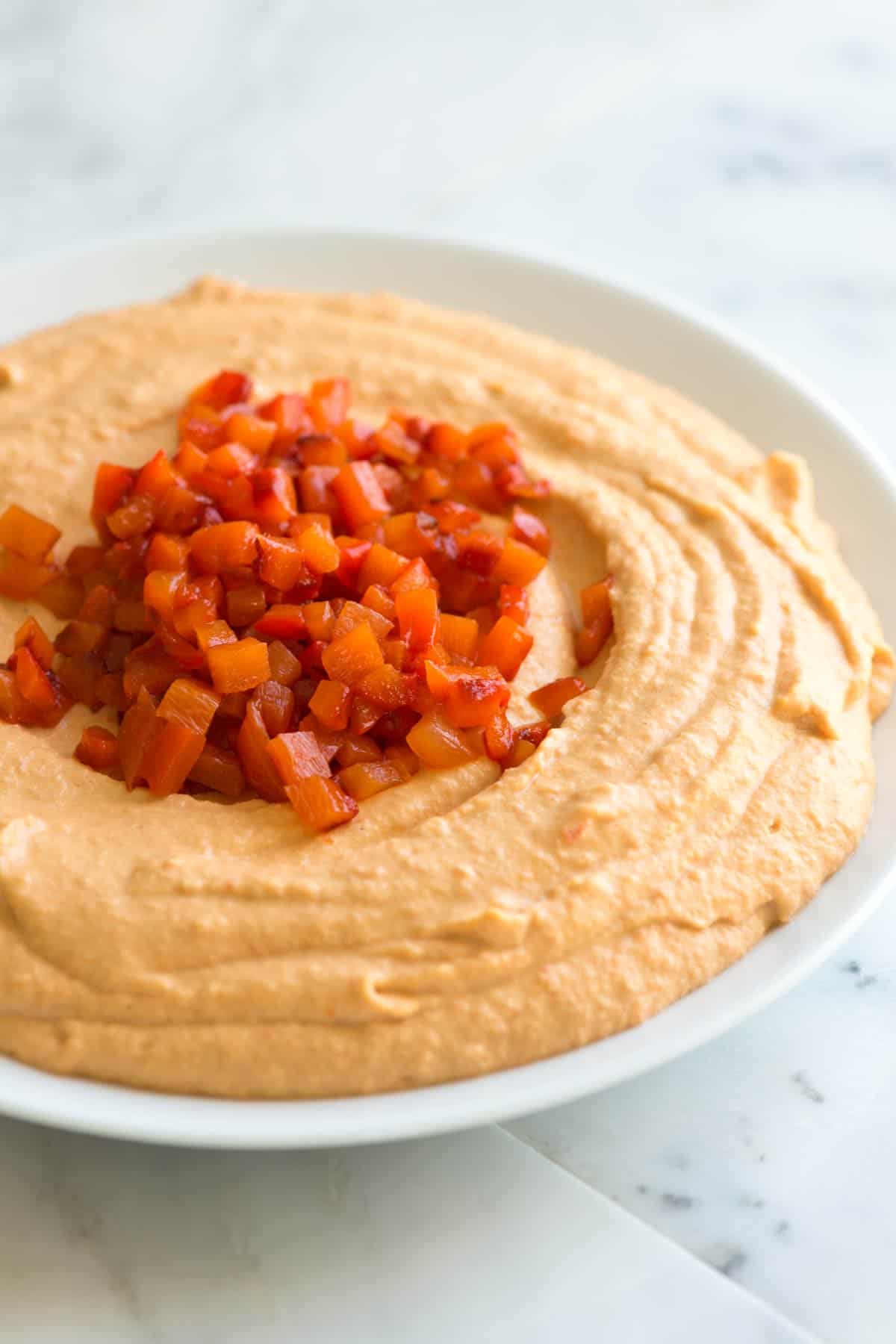 Easy Chickpea Salad with Lemon and Dill: An easy chickpea recipe with lemon, fresh dill, crisp cucumber and tomatoes that's quick to make and can be made in advance.
Honey Roasted Chickpeas with Sea Salt: How to make crunchy roasted chickpeas with honey, cinnamon, and sea salt. We love how easy it is to make this honey roasted chickpea snack. They are so good that once you start eating them, it's hard to stop.