You wouldn't think that three ingredients — butter, onion, and tomato — can come together to make such a velvety and delicious tomato soup, but let me tell you. They can. Click here to jump to the recipe!
This tomato soup is inspired by one of the most famous recipes out there — Marcella Hazan's Tomato Sauce. Butter, tomatoes and onion are simmered until slightly thickened. Out comes the onion and the sauce is ready to be spooned over pasta. It's genius and absolutely delicious.
We use the same three ingredients in this tomato soup, but add a little water and blend everything together just before serving.
It's quick, easy and insanely delicious.
You will also like our Incredibly Easy and Creamy Vegetable Soup Recipe. It's one of our absolute favorites and something we make often.
How to Make Our 3-Ingredient Tomato Soup Recipe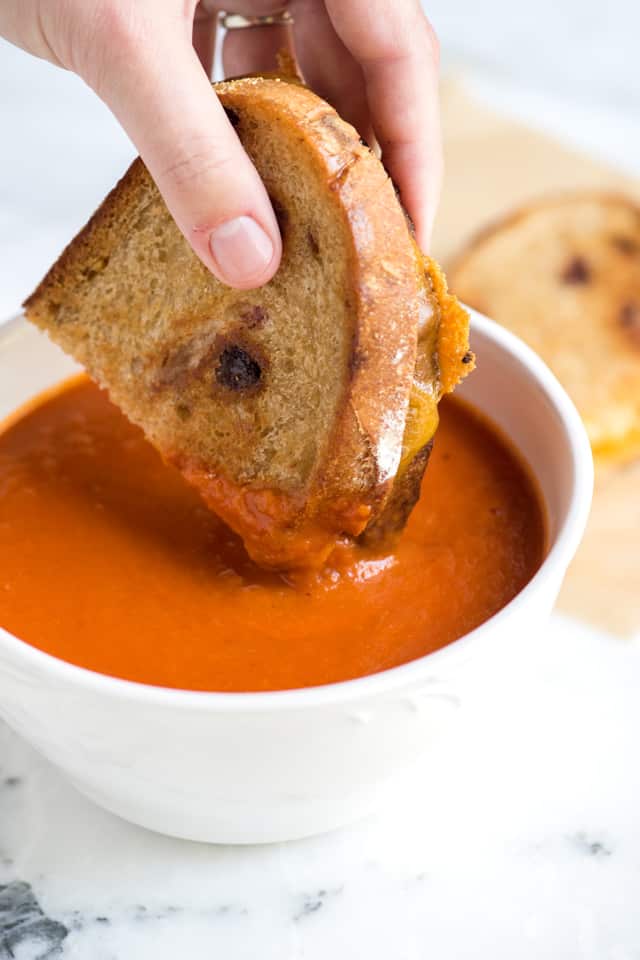 Grab a Dutch oven or pot, place it over medium heat and melt the butter. Add half an onion that's been cut into large wedges and a large can of tomatoes.
This soup is excellent with canned tomatoes — We usually go for whole peeled tomatoes or crushed tomatoes.
By the way, we love San Marzano Tomatoes and are always pleased with tomatoes from Muir Glen. Neither are watery and both taste great.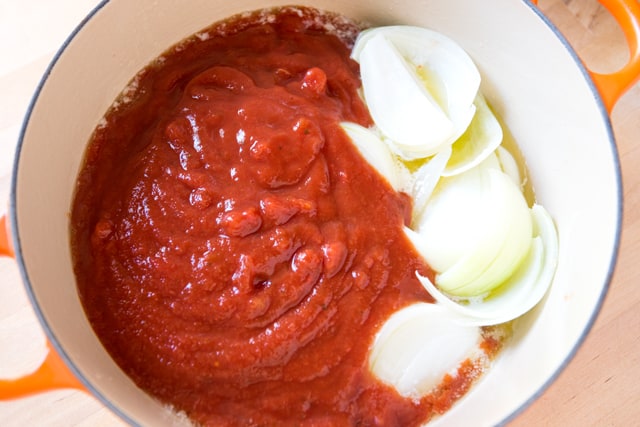 Bring everything to a low simmer, add some salt and leave it alone for about 40 minutes.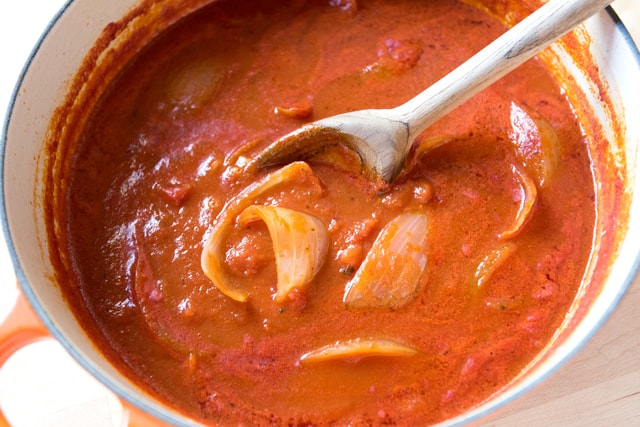 See how creamy it gets? That's thanks to the butter.
Blend the soup — we find an immersion blender is useful, but a blender works, too. Adjust the soup for seasoning then grab a bowl…and maybe a grilled cheese sandwich ?
Let's review.
This tomato soup has three ingredients (plus water and salt).
Everything is tossed into a pan — no browning, no hovering over a stove.
You can use canned tomatoes — and should.
Did I mention there are only three ingredients?
This is your new favorite weeknight meal. Promise.
By the way, you might also want to take a peek at our chilled tomato soup recipe (Gazpacho) or our roasted tomato soup with lemon and thyme.
Recipe updated, originally posted October 2015. Since posting this in 2015, we have tweaked the recipe to be more clear and added a quick recipe video. – Adam and Joanne

Easy Three-Ingredient Tomato Soup
You only need three ingredients to make this velvety, rich tomato soup recipe. This, friends, is your new favorite weeknight meal.
Created By:
Adam and Joanne Gallagher
Yield:
Makes 4 cups of tomato soup, Serves 2 for dinner or 4 as part of a meal
You Will Need
4 tablespoons unsalted butter
1/2 large onion, cut into large wedges
1 (28-ounce) can tomatoes, we prefer to use whole peeled or crushed
1-1/2 cups water
1 teaspoon coarse kosher salt, or more to taste
Directions
Melt butter over medium heat in a Dutch oven or large saucepan. Add onion wedges, water, can of tomatoes with their juices and the salt. Bring to a simmer. Cook, uncovered, for about 40 minutes. Stir occasionally and add additional salt as needed.
We usually add an additional 1/2 to 3/4-teaspoon of salt since the tomatoes can be quite acidic. Since this depends on how sweet/acidic the tomatoes are, add according to your taste.
Blend the soup -- it doesn't need to be ultra-smooth, some texture is a nice touch. An immersion blender makes quick work of this or use a blender.
If you use a regular blender, it is best to blend in batches and not fill the blender as much as you usually would since the soup is so hot. We like to remove the center insert of the lid and cover it with a kitchen towel while blending — this helps some of the steam release and prevents the lid from popping off (which can be a big, hot mess).