A simple roasted brussels sprouts recipe with garlic and ham. Learn our tricks for tender brussels sprouts that are perfectly caramelized and delicious.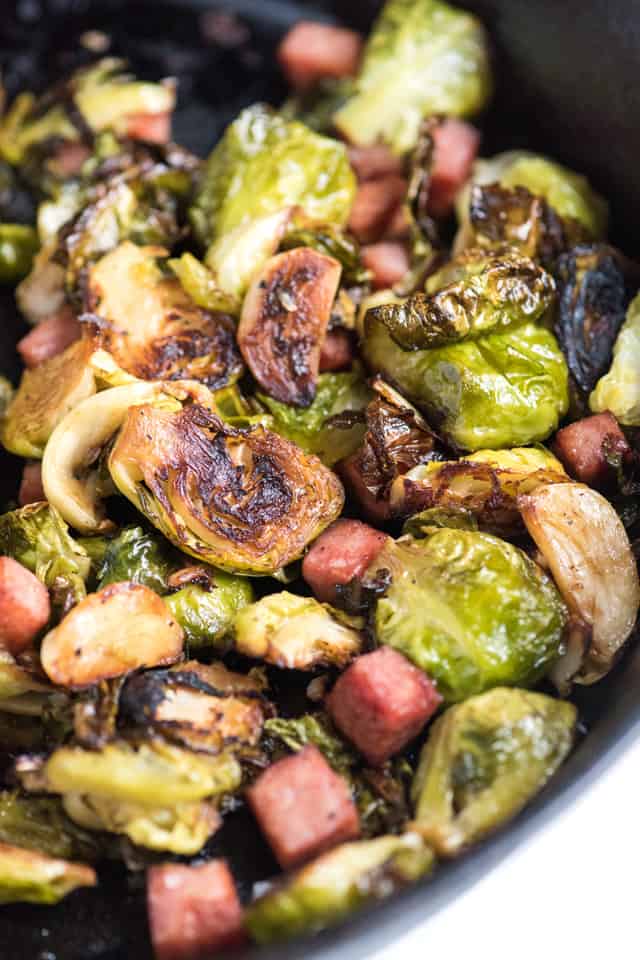 Are you a brussels sprouts fan? We love them and especially enjoy them roasted. You just can't beat those caramelized edges.
For years, we've been roasting them on a baking sheet (which is perfectly fine). This year, though, we stumbled across Mark Bittman's idea to use a cast iron pan. It takes regular roasted brussels sprouts to a whole new level and is still just as simple to make.
In addition to using a cast iron pan, our recipe uses cubed ham (we LOVE using Niman Ranch's Applewood Smoked Uncured Ham Steaks) as well as whole garlic cloves.
These are easy enough for tonight since they only take about 30 minutes and would be perfect on a holiday table.
This Perfectly Roasted Pork Tenderloin Recipe would be delicious with roasted brussels sprouts. The pork is roasted on a bed of apples and onions and is rubbed with thyme and mustard.
The Steps for Making Our Roasted Brussels Sprouts Recipe with Ham and Garlic
This recipe has a two-steps. First, the sprouts are browned on top of the stove in a cast iron pan. Then, we transfer the sprouts and pan to the oven to finish cooking. 
A+J Tips: All of the steps below show us using a cast iron pan. If you don't have one a heavy oven-safe pan would work. Or, you can brown the sprouts on the stove first then transfer them to a baking sheet along with the ham and garlic.
Okay, here we go.
Step One: Brown the Sprouts on the Stove
After trimming the ends of the brussels sprouts, we cut them in half from top to bottom. We place them cut side down into a hot oiled pan.
After seasoning with some salt and pepper, we scatter cubed ham and garlic cloves on top.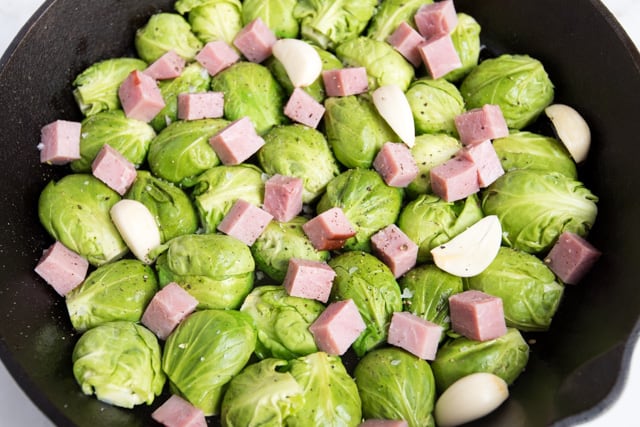 After a few minutes, the underneath of the sprouts will be browned.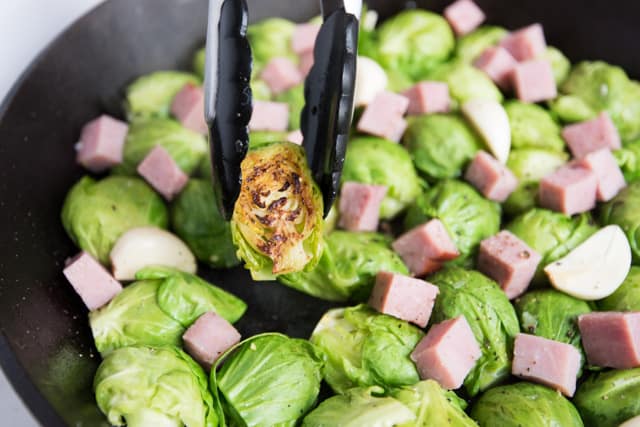 It's time for step 2.
Step Two: Finish the Sprouts in the Oven
Slide the pan into a hot oven. Every five minutes we'll give everything a stir and after 10 to 15 minutes the sprouts are tender and caramelized. The ham has rendered and the garlic is soft and sweet.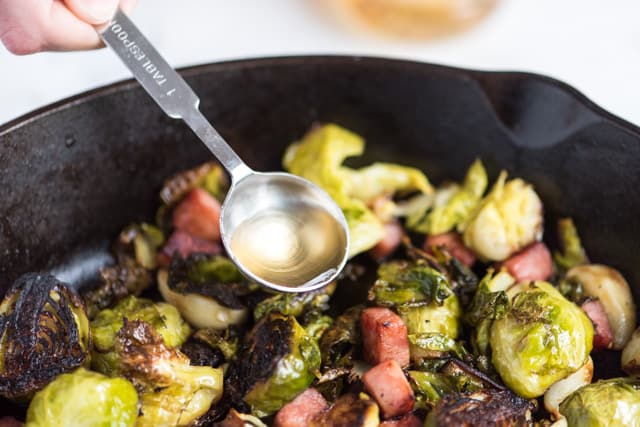 Right after taking the pan out of the oven, we scatter a tablespoon of apple cider vinegar on top to brighten the flavors up a little. We do this to potatoes for potato salad — it's an awesome trick to have up your sleeve.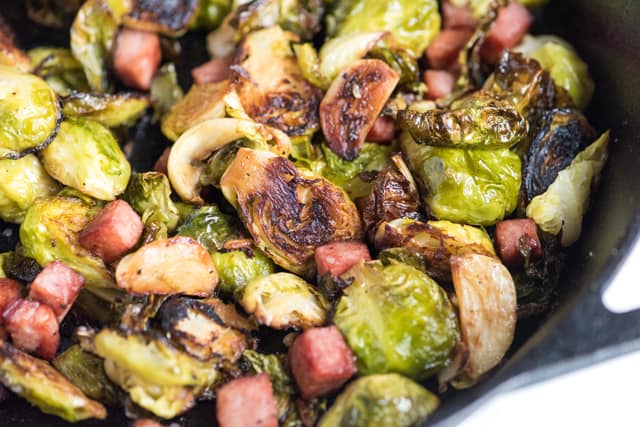 Enjoy!
You May Also Like these Roasted Vegetable Recipes
Perfectly Roasted Brussel Sprouts Recipe with Ham and Garlic
A simple roasted brussels sprouts recipe with garlic and ham. The ham is optional, here. Cubed turkey, bacon, turkey bacon or even tofu would be great here. (If you do use bacon, we suggest rendering some of the fat first instead of adding raw bacon to the tops of the sprouts. This way, you can use some of the rendered bacon fat instead of the olive oil called for in the recipe below).

By the way, you can see from our photos that we aren't afraid to allow the sprouts to get pretty dark in color. We really enjoy them this way, but you can always hold back a little if you prefer.
Yield:
Serves 4 as a side dish
You Will Need
1 pound brussels sprouts (15 to 20 sprouts)
4 tablespoons olive oil
4 ounces thick-cut ham, cut into 1/2-inch cubes
6 medium cloves garlic or 3 large cloves that have been halved lengthwise
1 tablespoon apple cider vinegar
Salt and freshly ground black pepper
Directions
Heat the oven to 400º F.
Trim away the brown ends of the brussels sprouts and discard any yellow outer leaves. Slice brussels sprouts in half top to bottom.
Heat oil in a cast-iron pan over medium heat until it shimmers. Place brussels sprouts cut side down in one layer in the pan. If a few don't fit, put them around the edge of the pan. Toss garlic and the cubed ham on top and sprinkle with salt and pepper.
Cook until the sprouts begin to brown on the bottom. If some of the sprouts on the outer edge are not becoming brown, rotate them with sprouts in the middle of the pan (where it is hottest). Once the sprouts are mostly browned on the bottom, transfer to the oven and roast, stirring the brussels sprouts, garlic and ham every 5 minutes, until the sprouts are browned and tender; 10 to 20 minutes.
Taste a sprout and add more salt and pepper if needed. Stir in the apple cider vinegar and serve.
Notes and Tips
We love using Niman Ranch's Applewood Smoked Uncured Ham Steaks for this. If you can find it, try it — we just love it.