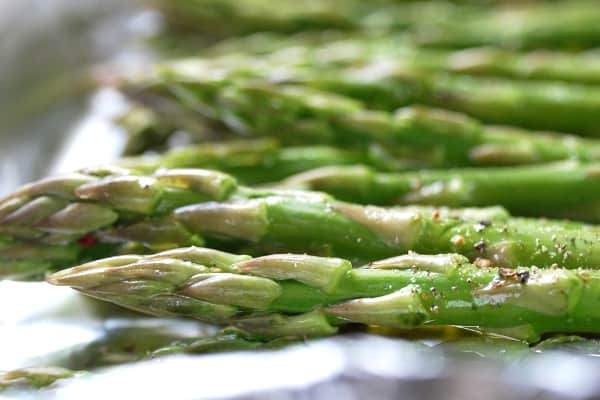 Roasted asparagus is one of our favorite side dishes. It's so simple and takes no time at all.
It's definitely spring and at times feels like summer so if you are like us, you have probably seen an increase of bright green asparagus sold at your local markets and grocery stores, something we are VERY happy about!  You can grill, steam, boil and sauté asparagus, but for us, nothing beats roasting.  It's simple, quick and leaves you with undeniably sweet tender asparagus.
How We Make Roasted Asparagus
Roasting your own bunch of asparagus is as simple as rinsing, drying and tossing with olive oil and seasonings. We stick to salt and pepper mostly, but you will sometimes find us adding a dash of chili powder, lemon zest or garlic.
The asparagus takes between 15 and 25 minutes — that depends on how thick they are. We like choosing thin stalked asparagus since they take less time to roast.
How do you like your asparagus, tell us in the comments below.
You May Also Like
Tender Roasted Asparagus
Roasted asparagus is really simple to make; no accurate quantities are needed, just make as much or little as you need.
You Will Need
1 pound fresh asparagus
2 teaspoons olive oil
1/4 teaspoon kosher salt
Freshly ground black pepper
Directions
Heat the oven to 400º F. Line a baking sheet with aluminum foil.
Rinse asparagus and pat dry. Trim about 1/2-inch from the stalky ends.
Place trimmed asparagus onto the baking sheet and toss with olive oil, salt and some freshly ground black pepper. Spread into a single layer.
Bake until tender, but still crisp and the tips begin to brown, 15 to 25 minutes. (Depending on the thickness of your asparagus, you may need to increase cooking time).