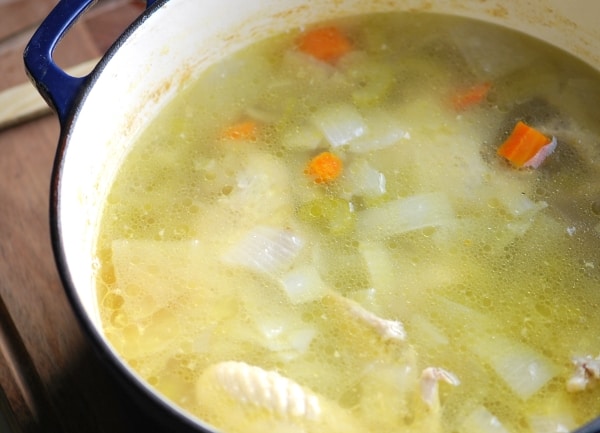 Give our homemade and full-flavored chicken stock recipe a try, it's easy and can be frozen for a later date. Ever made it yourself? It takes a few hours in the pot, but none of that time requires you. You can throw everything into the pot, walk away and come back to flavor-rich stock.
The recipe is basic and can be made from chicken carcases bones or a whole chicken.
Homemade Chicken Stock Recipe
This is a basic recipe, it can be spiced up with a chili pepper or two, a bit of star anise, coriander seeds, garlic and some ginger for the foundation of Vietnamese inspired soup or you could even add some rosemary and extra thyme to lean it more towards holiday-inspired dishes. When making stock, we never add salt. Consider this, this batch of stock could be made for multiple dishes, if we add salt now and one of those dishes requires us to reduce the stock down, we are risking that dish being too salty. Lastly, remember to cool your stock quickly once it is done, use two bowls, one bigger than the other. In the larger bowl add ice and cold water, then add the stock to the smaller bowl and rest it in the ice bath, stir the stock until it is cool enough to place into the refrigerator or freezer.This recipe makes about 8 cups of stock (equivalent to 2 boxes of stock from the store) and takes approximately 3 1/2 hours.
Created By:
Joanne and Adam Gallagher
You Will Need
2 pounds chicken bones; (chicken wings from the store work very well)
10 cups cold water
1 cup diced onion, 1/2 inch pieces
1/2 cup sliced carrots, 1/2 inch pieces
1/2 cup sliced celery, 1/2 inch pieces
8 stems parsley
6 sprigs of thyme
6 whole peppercorns
2 bay leaves
1 Spice Bag or cheese cloth and kitchen twine
Directions
Rinse the bones under cool water, then place in to a large stock pot. Add the cold water to cover the bones by about 2 inches. Slowly bring the stock to a simmer. If any foam or scum comes to the top of the stock, skim and discard it. Simmer for about 2 hours.
In the meantime, create a spice sachet with either a spice bag or cheese cloth and twine. Add the parsley, thyme, peppercorns and bay leaves to the sachet.
After 2 hours, add the onions, carrots, celery and spice sachet then simmer another 1 hour and 30 minutes. Strain the stock then use immediately or cool quickly and store in the refrigerator for a 2-3 days or in the freezer for up to 2 months.