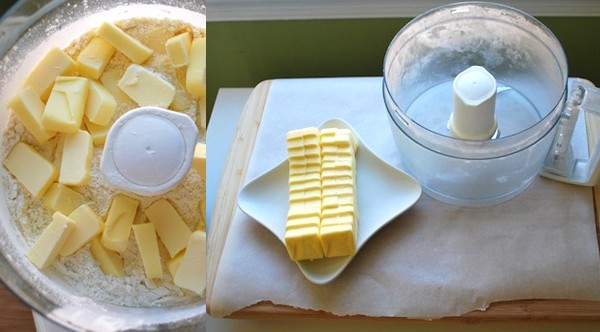 About 4 weeks ago, I had a break through. It was a marvelous feeling, I felt free, happy, accomplished and as if I had conquered Mount Everest. I, Joanne of Inspired Taste, finally made a successful, flaky, buttery pastry dough. You see, my history with pastry dough has not been a good one, there has been tears, anger and on one occasion, dough thrown across the kitchen. I followed the method, I watched the TV shows, I read the recipes, but nothing seemed to help me, it was as if I had angered the pastry gods–I assume throwing the dough across the kitchen didn't help that one.
I, however, am not one to give up, so with Adam's support and Marmalade by my side, I pledged to overcome. I practiced, I failed, I got close and then, one day, it all clicked, the dough was flaky, buttery and perfectly seasoned. Convinced it was a fluke, I tried again, it worked, I had broken through the barrier–I finally made dough that I could be proud of!
So, after overcoming all of my anguish, I was left to determine why I now am able to make that perfect crust. All the recipes I tried have extremely similar measurements of the same ingredients and they all pretty much explain the same process, so, why if the ingredients and general method is so similar did I have such a difficult time actually getting a good result?
The process sounds simple enough, add butter to flour then process to make the butter "the size of peas," add your water, chill in the fridge and roll out. But you see, within that deceivingly simple process, there are unspoken rules; everything must be extremely cold, the temperature of your kitchen matters and the type and age of your flour affects how much water you will need. So, it is not just about the recipe, it is really about the person making it. That is where practice comes in. In order to achieve the same result every time, we must be confident in our process, include a few fail safes and determine our strategy to make the perfect dough.
For us, those fail safes included the following:
We place the butter, food processor bowl and blade into the freezer for about 10 minutes before starting
We  "fluff" the flour by using the measuring cup to dig into the tub/bag of flour and then pour the flour out back to aerate it a bit
We work quickly, by making sure everything we need is measured and in place before starting to work with the cold butter
We chill the water with ice to make sure it is as cold as possible before starting
If the oven or any burners are on, we work as far away from them as possible
We only use the pulse function for the food processor for more control
When we roll out the dough, we cut it in half and place one half back into the fridge to stay cold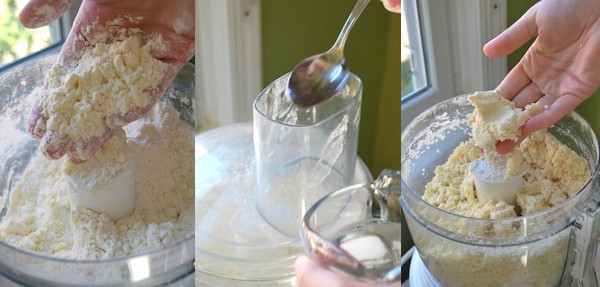 Following our own little fail safes has led to multiple successes over the past month with pastry dough.  I can honestly say that each time has been a bit different, for example, the last time I made this dough, I used much less water than the time before.  Making pastry dough requires a bit more attention than other things, can be a great success and something you can keep in your repertoire for a long time.  Our best advice is to practice and use those little tips like keeping everything cold, working quickly and possibly saying a little something to those pastry gods every now and then, they certainly have helped us out.  Making this dough is not magic, we just have to trust ourselves a bit and remember keep everything COLD!
This dough worked perfectly for our mini chorizo tarts.
Created By:
Adam and Joanne Gallagher
Yield:
Makes two 8-10 inch rounds
You Will Need
2 1/2 cups unbleached all-purpose flour
1 tsp. kosher salt
1 tsp. granulated sugar
1 cup (2 sticks) very cold unsalted butter
1/4 to 1/2 cup very cold water
Directions
Cut the butter into small pieces then place into the freezer along with the food processor bowl and blade for about 10 minutes.
Once the food processor bowl and blade is chilled, add the flour, sugar and salt; pulse a few times to combine.
Add the chilled pieces of butter and pulse (1 second) about 8 times until it looks crumbly and the butter is the size of peas.
Next, use a tablespoon measure to add 3 tablespoons of cold water to the dough, pulse for 1 second; repeat this process until the dough begins to come away from the sides of the bowl and comes together.
Place the dough on a floured work surface and use your hands to bring it together into a ball, do not knead.
Wrap the ball with plastic wrap and place into the refrigerator for at least 30 minutes.
To make one pie crust, cut the dough in half, place one half back into the refrigerator and the other on a floured work surface to roll out.