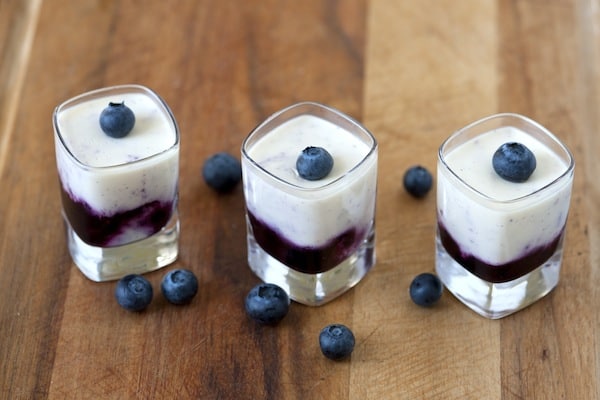 We made this a while back and completely forgot to share it with you! Panna cotta is a great dessert to make at home — there is very little hands-on time needed. All you need to consider is the time it takes to set in the fridge, which is 3-4 hours, making this a perfect make-ahead.
How to make Blueberry Sauce
Start by making a fresh blueberry sauce – all you will need is a large skillet, blueberries, water, sugar and a squeeze of lemon. The sauce takes less than 15 minutes and any extra is the perfect topping for ice cream! Depending on availability of fresh blueberries, substitute with frozen (just thaw, then drain first) or replace them with another berry. Your favorite jam could work too, if you're tight on time.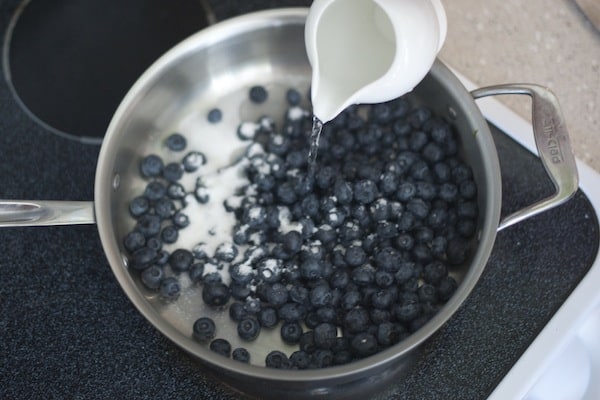 How to make Panna Cotta
The star for this is a vanilla bean. They are a bit expensive, but you can usually just buy one in the store. It is worth it, but if you don't want to spend the money, you can totally substitute 2 teaspoons of vanilla extract – we won't tell.
To make sure we get every bit of flavor out of that vanilla bean, we" steep" the vanilla bean in heavy cream and honey for about 30 minutes. Just bring everything to boil, take off the heat, cover and walk away. This is the same concept as a tea bag in hot water — all the vanilla's sweetness, depth and flavor will perfume the cream.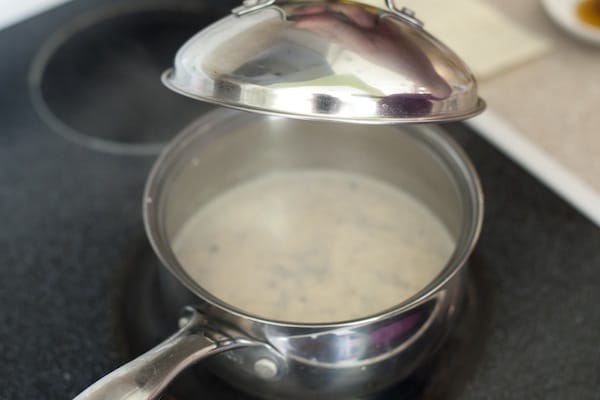 After 30 minutes, add the buttermilk. This step was inspired by Helene (Tartelette) and her Apricots Honey Panna Cotta. The buttermilk adds such a lovely tang that complements the sweetness of honey and vanilla bean, it's not to be missed. We don't usually buy buttermilk, so we had to figure out other ways to use up the bottle, see below for some ideas from a few favorite bloggers.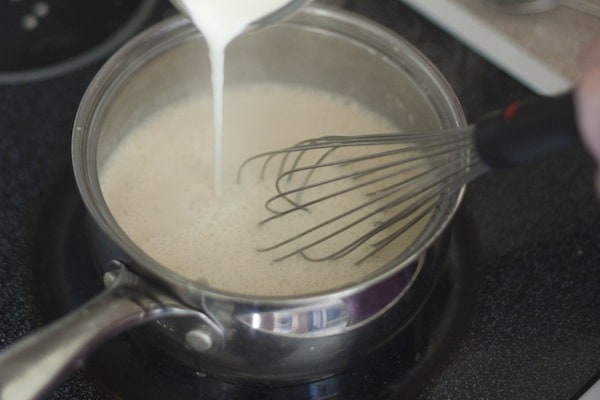 After adding the buttermilk, remove the vanilla bean and assemble the panna cottas. We went with pretty shot glasses for ours, but you can use a martini glass, bowl or any other container you like. Choose something pleasing to the eye, since the panna cotta is served as is.
To assemble the panna cottas – drop a tablespoon or two of blueberry sauce into the bottom of a glass or ramekin then carefully pour the panna cotta mixture over it. Some of the sauce may mix into the panna cotta, don't worry about that. Let everything sit at room temperature for about 20 minutes then refrigerate for 3-4 hours or until the gelatin has done its job and firmed up.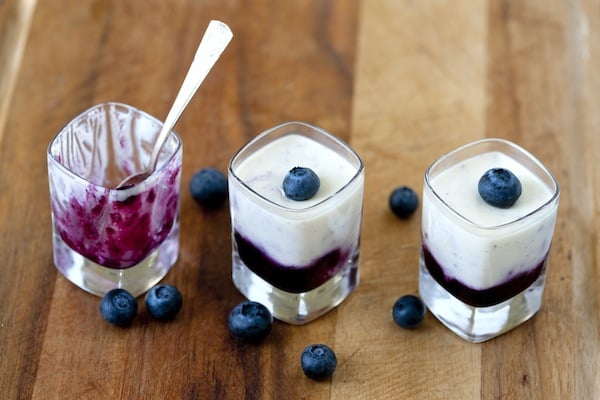 Leftover buttermilk? Here's what you can do with it:
Easy, Creamy, Lemon Dream Popsicles from Whipped
Best Buttermilk Fried Chicken from No Recipes
Buttermilk Banana Bread from Two Peas and their Pod
Buttermilk Pancakes from Brown Eyed Baker
Chocolate Buttermilk Cupcakes with Mint Infused Whipped Cream from honey and  jam
Buttermilk Pudding with Spiced Mango Sauce from Vanilla Garlic

Panna Cotta with Blueberry Sauce
You Will Need
3 cups fresh blueberries (substitue thawed and drained frozen blueberries)
1 cup water
3/4 cup granulated sugar
1 tablespoon lemon juice
1/4 cup water
1 (1/4-ounce) envelope unflavored powdered gelatin
2 cups heavy cream
1/4 cup honey
1 vanilla bean, split and seeds scraped (substitute 2 teaspoons vanilla extract)
1 cup whole fat buttermilk
Directions
For the blueberry sauce: Add blueberries, water and sugar to a medium saucepan over medium heat; bring to a boil. Add lemon juice then reduce heat to medium low; simmer for 10 minutes until sauce begins to thicken. Occasionally stir and use the back of a wooden spoon to crush a few of the blueberries into the sauce. Cool to room temperature and reserve.
Prepare the panna cotta by adding cream, honey, vanilla bean and seeds to a medium saucepan over medium heat; bring to a boil. Turn off heat, cover and allow the cream to steep for 30 minutes.
Once the cream has steeped, add 1/4 cup of water to a small bowl and sprinkle with powdered gelatin. Reserve.
Reheat the cream, remove the vanilla pod, and then add reserved gelatin. Remove from heat and whisk well until gelatin has dissolved. Add buttermilk and whisk until blended.
Assemble the panna cotta. Spoon a small amount of blueberry sauce to the bottom of each serving glass then carefully pour the panna cotta mixture over the blueberry sauce (the sauce may mix into the panna cotta slightly, this is normal). Leave at room temperature for 20 minutes, and then place into the refrigerator for 3-4 hours before serving.