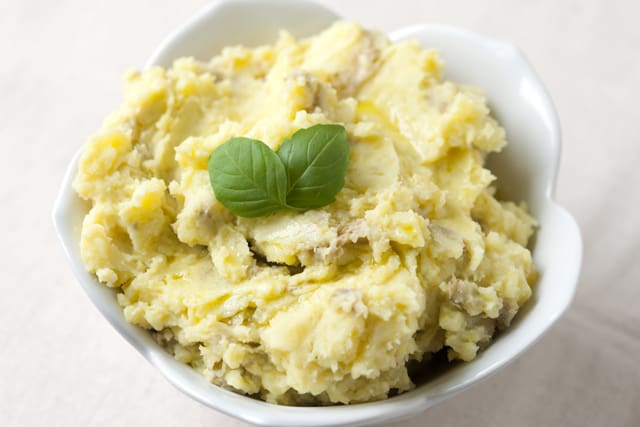 Okay, let's be honest… a holiday meal means seconds (or thirds)… what is the one thing Adam or I will almost always go back for? Mashed potatoes… oh, how we love mashed potatoes.
Ever had roasted garlic … we go back for that, too.
Why not combine? … it's just logical … so delicious! Give it a try.
-Joanne
How to make Roasted Garlic Mashed Potatoes
Drizzle some olive oil all over a garlic clove with the tops cut off then throw in some salt and pepper. Wrap the whole thing in aluminum foil then send it to the oven so it can get sweet, soft and caramelized.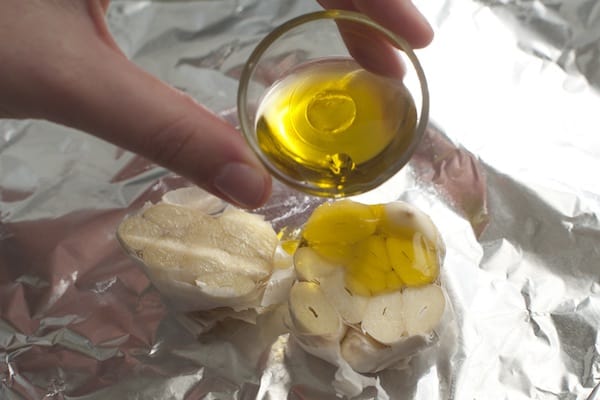 After roasting, you will be able to squeeze the caramelized cloves out into cooked potatoes.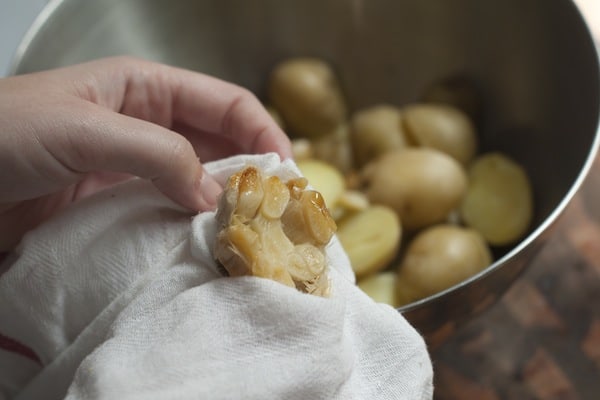 Now smoosh … that was a technical term, you know. This would be a good time to get the kids involved, by the way– kids are fantastic smooshers…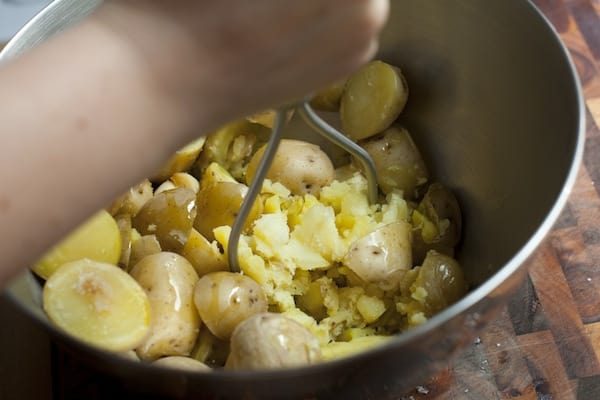 Add in some cream… then taste for seasoning.. we usually add some salt and black pepper.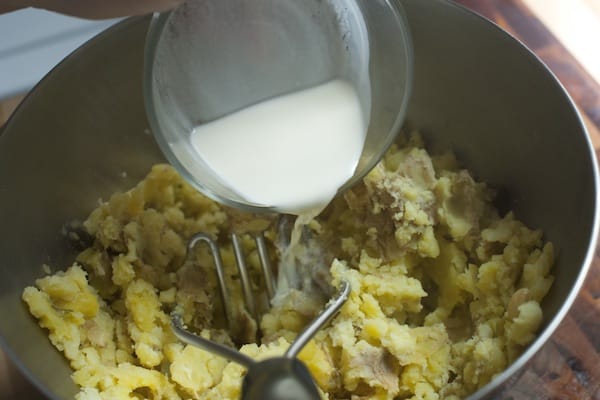 I could eat mashed potatoes all day!
This recipe was created for Betty Crocker and we're happy to share it with you!
-Joanne

Roasted Garlic Mashed Potatoes
Roasting garlic takes a bit of time, but 95% of that time is hands-off. Once the garlic has been roasted, it is soft and caramelized, making it perfect to add to creamy mashed potatoes.
Created By:
Joanne and Adam Gallagher
You Will Need
1 small bulb of garlic
3 tablespoons olive oil
1 pound potatoes (suggestion: Baby Yukon Gold)
1/4 cup half and half
basil leaves for garnish
salt and black pepper
Directions
Preheat oven to 400 degrees F.
Slice the garlic bulb in half and add to a sheet of aluminum foil. Drizzle 1 tablespoon of olive oil over the garlic and wrap; bake for 40 minutes.
Wait 15 minutes. Then, peel and chop potatoes into 1-inch chunks. Add potatoes to a medium saucepan, add ¾ teaspoon salt and cover with water. Bring to a boil over high heat, reduce to a simmer and cook until fork tender, about 15 minutes.
Warm remaining 2 tablespoons of olive oil and half and half on the stovetop or in a bowl in the microwave.
Drain potatoes and place back into the saucepan or another bowl. Squeeze roasted garlic into the potatoes and mash with a fork or potato masher. Add warmed cream and olive oil then mash until creamy.
Season to taste and garnish with a few basil leaves.