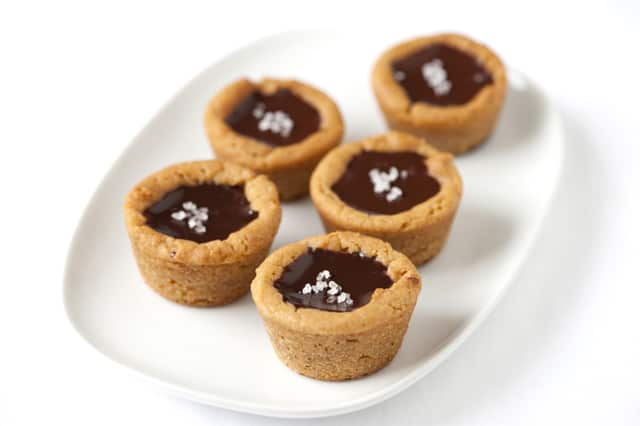 Remember the Red Velvet Cookie Cups from a week or so ago? Well those cookie cups and these cookie cups are best friends. Imagine a decadent and rich truffle center surrounded by a peanut butter cookie then add just a hint of salt. The combination is really lovely and quite rich (not that we are complaining). The filling is lightly spiced with allspice, which works well with the peanut cookie.
Maybe these could be placed out for Santa on Christmas Eve? Just don't forget the milk!
This recipe was developed for Pillsbury.

Salted Chocolate Cookie Cups
A rich truffle center surrounded by a peanut butter cookie topped with a hint of salt.
You Will Need
1 (16 oz) package Pillsbury® Simply Peanut Butter refrigerated cookies (16 cookies)
3/4 cup semi-sweet chocolate baking chips
3/4 cup heavy cream
1/4 teaspoon allspice
1/4 teaspoon salt
2 teaspoons course sea salt for garnish
Directions
Heat oven to 350°F. Spray 32 mini muffin cups with No-Stick Cooking Spray. Break each cookie dough round in half and place 1/2 a cookie dough round in each muffin cup. Bake 15 to 20 minutes or until golden brown.
Using the end of a wooden spoon, carefully press into center of each cookie to make a 1-inch-wide indentation.
Add chocolate, allspice and salt to a medium, heat-safe bowl, set aside. Add cream to a small saucepan over medium heat; bring to a simmer. Remove from heat and immediately pour over chocolate, leave for 20 seconds, then stir until the chocolate and cream come together and the mixture is shiny.
Fill each cookie cup with about 1 tablespoon of chocolate-cream mixture. Gently cover with plastic wrap and allow to cool until set in the refrigerator for about 1 hour. Once set, sprinkle a few granules of course sea salt on top.