We have served this twice, both led to friends and family asking for our pumpkin mac and cheese recipe. So, how could we not share it with you!? It shouldn't be too much of a surprise, but mac and cheese is an absolute contender on our list for what we would choose as our last supper. We added pumpkin to this one mainly because we had half of a can to use up in the fridge, but once we tasted it we might just add that pumpkin every time we make macaroni and cheese in the future. You see, it doesn't taste like pumpkin per-see, it just tastes rounded, creamy, velvety and rich.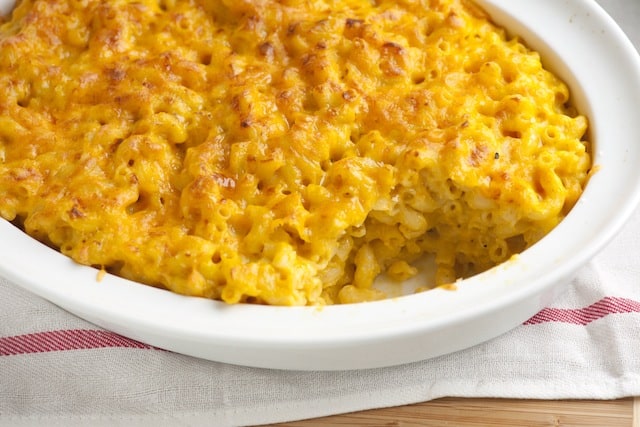 Add a Twist to Macaroni and Cheese & Make Pumpkin Mac and Cheese
Start by melting some butter in a large pot (we used out dutch oven) then stirring in flour. By combining the two, butter and flour that is, we are making a roux. All that means is when we add all the good stuff like milk, cheese and pumpkin, the cheese sauce will thicken and become velvety smooth.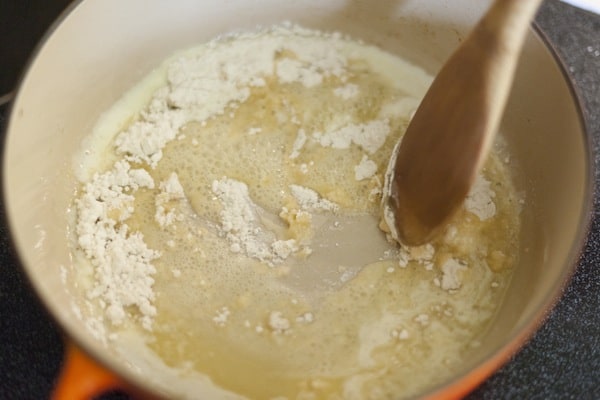 After cooking the butter and flour for a minute or so, pour in some milk. While stirring, bring the milk to a simmer. You will notice that it will become thicker.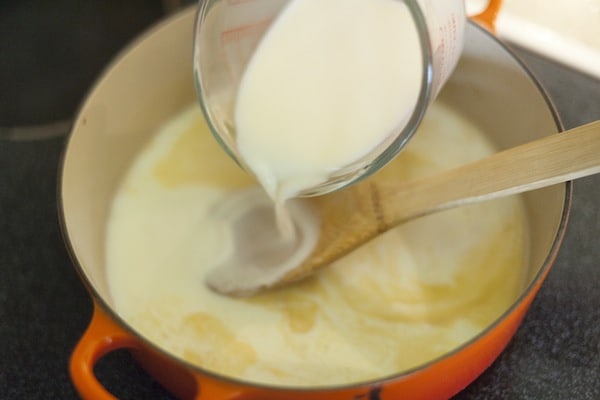 Now, add in some flavor! Keeping it simple, we added some Dijon mustard, salt, pepper and ground nutmeg.
Now, add some canned pumpkin to the sauce.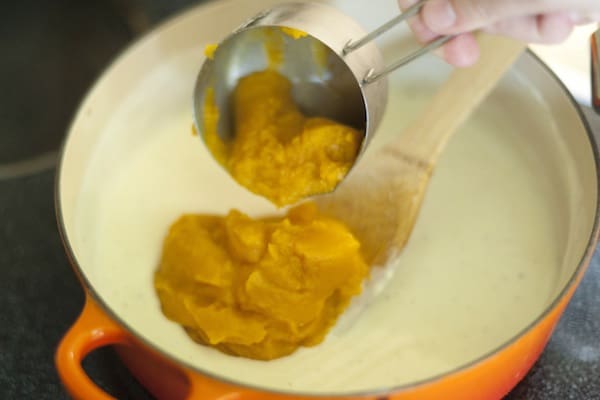 Next, stir in some shredded cheddar cheese. If at this point you can resist licking the spoon, we salute you!
Toss a whole box of cooked pasta with the sauce.
Then, slide all the good stuff into a baking dish. Again, if you actually manage to resist stealing a few spoonfuls, you are our hero.
Just because you can never have too much cheese, sprinkle some shredded cheddar on top. Then, bake in the oven until bubbly and the top is a golden brown.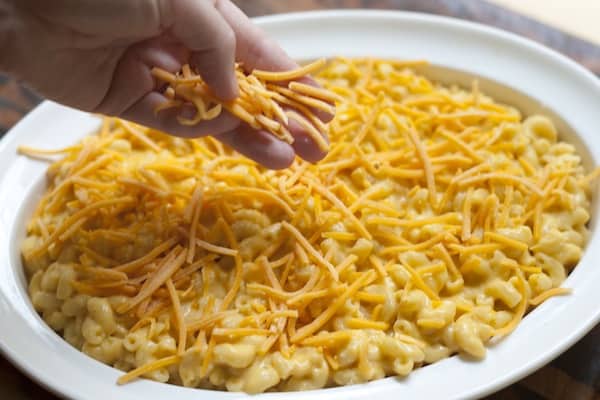 We created this recipe for Betty Crocker and are so happy to share it with you!

Easy Pumpkin Mac and Cheese Recipe
This macaroni and cheese uses canned pumpkin puree, adding an earthy flavor to the cheddar cheese sauce. We used canned pumpkin, but you could certainly uses homemade pumpkin puree. If you do decide to buy the puree, make sure you opt for the plain pumpkin puree and not the "pumpkin pie mix" can, often found next to it. The mac and cheese can be kept tightly covered in the refrigerator for up to 3 days or frozen for up to 3 months.
Created By:
Joanne and Adam Gallagher
You Will Need
1 16-ounce box uncooked elbow macaroni
1/4 cup unsalted butter
1/4 cup all-purpose flour
2 cups milk
1/2 teaspoon salt
1/4 teaspoon pepper
1/4 teaspoon ground nutmeg
1 teaspoon Dijon mustard
1 cup canned pumpkin puree
2 1/2 cups shredded cheddar cheese
Directions
Heat oven to 350 degrees F.
Bring a large pot of salted water to a boil. Cook macaroni as directed on package. (Usually between 7 and 10 minutes).
While macaroni is cooking, melt butter in a medium saucepan over low heat. Stir in flour and cook while stirring, 1 minute. Remove from heat and stir in milk. Place back onto heat and bring to a simmer. Simmer and stir 1 minute until thickened.
Stir in salt, pepper, nutmeg, mustard and pumpkin puree. Add 2 cups of cheese then cook, stirring occasionally, until cheese is melted.
Drain macaroni. Add macaroni into cheese sauce and stir until coated.
You could serve the macaroni and cheese now, or bake in the oven with extra cheese. To bake in the oven, pour into a 3-quart casserole dish then top with remaining 1/2 cup of shredded cheese.
Bake uncovered 20 to 25 minutes or until golden brown on top.