How to make roasted pumpkin seeds at home. You can even use this method for other winter squashes like butternut squash.
Watch the Video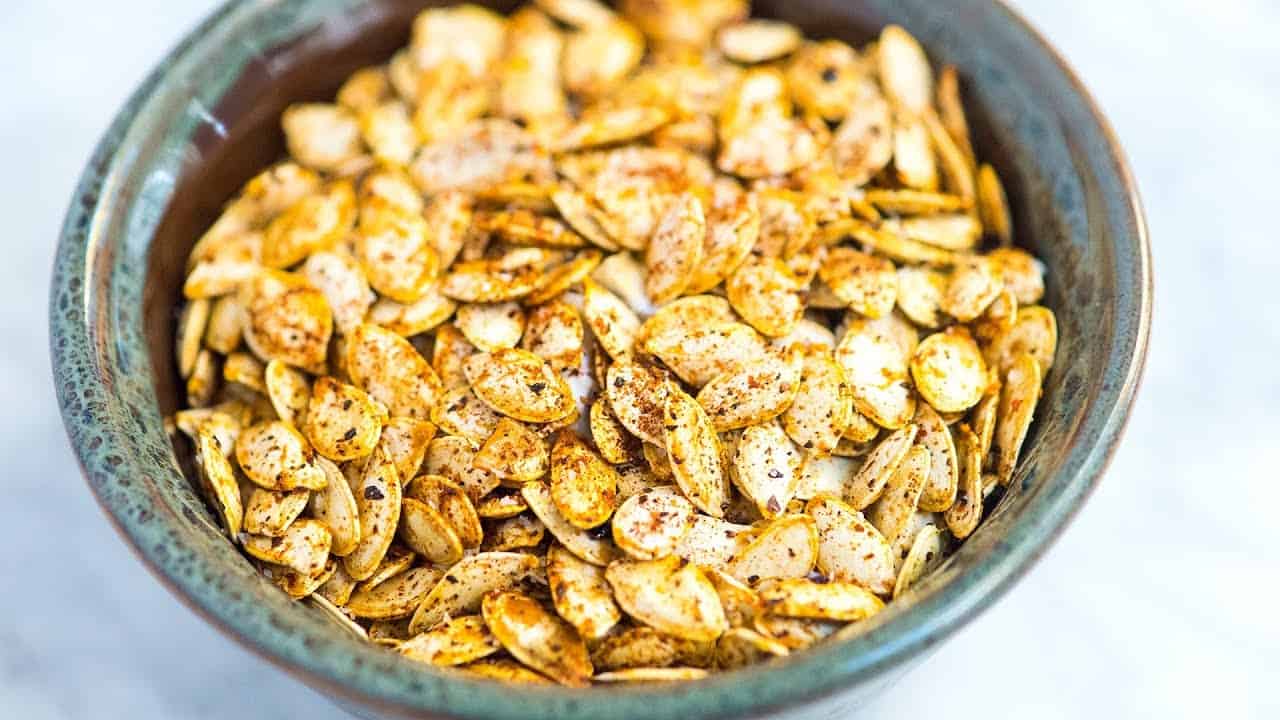 Related: We love this homemade pumpkin puree!
The first time I ever looked into how to roast pumpkin seeds I was in mid-scoop of carving a pumpkin. Is that you, too? Welcome and I've got your answer below.
Halloween isn't the only time to roast pumpkin seeds, though. They are so tasty, you can do it throughout fall and winter. You can even roast the seeds of other hearty squashes. Think butternut, spaghetti squash and delicata squash seeds. The method stays the same, although you may find the smaller seeds don't need as much time in the oven.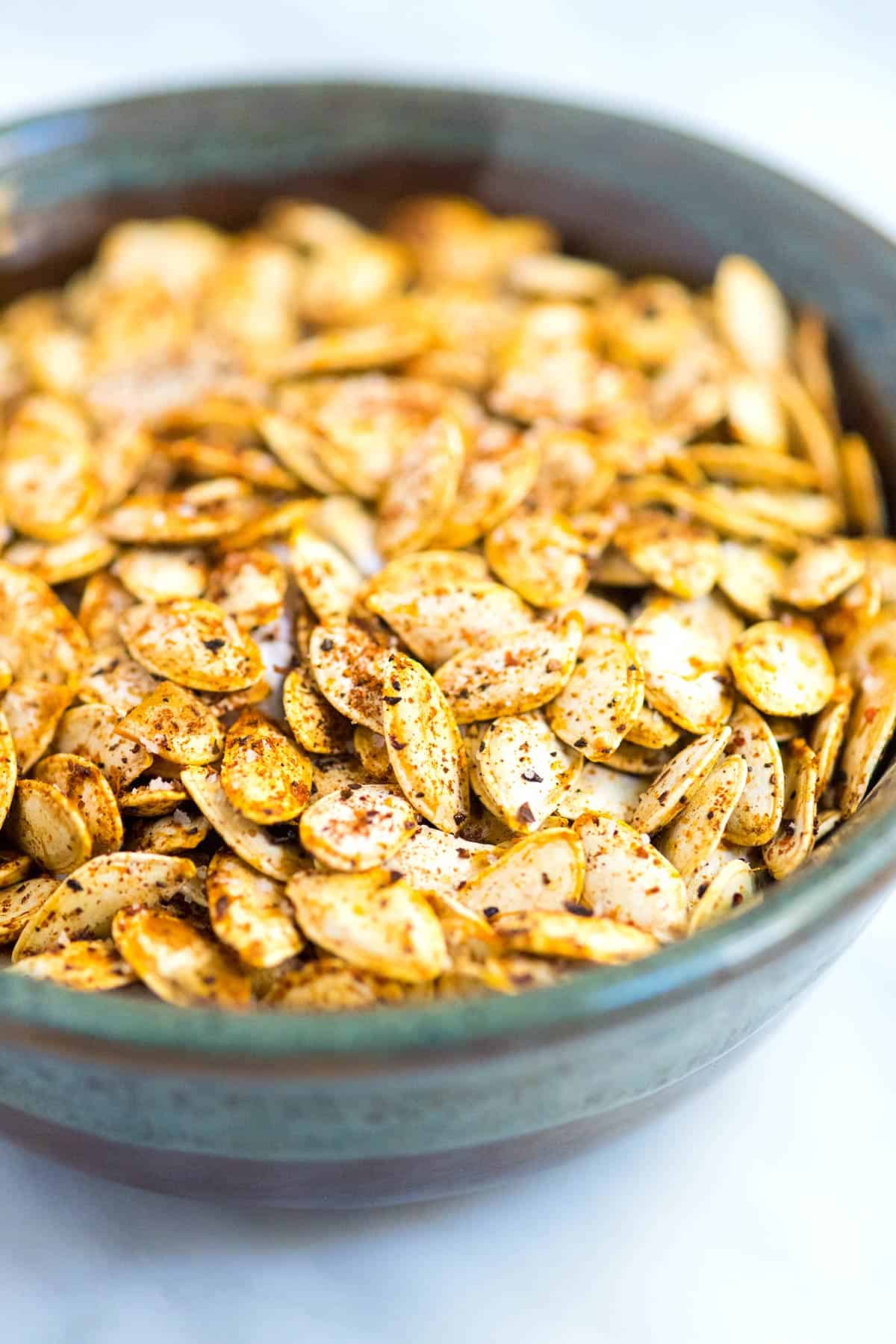 More Pumpkin Recipes: Try making Homemade Pumpkin Puree (it's easy) and use it in this No-Fail Pumpkin Pie, our Maple Pumpkin Butter, or this DIY Pumpkin Spice Latte.
How To Roast Pumpkin Seeds (and other winter squash seeds)
Please don't throw away those seeds; here's how we turn them into a delicious snack!
After scooping out the seeds (they're going to be a bit messy), we need to clean them of any stringy bits. To clean them, throw them into a bowl of cold water. Swish the seeds around a bit, then take them out as they float to the top.
They're mostly clean at this point, which is fine because they have one more chance to clean up. Next, add the mostly clean seeds to a pot of boiling salted water. Then simmer for about 5 minutes, which cleans the seeds and seasons them — like how adding salt to the boiling water seasons pasta.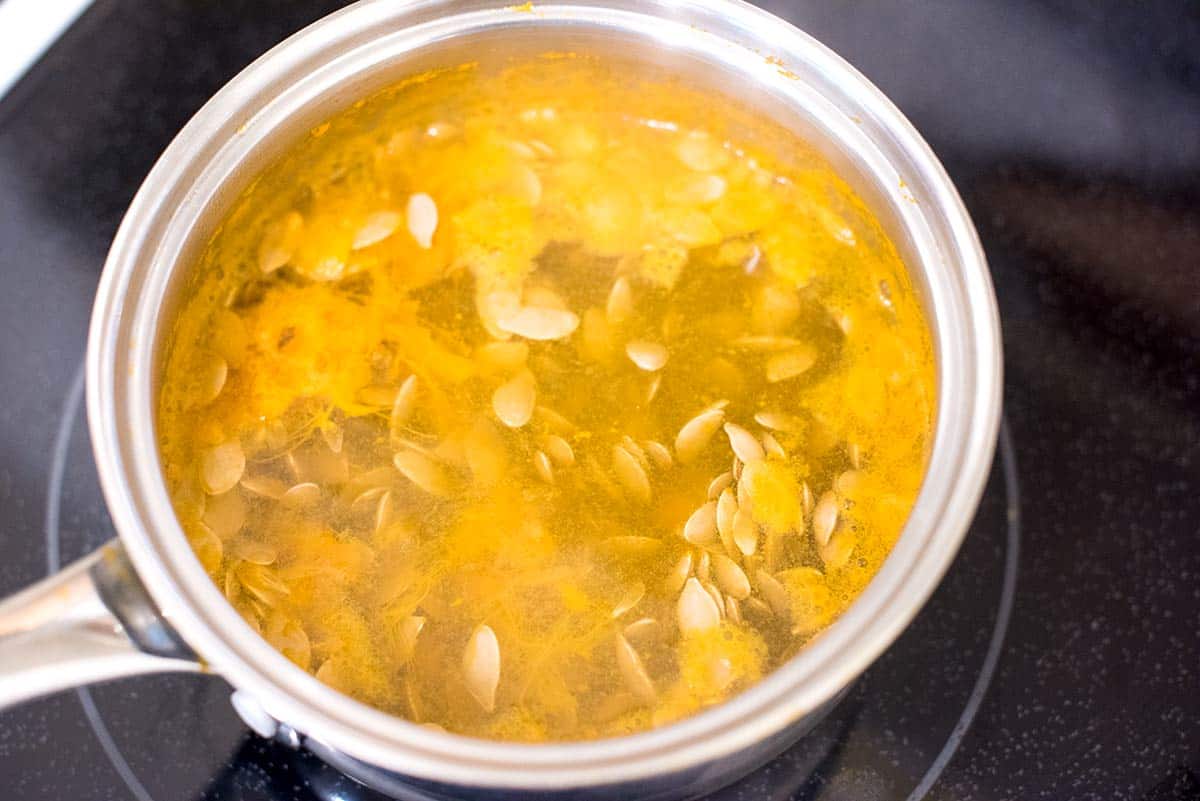 Drain and rinse the seeds. Pull away any extra bits of pumpkin left, then dry them as well as possible. The more dry the seeds are, the better they will roast.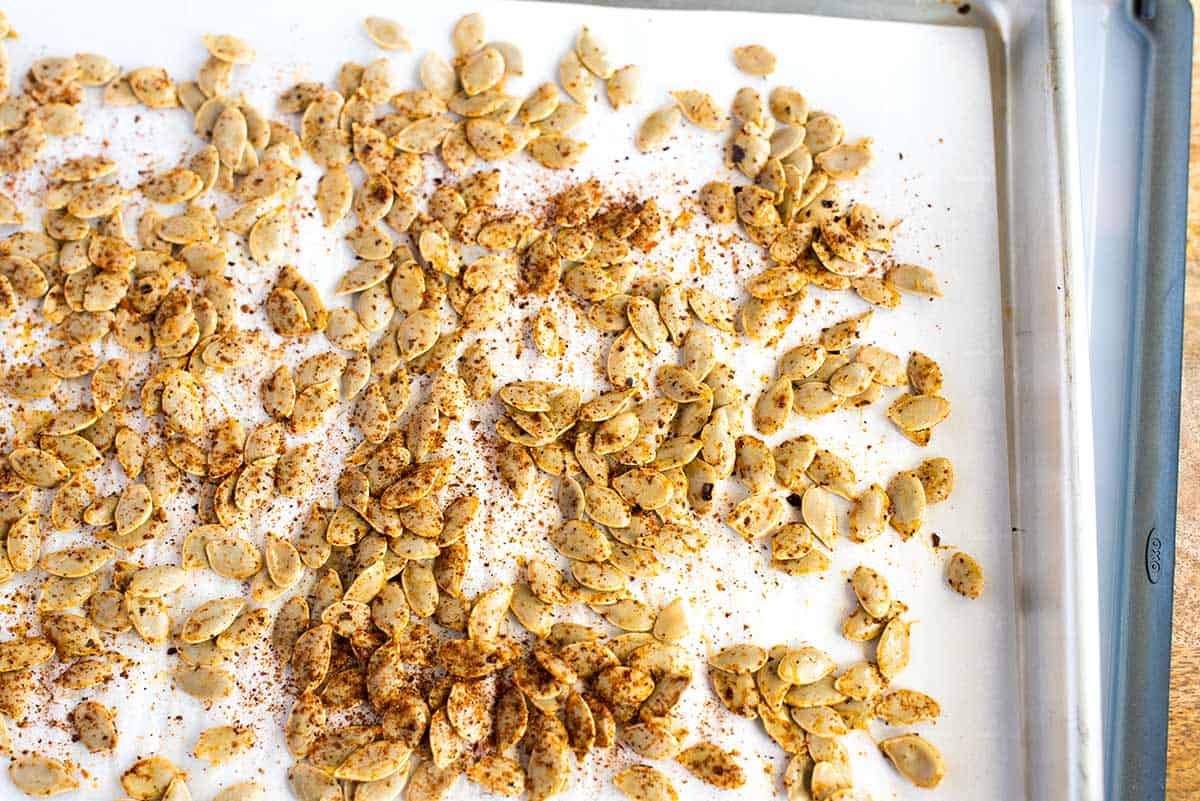 Toss the dry seeds with oil — use olive oil, coconut oil, or a nut oil like walnut. Add a sprinkle of spice — we used harissa in the photo, but curry or chili powder is also excellent. Spread the seeds into one layer and roast until crisp and browned around the edges.
Can You Eat Pumpkin Seed Shells?
Pumpkin seeds can be enjoyed with or without the shells. We enjoy the shells, and love that they add some extra fiber. If you don't enjoy the shells, you can always hull them after roasting. I usually do this by biting into the seed and using my teeth to crack the shell.
How Long Do Roasted Pumpkin Seeds Last?
Allow the roasted seeds to cool, then store them in an air-tight container. They will last this way at room temperature for a couple of weeks and in the freezer for a few months.
Sprinkle these pumpkin seeds on top of dishes like our Easy Pumpkin Mac and Cheese, our Quick and Easy Creamy Vegetable Soup (35 minutes), this 7-ingredient Roasted Butternut Squash Soup or these Creamy Avocado Lime Sweet Potato Noodles (gluten-free).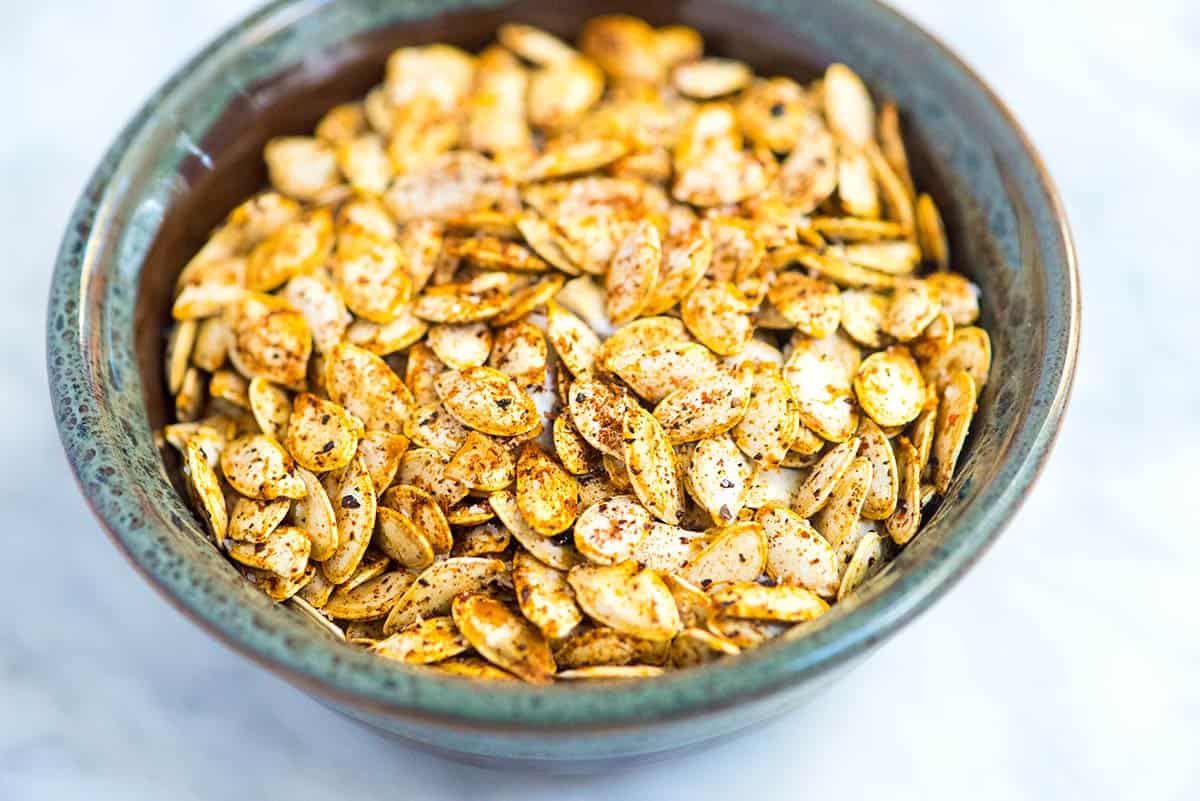 Easy Roasted Pumpkin Seeds
Season pumpkin seeds with almost anything from your spice cabinet. Boiling the seeds in salted water for 5 minutes before roasting helps to clean and season them. Before baking, pat the boiled seeds very dry otherwise they will not brown or crisp.
Watch Us Make the Recipe
You Will Need
1 1/2 cups pumpkin seeds
2 teaspoons fine sea salt, plus more for serving
2 teaspoons olive oil, melted coconut oil or nut oil like walnut
2 teaspoons your favorite spice blend such as curry powder, harissa and chili powder
Directions
1Heat the oven to 350 degrees F. Line a baking sheet with parchment paper.

2Fill a medium saucepan with about 2 cups of water and season with 2 teaspoons salt. Bring to a boil.

3Meanwhile, scoop the seeds from your pumpkin. Add the pumpkin seeds to a bowl filled with cold water and swish them around until the seeds float and are mostly clean.

4Add cleaned seeds to the boiling salted water. Simmer for 5 minutes. Drain and pull away any remaining pumpkin attached to the seeds.

5Scatter the seeds onto clean dishcloths and pat them very dry. Mound the dried seeds onto the prepared baking sheet. Add the oil and any spices on top then toss until well coated. Spread the seeds into one layer. Bake, stirring the seeds at least once, until fragrant and golden around the edges, 10 to 25 minutes, depending on how large the seeds are.
Adam and Joanne's Tips
Harissa is sold in it's dried form — like curry powder — as well as in jars mixed with oil. We used the dried harrisa spice blend in the photos above. You can use harrisa already mixed with oil and omit the oil called for in the recipe above.
Storing: Allow the roasted seeds to cool, then store them in an air-tight container. They will last this way at room temperature for a couple of weeks and in the freezer for a few months.
Nutrition facts: The nutrition facts provided below are estimates. We have used the USDA database to calculate approximate values.
If you make this recipe, snap a photo and hashtag it #inspiredtaste — We love to see your creations on Instagram and Facebook! Find us: @inspiredtaste
Nutrition Per Serving
Serving Size
2 tablespoons
/
Calories
105
/
Protein
5 g
/
Carbohydrate
2 g
/
Dietary Fiber
1 g
/
Total Sugars
0 g
/
Total Fat
9 g
/
Saturated Fat
2 g
/
Cholesterol
0 mg