We woke up this morning with a long list of to-dos, by noon, not one of the items on that list was crossed off. We were spinning our wheels. Ever had a day like that?
By 2pm, nothing changed, so we closed up shop, went into the kitchen and made this soup. We've made this creamy vegetable soup recipe before and actually shared it in 2009, but instead of just re-posting, we thought we would go a little deeper and show you the step-by-steps. This soup is comfort in a bowl for us, but also for others. A dear friend has made this for her family since 2009, in fact when her father became ill, this was one of the meals she would make in her Maryland kitchen, package up and send to Florida. You have no idea how quickly our hearts beat when we found that out.
So, make the soup. Make it on a cold night, make it for family. Just make it, we hope you will be better for it.
-Joanne
How to Make Our Creamy Vegetable Soup Recipe
You will need a large pot for this soup, everything happens in it. Don't you just love one-pot meals?
Heat the pot over medium-high heat, add some olive oil (or butter), and then add coarsely chopped onions, carrots and celery. Give the veggies a couple pinches of salt and cook for 5-10 minutes until they become soft. Next, add in some potatoes and a few garlic cloves that have been cut in half.
Give the potatoes a few minutes then add chicken stock. By the way, if you wanted to use vegetable stock instead, you totally could.
Next, add a couple bay leaves and some fresh thyme. If you don't have fresh thyme just add a teaspoon or so of dried thyme.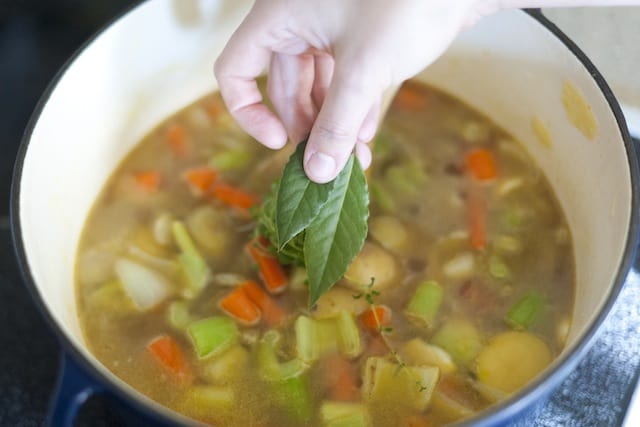 Allow the soup to cook 10-15 minutes until the potatoes are can be easily pierced with a fork. Now, use an immersion blender to puree the soup. You could also use a food mill or stand blender, just make sure you work in batches.
Pour in some cream or half-and-half and add a few red pepper flakes then taste for seasoning. We usually season the soup pretty heavily.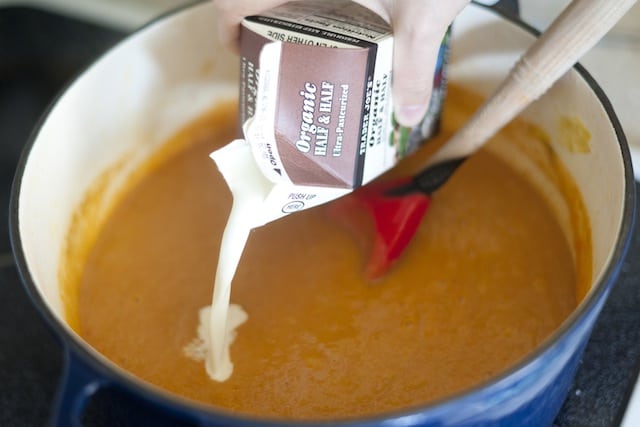 That's it. Serve with croutons or as is. Keep the soup in the fridge up to 3 days or package and freeze up to three months.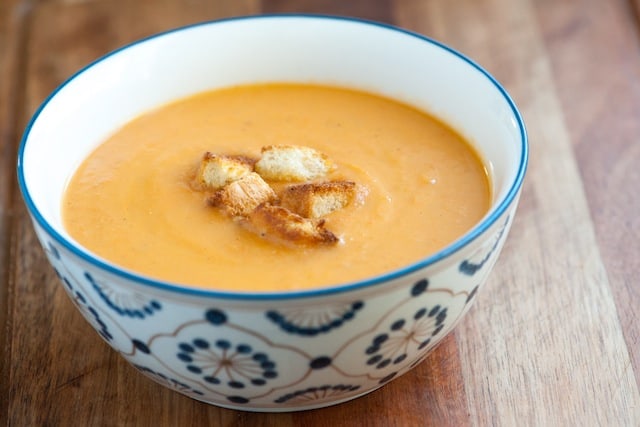 Did you enjoy our creamy vegetable soup recipe? If so, you may also enjoy these:
Creamy Vegetable Soup Recipe
This creamy vegetable soup can be refrigerated up to 3 days and kept in the freezer for up to 3 months. For a vegetarian version of this soup, replace chicken stock with vegetable stock.
Created By:
Adam and Joanne Gallagher
You Will Need
2 tablespoons olive oil
1 pound carrots, peeled, 1/2-inch dice
1 large onion, 1/2-inch dice
4 celery sticks, 1/2-inch dice
3 medium Yukon Gold potatoes (or 6 small), 1/2-inch dice
3 garlic cloves, peeled and halved
3 cups chicken stock
2 bay leaves
3 sprigs fresh thyme (substitue: 1 teaspoon dried thyme)
1/4 cup half-and-half or heavy cream
1/4 teaspoon red pepper flakes
salt to taste
Directions
Heat a large pot over medium-high heat, add oil. Add carrots, onions, celery and 1/2 teaspoon of salt; cook 10 minutes until softened.
Add potatoes and garlic halves; cook 5 minutes.
Pour in chicken stock then add bay leaves and thyme. Bring soup to a boil, reduce heat to a simmer and cook 15 minutes until potatoes can be pierced with a fork.
Remove bay leaves and thyme stems then puree soup using an immersion blender, stand blender or food mill.
Add half-and-half and red pepper flakes, taste for seasoning, add salt if necessary.