Whenever we make anything like this, I take the "season to taste" thing overboard. I pretend that I am still seasoning the sauce, but in actuality am standing over the pot with a spoon, stealing as much as I can before I am forced to share with Adam. I love him, but in moments of weakness, I get confused and start to love the sauce more.
There is something pretty special about a slow cooked red sauce and while I will of course bring my spoon, we usually don't have the time to make it, so we make some version of this. It takes less than 30 minutes, is inexpensive and totally spoon-over-the-stove worthy.
How to make Chicken Ragu
Start by bringing a large pot of salted water to a boil then cook some pasta according to the box directions. While that happens, get your sauce going. Cook onions, carrots and celery over medium high heat until softened then add fresh or dried rosemary and garlic.
Add the chicken and cook until browned.
Then, pour in some red wine. If you don't have a bottle open on hand, scratch it and use beef or chicken stock instead…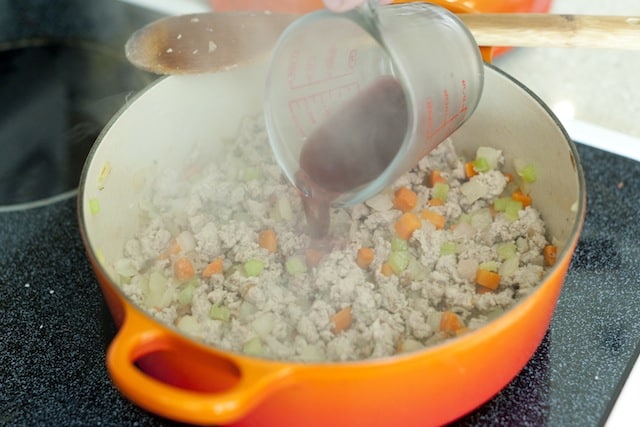 Then, add some store-bought marinara sauce (use your favorite, we used Prego here). Cook the sauce for 10 minutes then serve over pasta.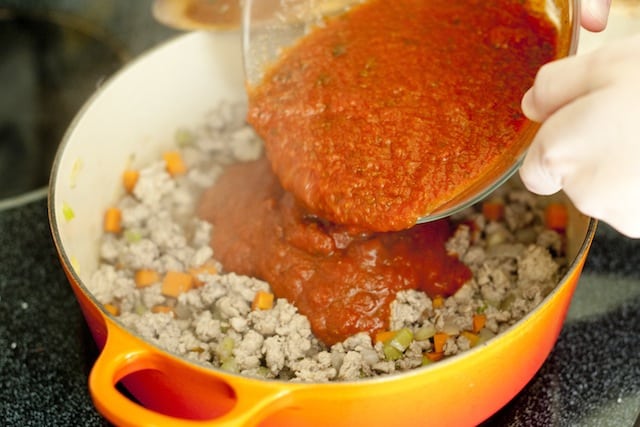 We created this recipe for Betty Crocker and are so happy to share it with you!

Hearty and flavorful chicken ragu in less than 30 minutes. Feel free to substitute ground beef or turkey for the chicken. If you would rather not use wine in this, substitute beef or chicken stock.

Chicken ragu freezes beautifully, add to an air-tight container then freeze for up to 3 months for a quick dinner down the road.
Created By:
Adam and Joanne Gallagher
You Will Need
1 tablespoon olive oil
1/4 cup diced onion
1/4 cup diced carrot
1/4 cup diced celery
1 teaspoon finely chopped fresh or 1/4 teaspoon dried rosemary leaves
1 clove garlic, finely minced
1 lb ground chicken
1/4 cup dry red wine (substitute with beef or chicken stock)
1 box (12 oz) spaghetti
1 jar (23 oz) marinara sauce (we used Prego)
salt and pepper to taste
Directions
Bring a large pot of salted water over high heat to a boil add pasta and cook as directed on box.
Meanwhile, in a large skillet, add olive oil, onion, carrot and celery; cook over medium heat 2 to 3 minutes or until onion becomes soft and translucent. Stir in rosemary and garlic; cook 30 seconds. Add chicken; cook 5 minutes, breaking up chicken with large spoon or spatula, until chicken browns. Add wine and cook 1 minute.
Stir marinara sauce into chicken mixture. Reduce heat to medium-low; cook 10 minutes. Taste; if needed, season with salt and pepper. Serve over cooked spaghetti.
Notes and Tips
When you cook pasta, use at least 4 quarts of water for every pound and add at least 1 tablespoon of salt. This way, the pasta won't stick together when cooking and will be seasoned.