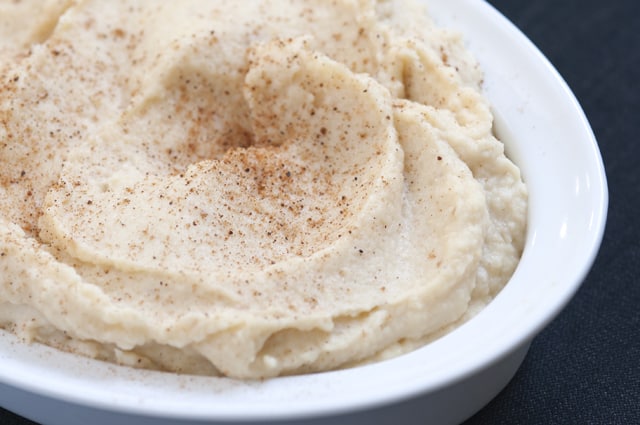 Need an easy side dish idea for your next dinner party or meal? Try parsnips. I grew up on parsnips, well usually parsnips and carrots together. We like to think of them as the sweetness of a carrot married to the creaminess of a potato, making them perfect for roasting and then turning into a creamy puree. The addition of cream and nutmeg make this perfect to go alongside beef, lamb or roasted chicken. In fact, we love this with Lavender Honey Chicken.
We made this for maché magazine's holiday issue, you really should check it out.

Parsnips are such a wonderful vegetable, think the sweetness of a carrot and the creaminess of a potato. Make this ahead of time and keep in the fridge for up to 3 days, just reheat just before serving.
Created By:
Adam and Joanne Gallagher
You Will Need
2 pounds parsnips, peeled and cut into 1-inch pieces
2 tablespoons olive oil
1 1/4 cup water
1/2 cup cream
1/8 teaspoon nutmeg
3/4 teaspoon salt
Directions
Preheat oven to 400 degrees F and position racks towards the middle of the oven.
Season chicken with salt
In a medium bowl, toss parsnips with olive oil and ½ teaspoon of salt. Arrange parsnips in one layer onto a baking sheet. Bake in the oven for about 30 minutes, turning once, until lightly golden brown.
Add roasted parsnips to a blender or food processor with water, cream and nutmeg. Puree until your desired consistency, add more water if necessary. Add the addition 1/4 teaspoon of salt to taste.