Learn how to make light, pillowy ricotta gnocchi from scratch in 30 minutes. We provide a step-by-step guide to walk you through the process. Plus, we include instructions on freezing the gnocchi for future use.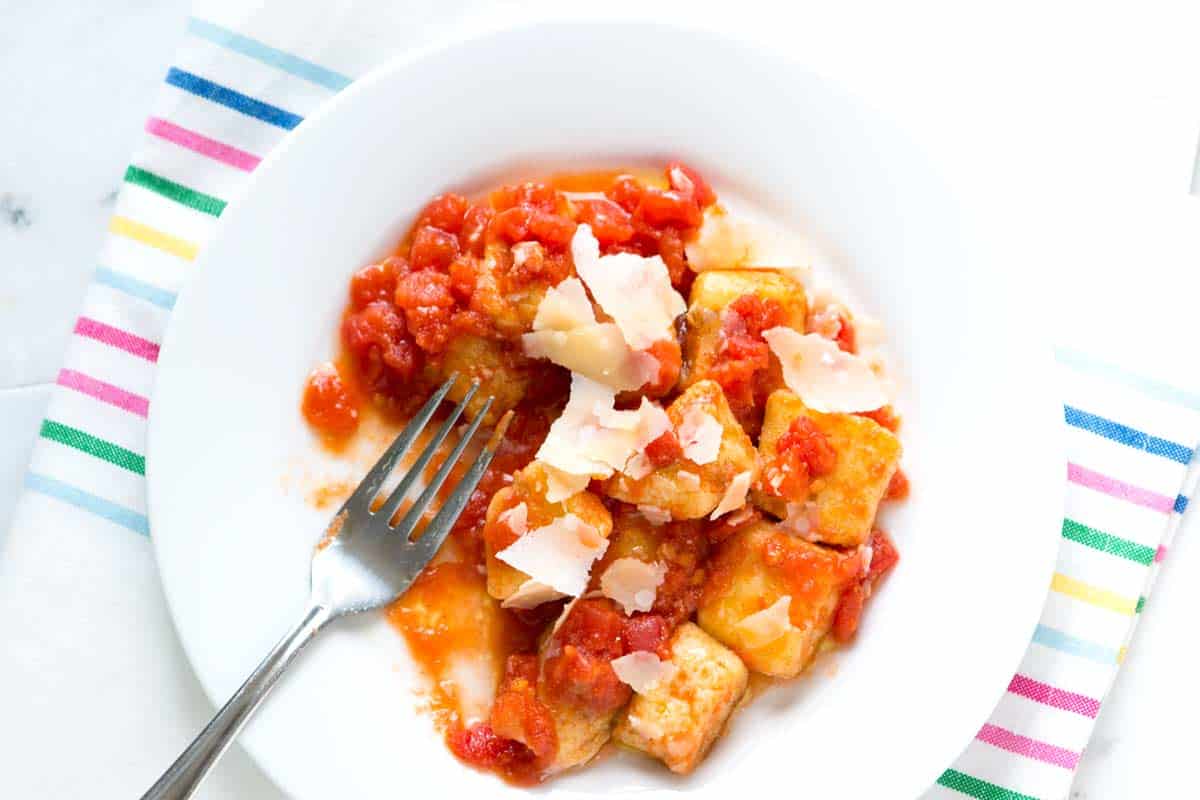 Related: Try making gnocchi with potatoes with our easy recipe and video.
How to Make Gnocchi with Ricotta Cheese
I'm thrilled to share this easy ricotta gnocchi recipe with you! We've talked about it for months and made it countless times. It has become one of our absolute favorite go-to recipes. Trust me. It's incredibly easy to make. The gnocchi dough comes together in less than 15 minutes, making it quick and hassle-free.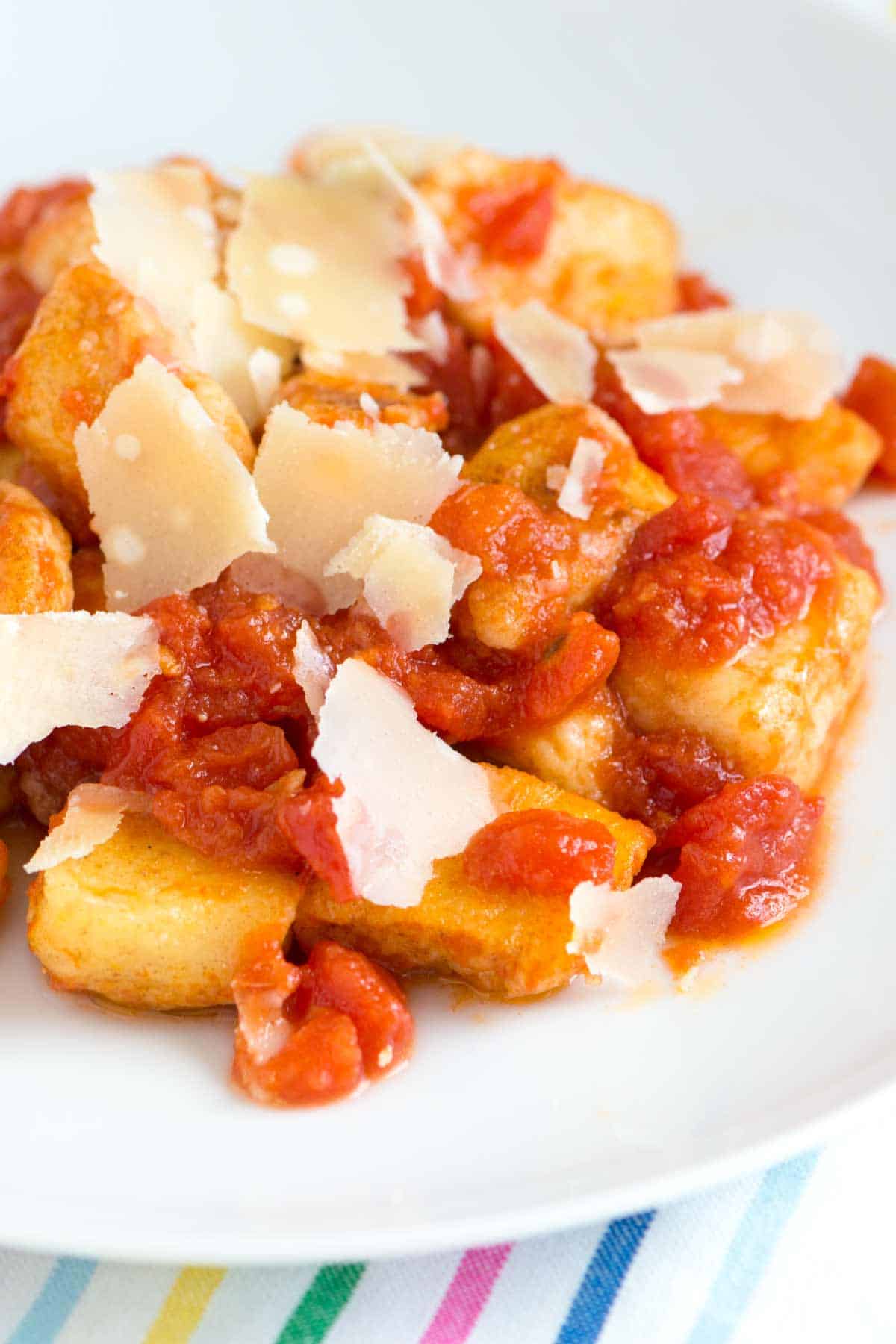 To prepare ricotta gnocchi, we combine lemon zest, parmesan cheese, an egg, and ricotta cheese with flour in a large bowl. The dough comes together beautifully with 20 to 30 strokes of a spoon!
Next, turn the dough onto a workbench, divide it into four portions, and roll each portion into long ropes. Cut the ropes into bite-size pieces and place them on a flour-dusted sheet to prevent sticking.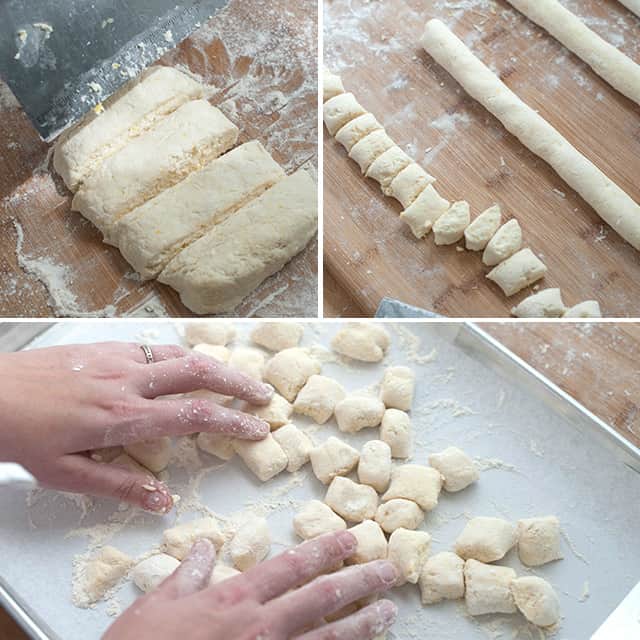 Once you reach this stage, you can prepare the gnocchi immediately or freeze them for future use. Since there are two of us, we often make half of the batch and reserve the remaining portion for another night.
To cook the gnocchi, bring a pot of salted water to a rolling boil and cook them for approximately 2 to 3 minutes. You'll know they are ready when the gnocchi floats to the surface.
There are numerous ways to enjoy ricotta gnocchi. It's lovely when lightly tossed with olive oil, parmesan cheese, and fine herbs like basil or chives. However, our favorite is to go a step further and add a buttery crust, then toss the toasted pillowy gnocchi with marinara sauce.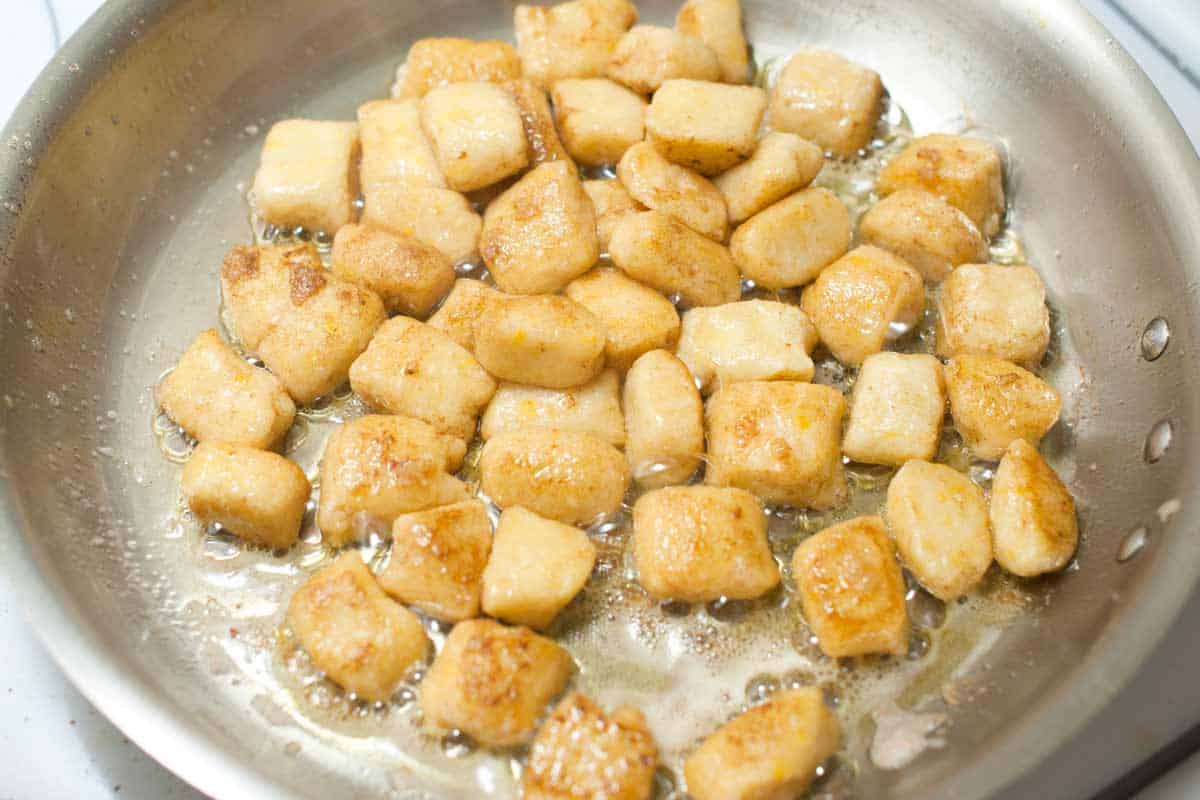 Make Ahead: How to Freeze Gnocchi
The beauty of this recipe is that it really only takes 15 minutes to make the dough. After that, you can cook it — which takes 2 to 3 minutes — or save it for another day.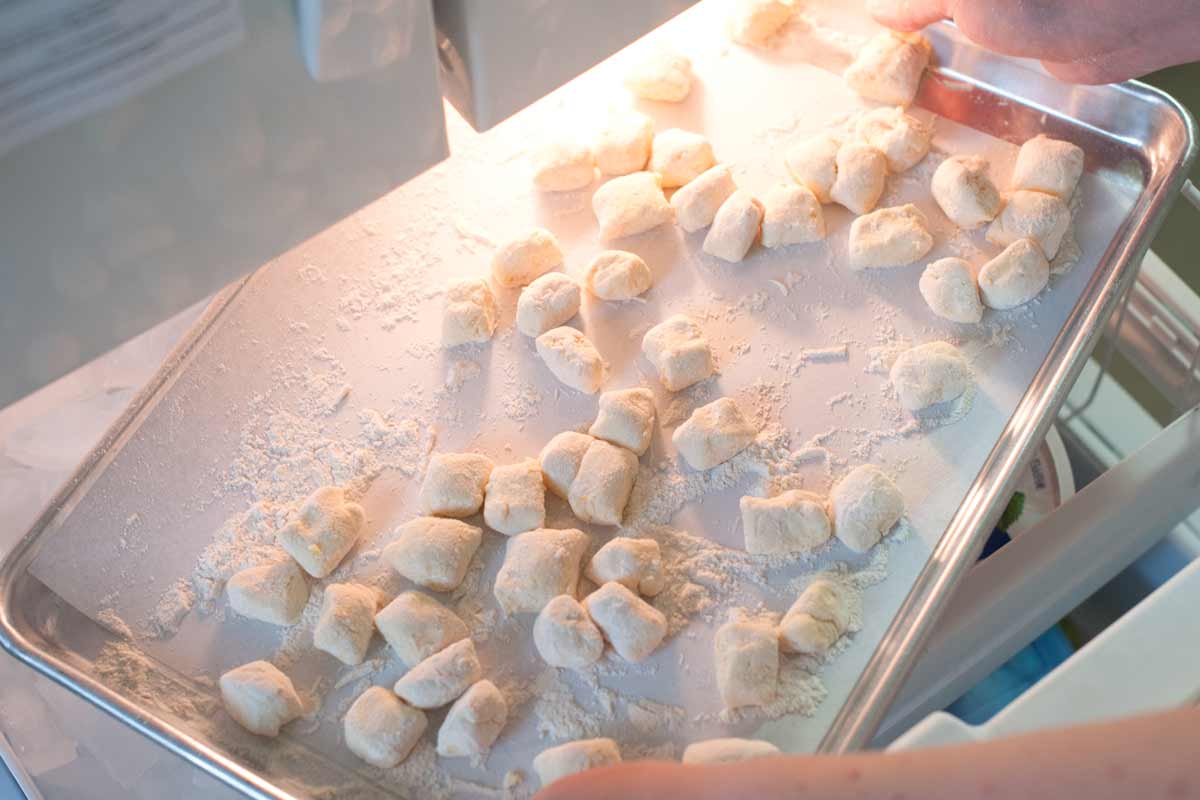 To freeze the gnocchi, place them on a baking sheet that's been dusted with some flour, ensuring they remain separate to prevent sticking. Slide the baking sheet into the freezer and allow the gnocchi to harden, typically within an hour. Once hardened, transfer them to freezer bags or an airtight container. When you're ready to cook, simply add the frozen gnocchi to boiling water and cook until they float to the surface.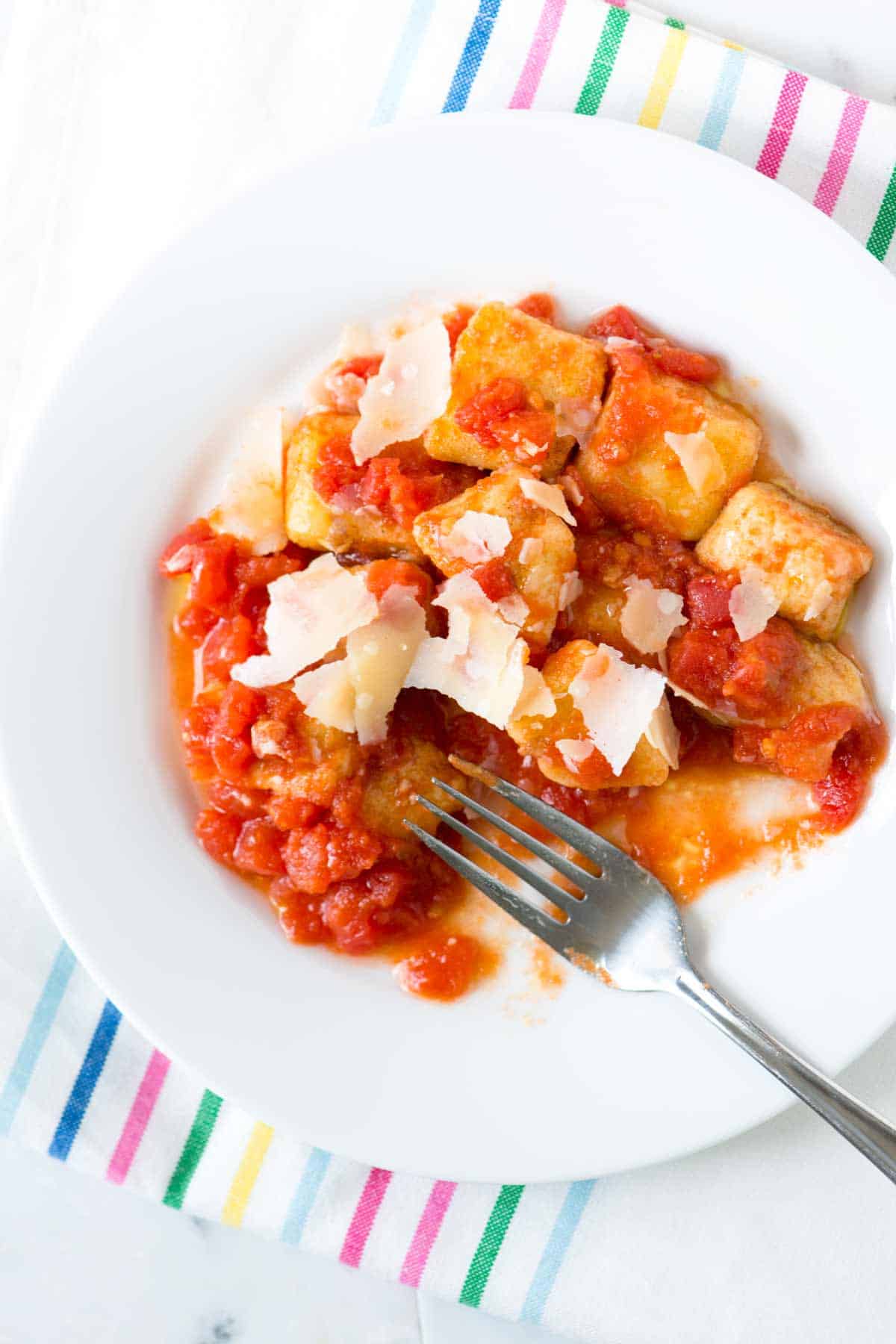 Easy Ricotta Gnocchi
Easily create restaurant-quality ricotta gnocchi at home. The dough comes together in under twenty minutes, allowing you to cook it immediately or freeze for later. Serve the gnocchi plain with olive oil, parmesan cheese, and herbs, or elevate it with a buttery crust and light marinara sauce. Follow the instructions below for making the dough, cooking, and freezing.
You Will Need
3/4 cup (95 grams) all-purpose flour, plus more for baking sheet and work bench
1 ounce Parmigiano-Reggiano cheese, finely grated, plus more for serving (about 1/3 cup)
2 teaspoons lemon zest
1 cup (250 grams) whole milk ricotta cheese
1 large egg
2 tablespoons butter, optional
2 cups warmed marinara sauce, optional, see our homemade marinara sauce recipe
Directions
Make Gnocchi

1Line a baking sheet with parchment paper or aluminum foil. Scatter a few tablespoons of flour on top.

2Mix 3/4 cup of flour, parmesan cheese, and lemon zest in a large bowl until well blended. Make a well in the center of the flour mixture then add the ricotta cheese and egg. Using a wooden spoon, stir until the dough comes together. The dough should come together within 20 to 30 strokes of your spoon. To keep the gnocchi light when cooked, be careful not to overwork the dough.

3Transfer dough to a well-floured work bench and pat it together. Shape into a rectangle then cut into 4 even pieces. If the dough is tacky, add a little more flour.

4Gently roll each piece into a 12-inch long rope about 3/4-inch thick, adding more flour as necessary to prevent sticking.

5Cut the ropes into 3/4-inch pieces then transfer to the prepared baking sheet with flour. Shimmy the baking sheet so that the flour lightly coats each piece. Cook gnocchi or freeze for later (see notes).
Cook Gnocchi

1Bring a pot of salted water to a boil. Add gnocchi and cook 2 to 3 minutes or until the gnocchi begin to float. As they finish cooking, use a slotted spoon to remove from water.

2If serving with butter and marinara sauce, while the gnocchi cook, melt butter in a wide skillet over medium heat. When the butter is bubbling add the cooked gnocchi. Cook, shaking the pan occasionally, until gnocchi has browned on all sides, about 3 minutes. Toss with warmed marinara sauce and serve topped with parmesan cheese.
Adam and Joanne's Tips
To Freeze Gnocchi: Place baking sheet with gnocchi into freezer and freeze for about 1 hour or until the individual pieces aren't sticking to each other or the pan. Transfer the semi-frozen gnocchi to airtight bags. Keep in the freezer for up to 3 months. When you are ready to cook, remove from freezer and cook from frozen using directions above.
This recipe has been adapted and inspired by Michael Symon.
Nutrition facts: The nutrition facts provided below are estimates. We have used the USDA Supertracker recipe calculator to calculate approximate values. Nutrition provided is for the lemon garlic version of the recipe.
If you make this recipe, snap a photo and hashtag it #inspiredtaste — We love to see your creations on Instagram and Facebook! Find us: @inspiredtaste
Nutrition Per Serving
Serving Size
1/4 of the recipe
/
Calories
357
/
Protein
16 g
/
Carbohydrate
30 g
/
Dietary Fiber
3 g
/
Total Sugars
7 g
/
Total Fat
19 g
/
Saturated Fat
11 g
/
Cholesterol
102 mg
/
Sodium
218 mg
Recipe updated, originally posted October 2012. Since posting this in 2012, we have tweaked the recipe to be more clear. – Adam and Joanne