We love this pickled beets recipe! It's simple, and results in amazingly delicious, tangy, and slightly sweet beets. Plus, you can enjoy these easy pickled beets as early as tomorrow! These work wonders in sandwiches, salads, or as a stand-alone side dish.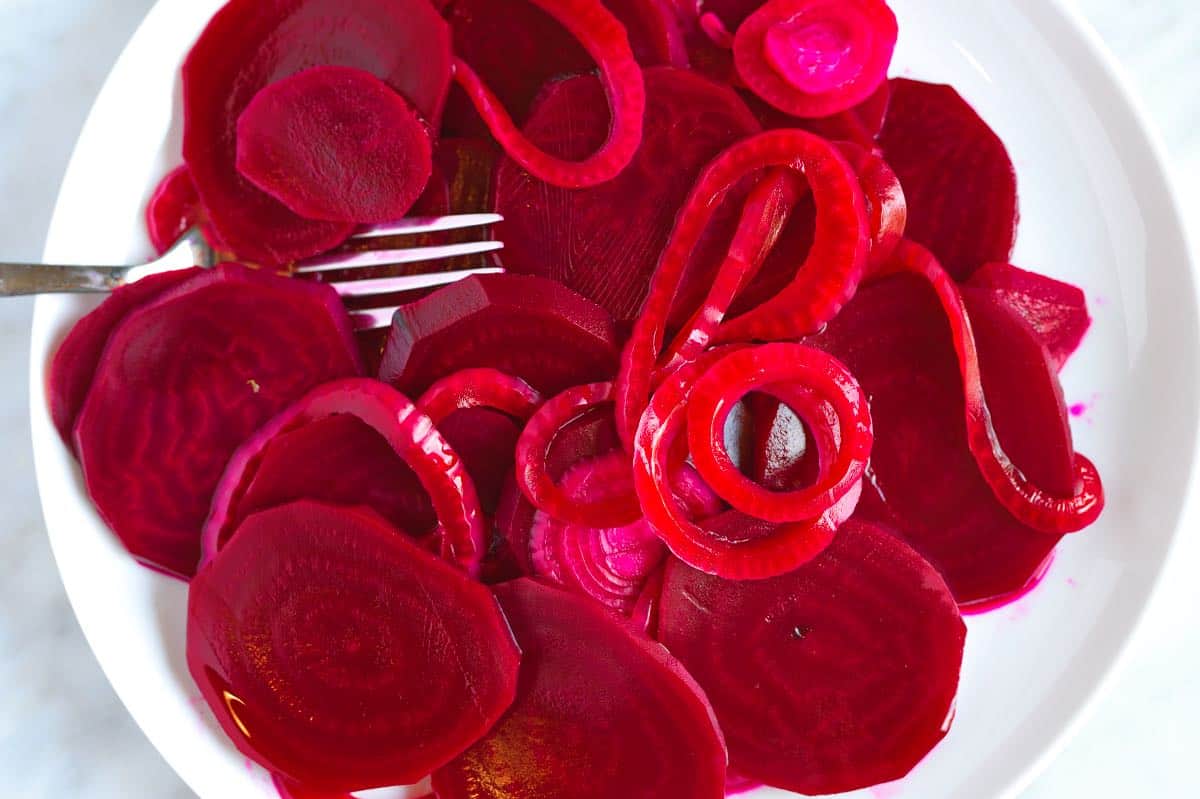 Related: These pickled red onions use a similar method and work wonders on just about everything.
How to Make Pickled Beets
We've been eager to share a pickled beets recipe for a while now. These delicious pickled beets boast a tangy and slightly sweet flavor with a subtle hint of warm spices. Like our pickled red onions and these bread and butter pickles, they soak in a vinegar brine with some baking spices and just the right amount of sugar to balance the vinegar. I love them so much that I have a hard time not going back for seconds.
Once you have a jar of these pickled beets in your fridge, you'll discover endless possibilities for enjoying them. They're a fantastic addition to sandwiches, wraps, and salads, and they stand alone as a hearty and delightful side dish. I especially love them with sharp cheddar cheese and this cucumber salad for a snack or light lunch.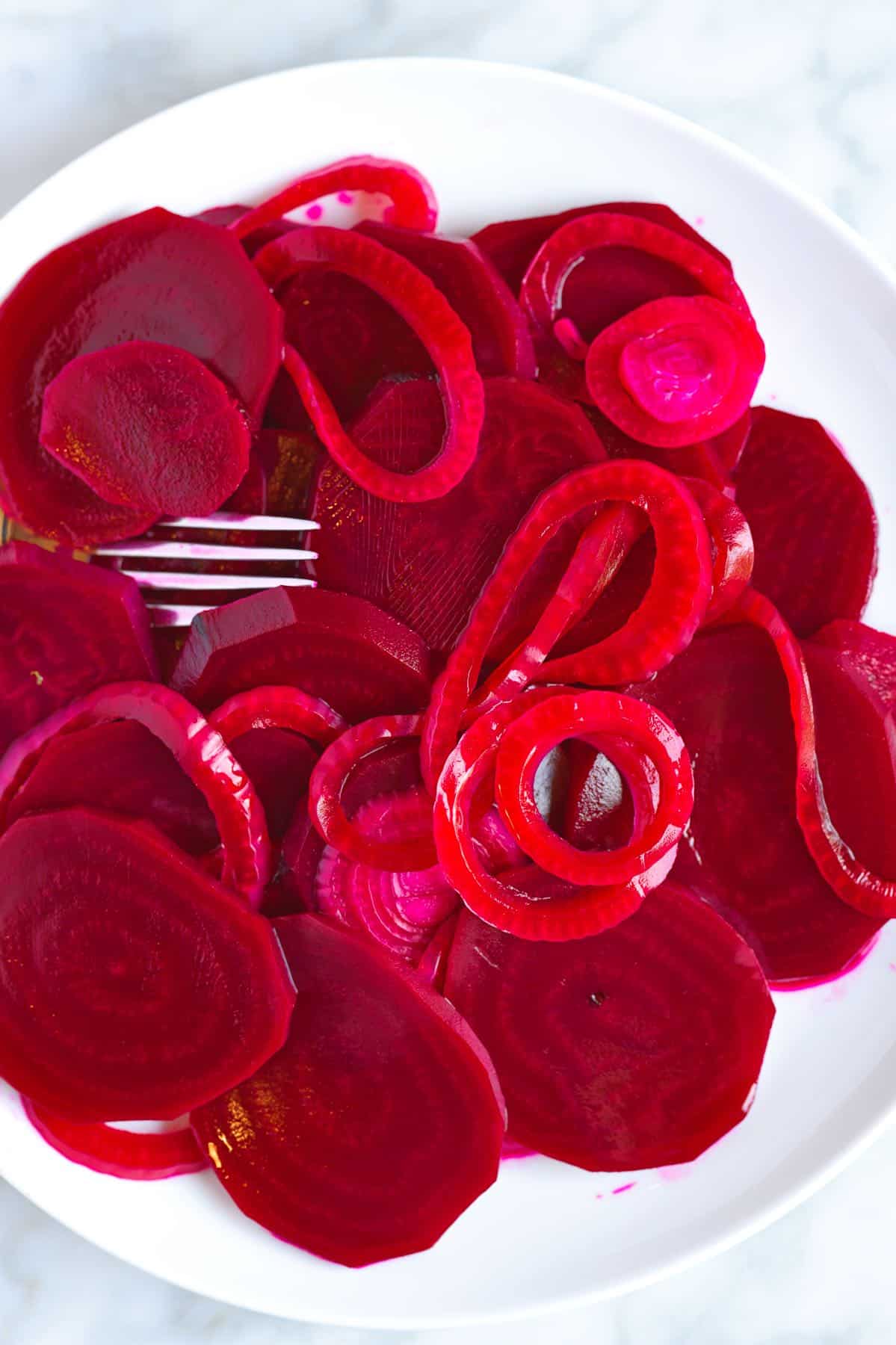 The best part? These pickles fall into the refrigerator pickle category, requiring no complicated canning process. They are quick and easy to make, and you can enjoy them in as little as a day. For another easy refrigerator pickle, try these quick dill pickles.
Here's our simple two-part process to make these pickled beets: First, cook your beets until they are fork-tender. Roasting them tends to bring out more flavor, but boiling works too.
Once the beets have cooled down, peel and slice them. Then, combine them with sliced onions in a jar and prepare a simple vinegar brine using cider vinegar, sugar, cloves, and allspice berries. As the brine works its magic, you'll end up with a jar full of delightful pickled beets and a bonus of pickled onions.
FAQ: Can I Substitute or Reduce the Sugar?
First, keep in mind that the sugar balances the vinegar and acts as part of the brine, so most of the sugar stays in the jar. That said, if you would like to reduce the sugar, you can. When making the brine on the stovetop, add sugar to taste. We enjoy the balance of 4 tablespoons (full recipe below), but you can cut back if needed. You can also substitute the sugar for honey or maple syrup.
We're sharing this recipe for pickled beets in collaboration with our friend and chef, Richard Hattaway. If you enjoy these beets, take a look at some of his other recipes like quick sauerkraut or this homemade kimchi.
Perfect Pickled Beets
Pickling beets is simple, and our recipe results in amazingly delicious, tangy, and slightly sweet beets. These work wonders in sandwiches, salads, or as a stand-alone side dish. Use any variety or color of beet for this recipe.
You Will Need
4 medium beets
1 ½ tablespoons olive oil, for roasting
A quarter of an onion, sliced 1/4-inch thick
4 tablespoons sugar
1 ¼ cups cider vinegar
1/2 teaspoon fine sea salt
1 whole clove
1 allspice berry, see notes
Directions
Roast Beets

1Heat the oven to 375° Fahrenheit. Prepare the beets by removing the tops and roots, and then place them on a large sheet of aluminum foil or parchment paper.

2Drizzle olive oil over the beets, ensuring they are well coated, and fold up the foil or paper to create a sealed packet.

3Place the packet onto a baking sheet and roast in the oven until easily pierced with a fork, 45 to 55 minutes.

4Allow the beets to cool in the packet at room temperature or, better yet, refrigerate until cold.

5Peel the beets and slice them into 1/4-inch thick pieces. If needed, use a vegetable peeler to help with the peeling.
Pickled Beets

1Pack the sliced beets tightly into a clean jar and add the sliced onions.

2Heat the vinegar, sugar, salt, clove, and allspice berry in a small saucepan over medium-high heat until simmering, and the sugar dissolves.

3Pour the hot liquid over the onions and beets, leaving a 1/8-inch gap between the pickle brine and the top of the jar.

4Place the lid on the jar and tighten it until finger-tight. Let cool to room temperature.

5Once cooled, fully tighten the lid and store the jar in the refrigerator. Initially, place the jar upside down in a bowl, and flip it right-side up after a day or two.

6Enjoy pickled beets as early as the next day. They will last in the fridge for up to a month as long as the brine covers the beets and onions.
Adam and Joanne's Tips
Allspice berries taste like a combination of cloves, cinnamon, and nutmeg. We found whole allspice berries less common in the grocery spice aisle, but Chef Richard recommends buying a "pickling spice blend" instead. McCormick "Mixed Pickling Spice" contains allspice berries, which we purchased for this recipe.
Nutrition facts: The nutrition facts provided below are estimates. We have used the USDA database to calculate approximate values.
If you make this recipe, snap a photo and hashtag it #inspiredtaste — We love to see your creations on Instagram and Facebook! Find us: @inspiredtaste
Nutrition Per Serving
Serving Size
1/6 of the jar
/
Calories
123
/
Total Fat
3.7g
/
Saturated Fat
0.5g
/
Cholesterol
0mg
/
Sodium
268.5mg
/
Carbohydrate
20.1g
/
Dietary Fiber
3g
/
Total Sugars
15.8g
/
Protein
1.8g