How to make mashed cauliflower in less than 20 minutes. These are even easier than mashed potatoes. No peeling! Jump to the full Mashed Cauliflower Recipe now. Or, watch our quick, straight-forward recipe video showing you how to make them.
This recipe started as a replacement to our beloved mashed potatoes, but then it took a turn. We fell in love. This mashed cauliflower recipe is light, fluffy, and creamy all in the same bite. It's easy, too — let me show you how to make them.
YOU MAY ALSO LIKE THIS: Cheesy Roasted Cauliflower Recipe with Lemon is simple to make and has parmesan cheese, lemon zest, and lemon juice. The cauliflower becomes sweet, nutty, and delicious. A must try! We have a similar recipe with broccoli.
Secrets to Making the Best Mashed Cauliflower
Mashed or "smashed" cauliflower is very simple to make and is so versatile. Our recipe only calls for a few extra ingredients, but you could really spice things up. Whether you make our basic recipe or add you own spin, here's a few things to keep in mind:
TUTORIAL: How to Buy, Choose, and Cut Cauliflower. Cauliflower is so versatile and is packed with vitamin C and K. Click over to our simple tutorial showing how to buy and cut cauliflower the best way.
Cauliflower Cooks Quickly
There's no need to boil the cauliflower for more than 10 minutes. You'll be able to tell when the cauliflower is done when it's easily pierced with a fork.
Let the Cooked Cauliflower Stand
We'll do this when we make mashed potatoes, too.
Just after draining, throw the cooked cauliflower back into the hot pot you cooked it in. Cover, then let it stand 2 to 3 minutes. During this time, the cauliflower will continue to steam and any extra moisture will reabsorb into the cauliflower. If you don't do this, the mashed cauliflower will be watery.
Spice it Up
Our recipe below is very simple and tastes creamy and light. We love it so much we'll eat it with a spoon, but there are so many things you could do to spice up the flavors. Think of what you could do to mashed potatoes — this is the same.Think about adding your favorite spices, garlic oil, chili oil, or some shredded cheese. (We love spicing cauliflower up. Our roasted Thai curry cauliflower recipe is a great example.
Blue cheese and caramelized onions would be amazing. Cheddar cheese and a little bacon would also be delicious. Anything goes.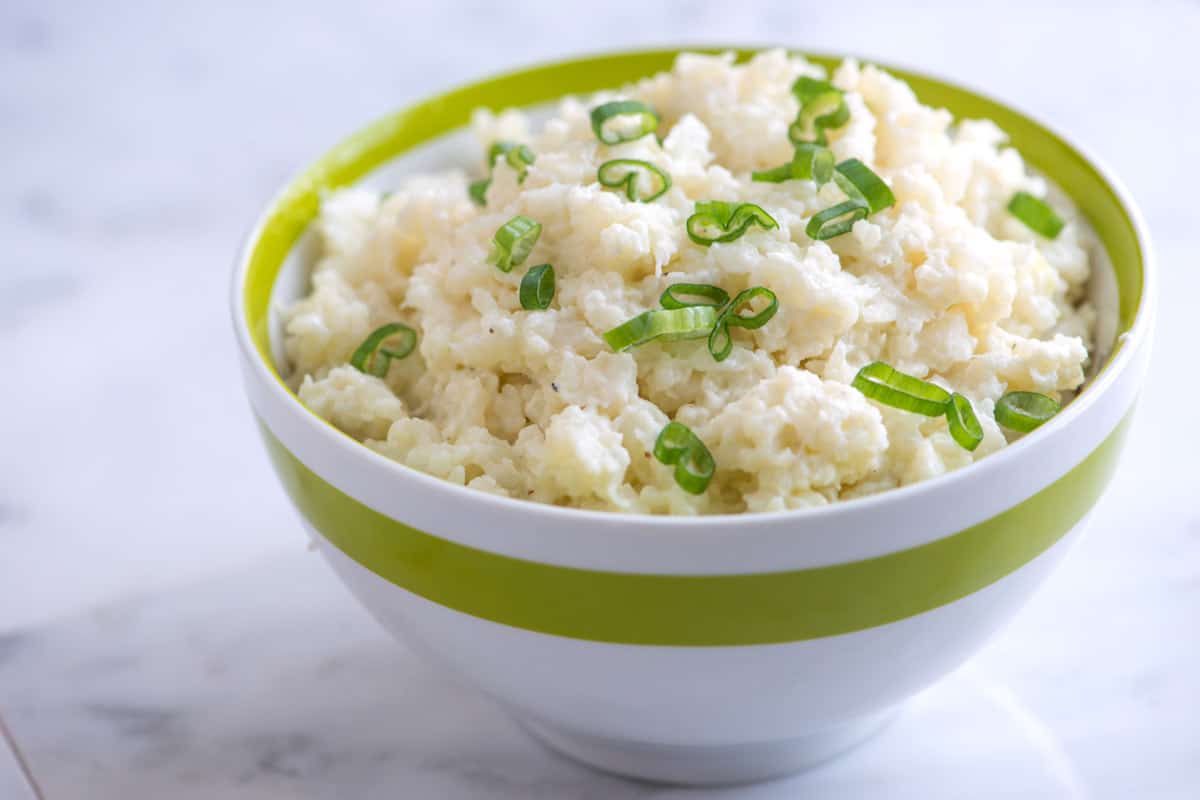 Recipe updated, originally posted January 2013. Since posting this in 2013, we have tweaked the recipe to be more clear and added a quick recipe video. – Adam and Joanne
20-Minute Mashed Cauliflower Recipe
While this recipe began as a replacement for mashed potatoes, it quickly became one of our favorite sides. Mashed or "smashed" cauliflower is light, fluffy and creamy. Best of all, though, it's easy.
Our recipe calls for a little cream cheese, which we think adds extra creaminess. You could omit it, though. The cauliflower would still be quite delicious. We also call for a tiny bit of nutmeg, which rounds out the flavors and adds a little richness.
You Will Need
1 medium cauliflower or 4 cups cauliflower florets
3 tablespoons cream cheese
Salt and fresh ground black pepper
Pinch ground or grated nutmeg
1 tablespoon sliced green onion, optional
Directions
Bring a large pot of salted water to a boil. Cut cauliflower into florets then add to boiling water and cook 8 to 10 minutes or until a fork can easily be pierced through the cauliflower. Drain the cauliflower, and then throw back into the hot pot (off the heat) and cover with lid. Let stand 2 to 3 minutes.

Add the cream cheese, a pinch of salt and freshly ground black pepper to the cauliflower. Then, use a potato masher to smash the cauliflower. Finish with a pinch of nutmeg. (If you have whole nutmeg, just grate a little over the cauliflower using a microplane). Stir then serve with sliced green onions on top.
Adam and Joanne's Tips
Make it vegan: This is a vegan-friendly recipe, simply leave out the cream cheese and replace with vegan butter. A sprinkle of nutritional yeast is also a nice touch and will add a bit of "cheesy" flavor to the cauliflower.
Nutrition Facts: The nutrition facts provided below are estimates. We have used the USDA Supertracker recipe calculator to calculate approximate values. We omitted salt from the calculations since you will need to add to your tastes.
If you make this recipe, snap a photo and hashtag it #inspiredtaste — We love to see your creations on Instagram and Facebook! Find us: @inspiredtaste
Nutrition Per Serving:
Calories
75
/
Protein
4 g
/
Carbohydrate
8 g
/
Dietary Fiber
3 g
/
Total Sugars
3 g
/
Total Fat
4 g
/
Saturated Fat
2 g
/
Cholesterol
12 mg