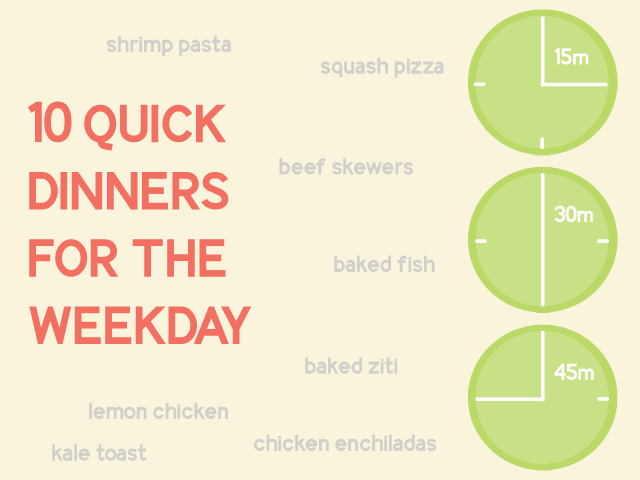 We are big on flavor. Sometimes quicker recipes seem to lack that pop of flavor we love so much. To get around this, when we need a quick dinner idea, we use ingredients that are developed, bold and flavor-packed. Below, we share ten of our favorite quick dinners where we use lots and lots of bright bold ingredients like orange juice, lemon, pesto and salsas.
Scroll Through Slider to See 10 Quick Dinners for the Weekday
15-Minute Recipes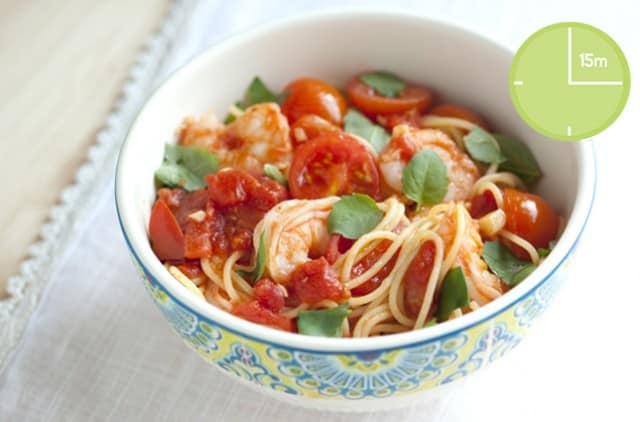 Shrimp Pasta With Tomato And Basil – This light pasta with sweet shrimp comes together in minutes and is lightly flavored with tomatoes and fresh basil.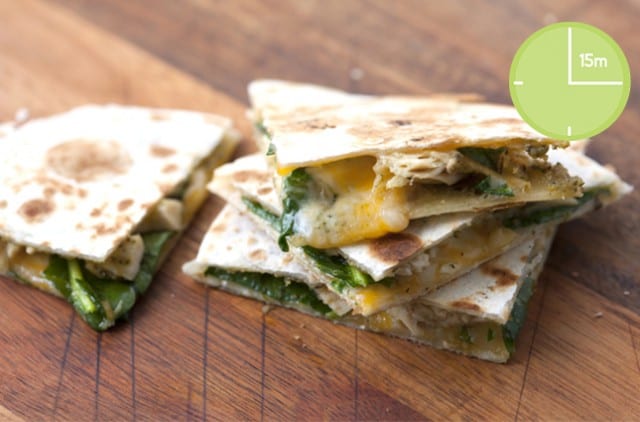 Pesto Chicken Quesadilla Recipe – These extra easy quesadillas are loaded with basil pesto, cheese, baby spinach and chicken.
30-Minute Recipes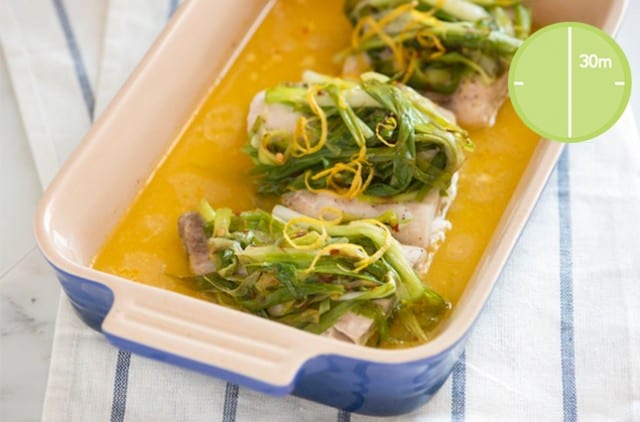 Baked Fish With Spring Onion And Orange – A simply baked fish with orange juice, a little heat from red pepper flakes and spring onion. So fresh and light!
Salsa Verde Chicken Enchiladas – One of our most popular recipes! Shredded chicken, green salsa and sour cream are packed into tortillas and baked.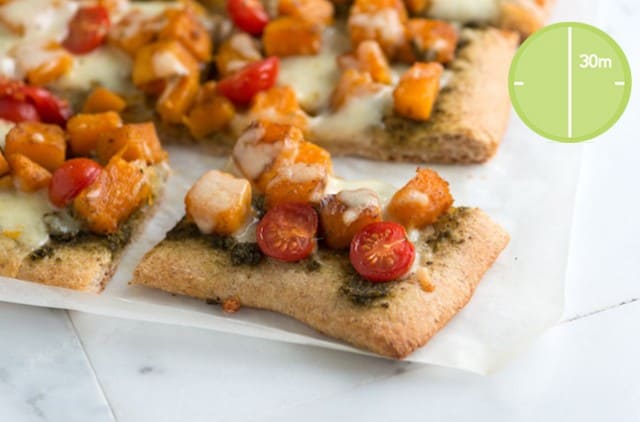 Butternut Squash And Pesto Pizza Recipe – Such an easy and quick dinner! Top pizza with butternut squash, basil pesto and cheese for an easy meatless meal.
Honey Sriracha Beef Skewers – Serve these beef skewers with rice or wrapped with crisp lettuce leaves. They're simple to make, a little sweet with a touch of spice.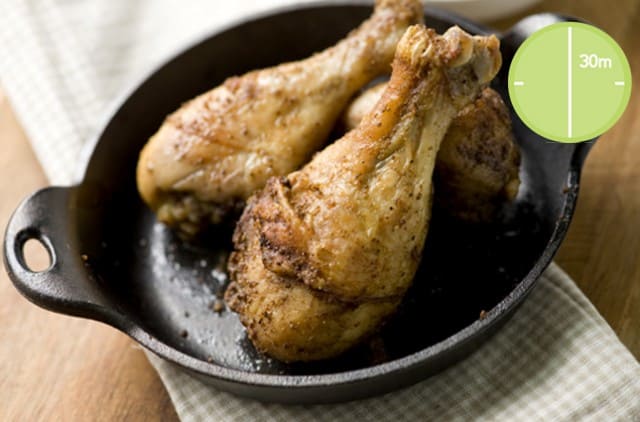 Baked Chicken Drumsticks With Old Bay – Use drumsticks, chicken thighs or even chicken breast. Just toss with a little Old Bay seasoning (or your favorite spice blend) and bake until crispy.
45-Minute Recipes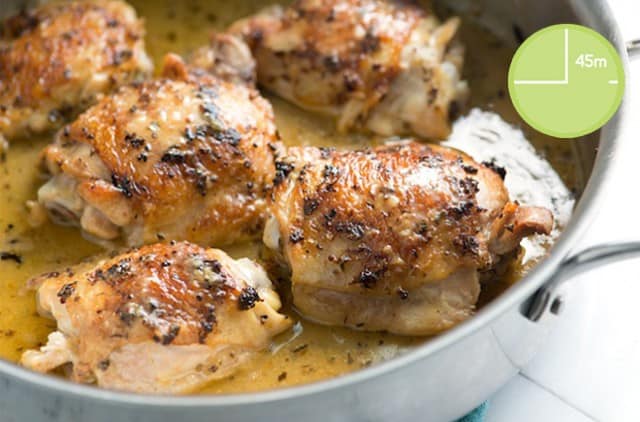 Easy Lemon Chicken Recipe – With fresh lemon, chicken thighs, herbs and a little mustard, this is no ordinary lemon chicken recipe. It's one you'll think about and crave for days.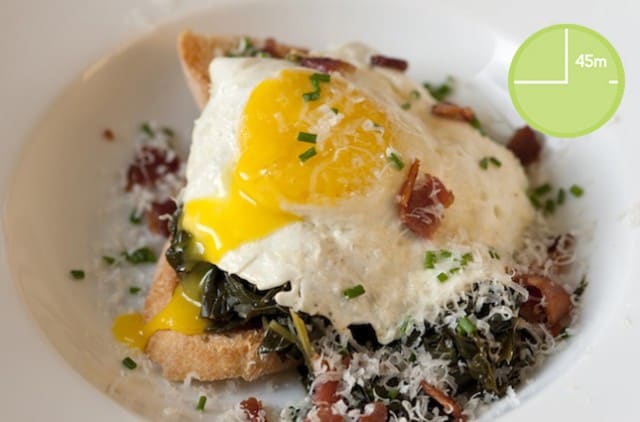 Kale With Egg And Toast – We absolutely love this one. Braised kale is topped with a runny egg and bacon. Pile it all on top of thick rustic bread and you're set.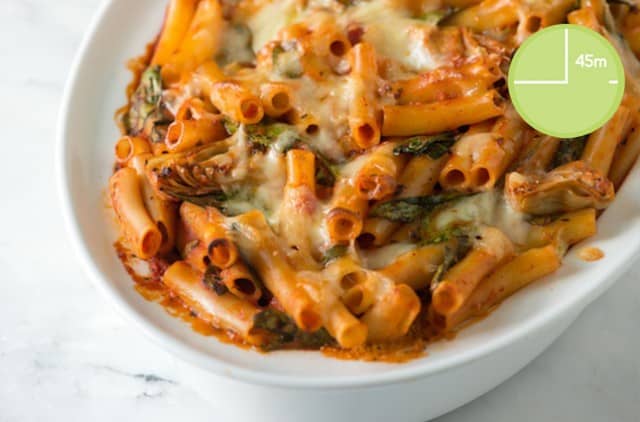 Baked Ziti Recipe With Spinach – With only about 15 minutes of hands-on time this easy baked ziti with spinach and artichokes is perfect for a weekday. Plus, a layer of sour cream and pesto is sandwiched in the middle of the baked ziti.
For more ideas, take a look at all of our fast recipes and quick dinners.