Quick and easy rosemary roasted butterfly chicken with roasted vegetables and a roasted lemon vinaigrette.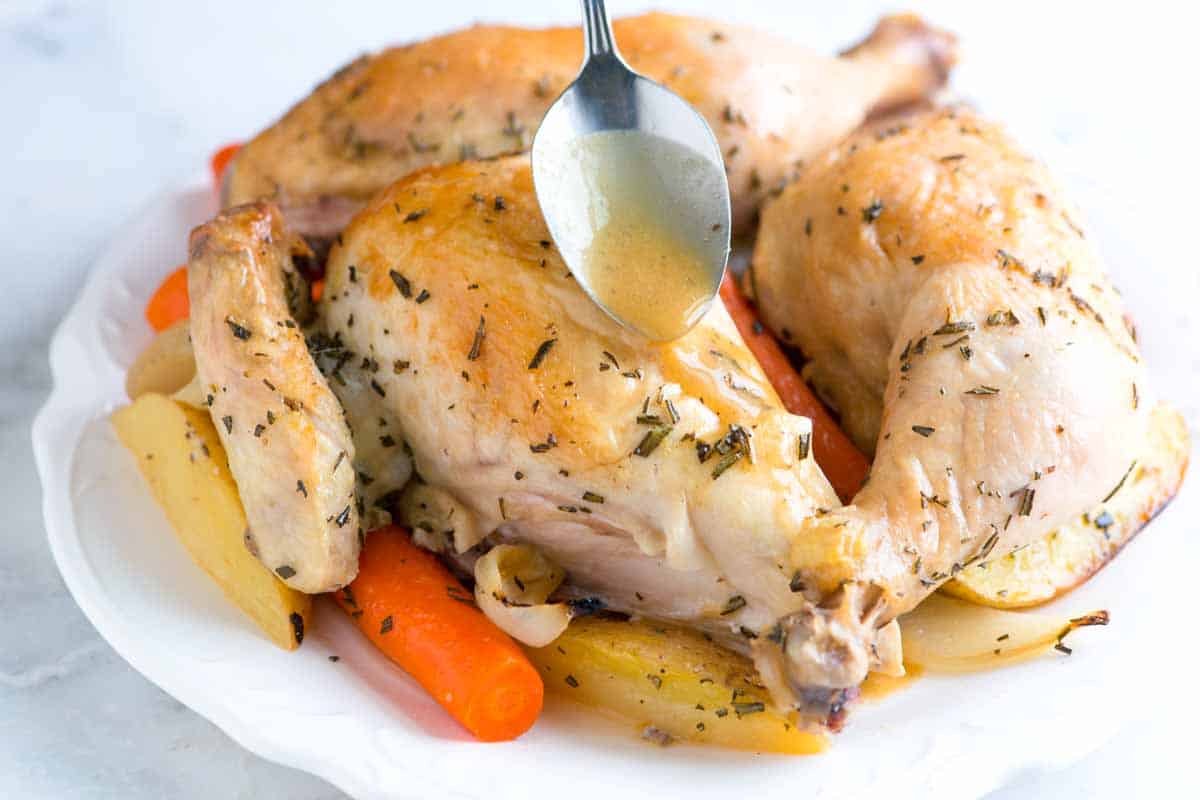 Have you ever roasted a whole chicken and been left with dried out chicken breast? I've got the solution. Butterflied chicken is the secret to perfectly cooked dark meat, juicy white meat and crispy skin. Let me show you how to do it.
How to Butterfly a Whole Chicken
Butterflying a chicken means to remove the backbone of the chicken so that the whole chicken can lay flat on a baking sheet or rack while it roasts. This helps the chicken roast evenly and since all of the chicken skin is facing up, it browns and crisps up nicely. Butterflied chicken is also really easy to serve.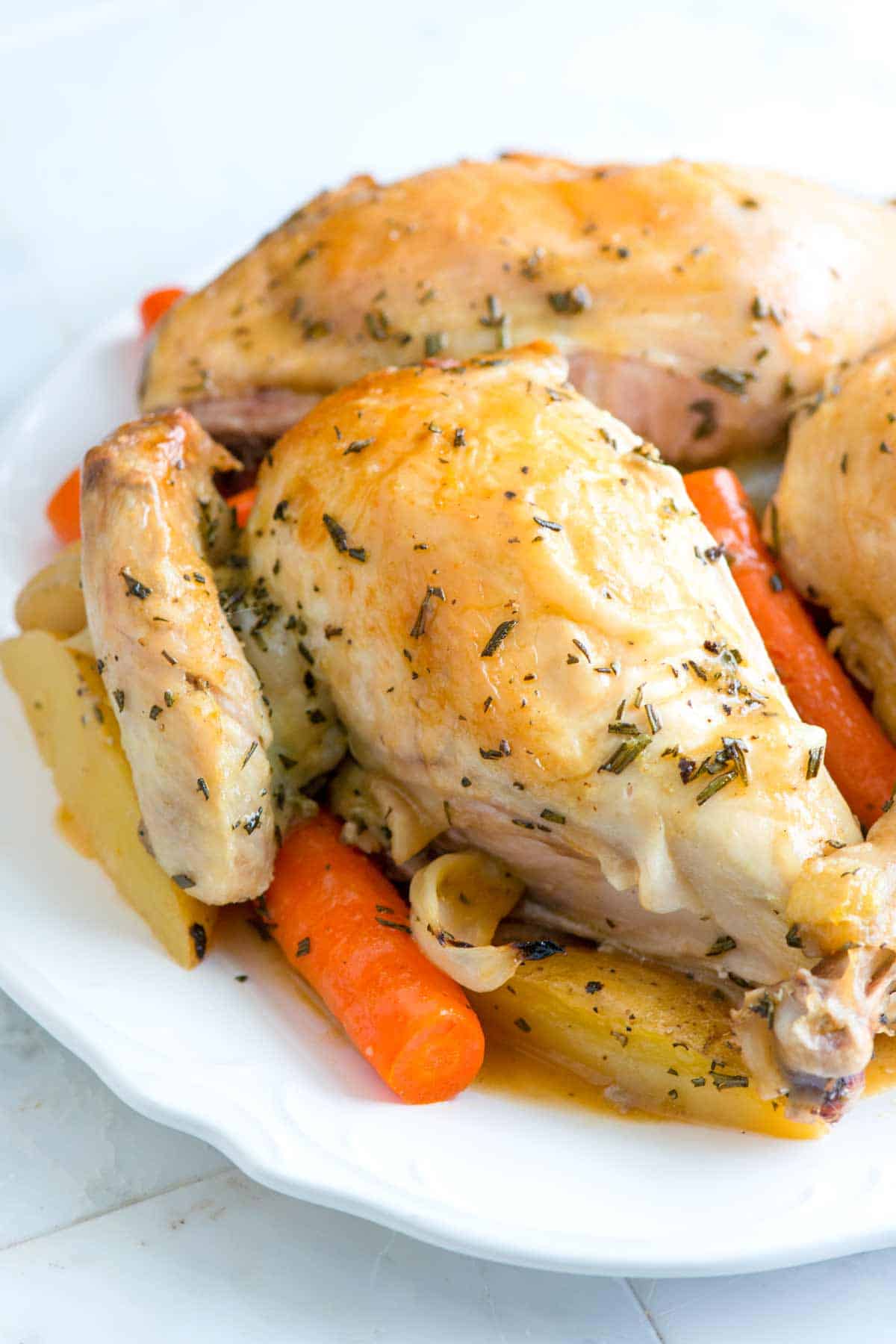 To butterfly a whole chicken, you will need a set of sharp poultry shears. Then to roast it, you will need a large rimmed baking sheet.
Using sharp kitchen shears, remove backbone from the chicken. Then flatten the chicken by placing it skin-side up on a cutting board and pushing down towards the breastbone.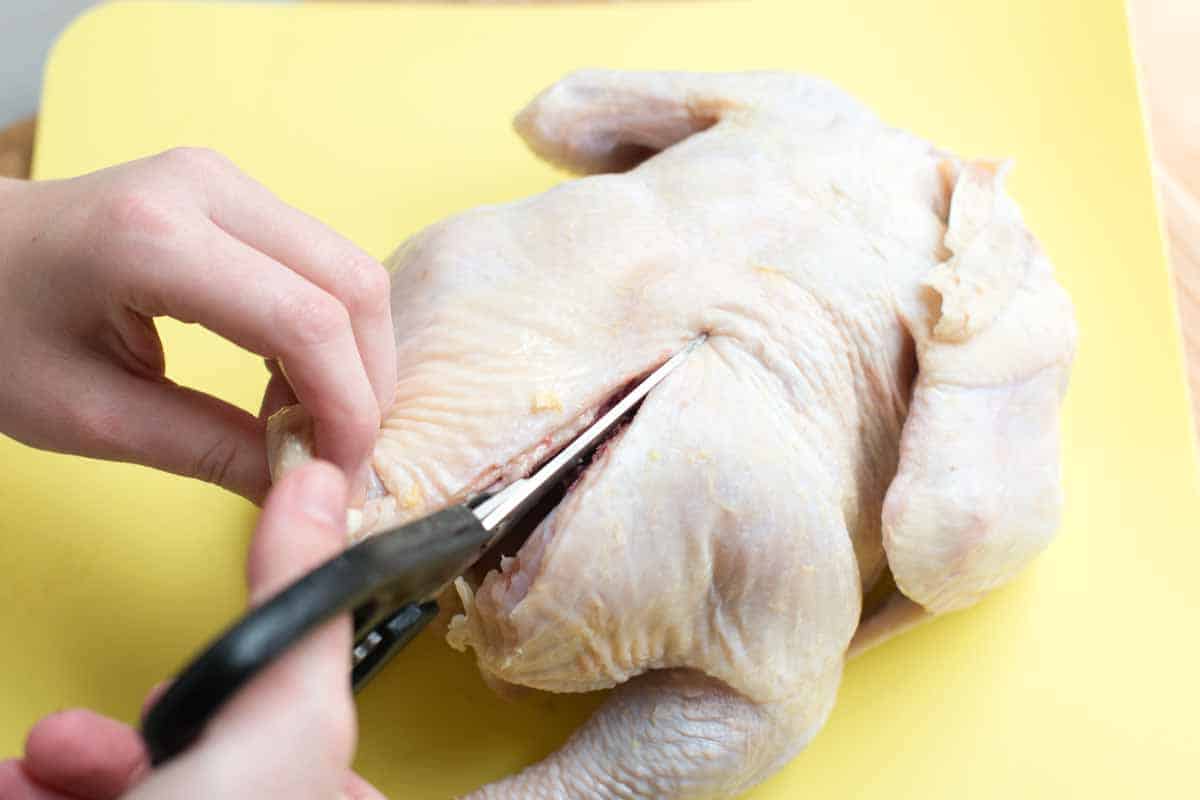 Flip the chicken so the bones are facing up and season with herbs, salt, pepper, and a little oil. Then place skin-side up on a baking sheet and season with more herbs, salt, pepper and oil. Arrange lots of vegetables — we love carrots, potato wedges, and onion — around the chicken. Throw 2 lemons that have been halved onto the sheet then bake until the chicken is cooked through and the skin browned.
Since we roast the lemons at the same time as the chicken and vegetables, they caramelize and the juices become less tart. When the chicken is done, we squeeze the lemon juice into a bowl, add pan juices left on the baking sheet and whisk with a tiny bit of mustard and olive oil — making a roasted lemon vinaigrette. It's divine and perfect to spoon over the chicken and vegetables.
Roasted Butterflied Chicken with Lemon Vinaigrette
We make roasted chicken almost every week. It's easy for us to do and we can enjoy it as roasted chicken or turn it into chicken salad, chicken soup or whatever else we dream up. One twist we've added is to roast two lemons at the same time as the chicken. This way, they become slightly sweeter and are perfect for making a simple sauce to drizzle over the cooked chicken.
By butterflying the chicken, it will cook slightly faster, but more importantly, it will cook more evenly than if we were to roast it normally. Also, we love that all the skin browns nicely since it's all facing up. If you would prefer, skip butterflying the chicken and roast normally — it will just take a little longer.
You Will Need
1 (3 1/2 pound) whole chicken, patted dry
Extra-virgin olive oil
2 tablespoons finely chopped fresh rosemary or 2 teaspoons dried
Salt and fresh ground black pepper
2 small onions, peeled and quartered
4 carrots, peeled and cut into 1-inch chunks
2 medium potatoes, cut into 1-inch chunks
2 lemons, halved
1 teaspoon Dijon mustard
Directions
Prepare Chicken

1Heat oven to 400 degrees F. Line a large rimmed baking sheet with aluminum foil.

2Position the chicken so that the back is facing up and the drumsticks are pointing towards you. Using poultry or sharp kitchen scissors cut down one side of the backbone. Then, cut down the other side of the backbone, removing it completely. (You can reserve the backbone for stock later). Flip the chicken so the skin is facing up and press it down towards the work surface so it flattens slightly.

3Rub the chicken on both sides with a little olive oil then season both sides with salt, pepper, and about 1 tablespoon of rosemary. Place the chicken breast-side up onto the baking sheet and tuck the tips of the wings under the chicken.
Prepare Vegetables

1Toss vegetables with 1 tablespoon of oil, remaining rosemary, salt, and pepper. Scatter the vegetables around the chicken on baking sheet.
To Finish

1Place halved lemons, cut side up, around the vegetables and chicken. Roast the chicken and vegetables until an instant-read thermometer inserted into the thickest part of the thigh registers 165 degrees F, about 1 hour. After 30 minutes of roasting, rotate the baking sheet and toss vegetables so they cook evenly.

2Once roasted, transfer chicken to a cutting board, cover loosely with aluminum foil then let rest about 10 minutes.

3Use tongs to squeeze juice from roasted lemons into a small bowl. Pour any juices left on the baking sheet into the bowl. Add mustard then whisk. Taste then add a little oil, salt, and pepper as needed. (We usually add about a tablespoon of olive oil to tone down the tart lemon.

4Slice chicken or cut into quarters. Serve alongside roasted vegetables drizzled with the roasted lemon vinaigrette.
Adam and Joanne's Tips
Recipe updated, originally posted March 2013. Since posting this in 2013, we have tweaked the recipe to be more clear. – Adam and Joanne