This vegetable lasagna recipe is a reader favorite! Tender vegetables, a light and flavorful tomato sauce, and lots of cheese make this the best veggie lasagna ever. Jump to the Vegetable Lasagna Recipe
Watch The Video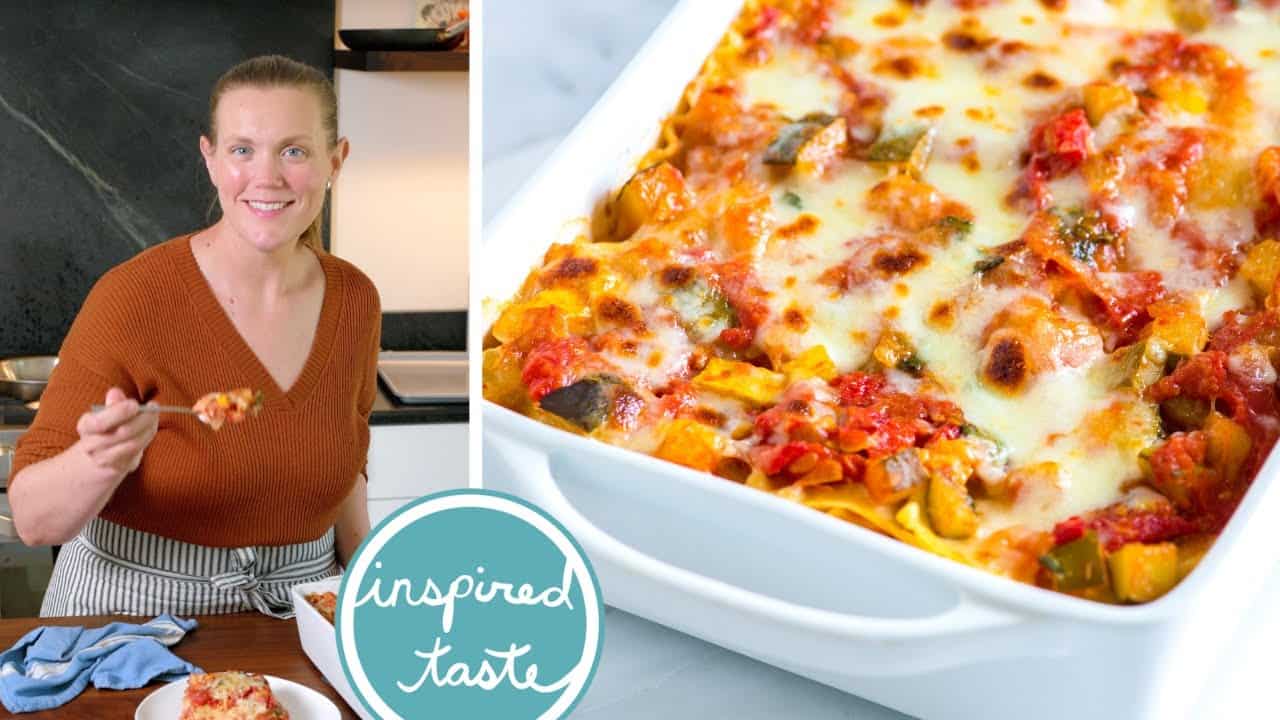 We Honestly Think This Is The Best Lasagna Recipe
I know that saying this is the "best lasagna ever" is a bold statement, but we genuinely believe it. I love lasagna in all its forms. We've shared a variety of them, including a meaty beef and sausage lasagna, this five cheese lasagna, our extra easy no-fuss lasagna, and even this creamy chicken lasagna with white sauce. While they are all delicious, it's this easy vegetable lasagna that truly has my heart.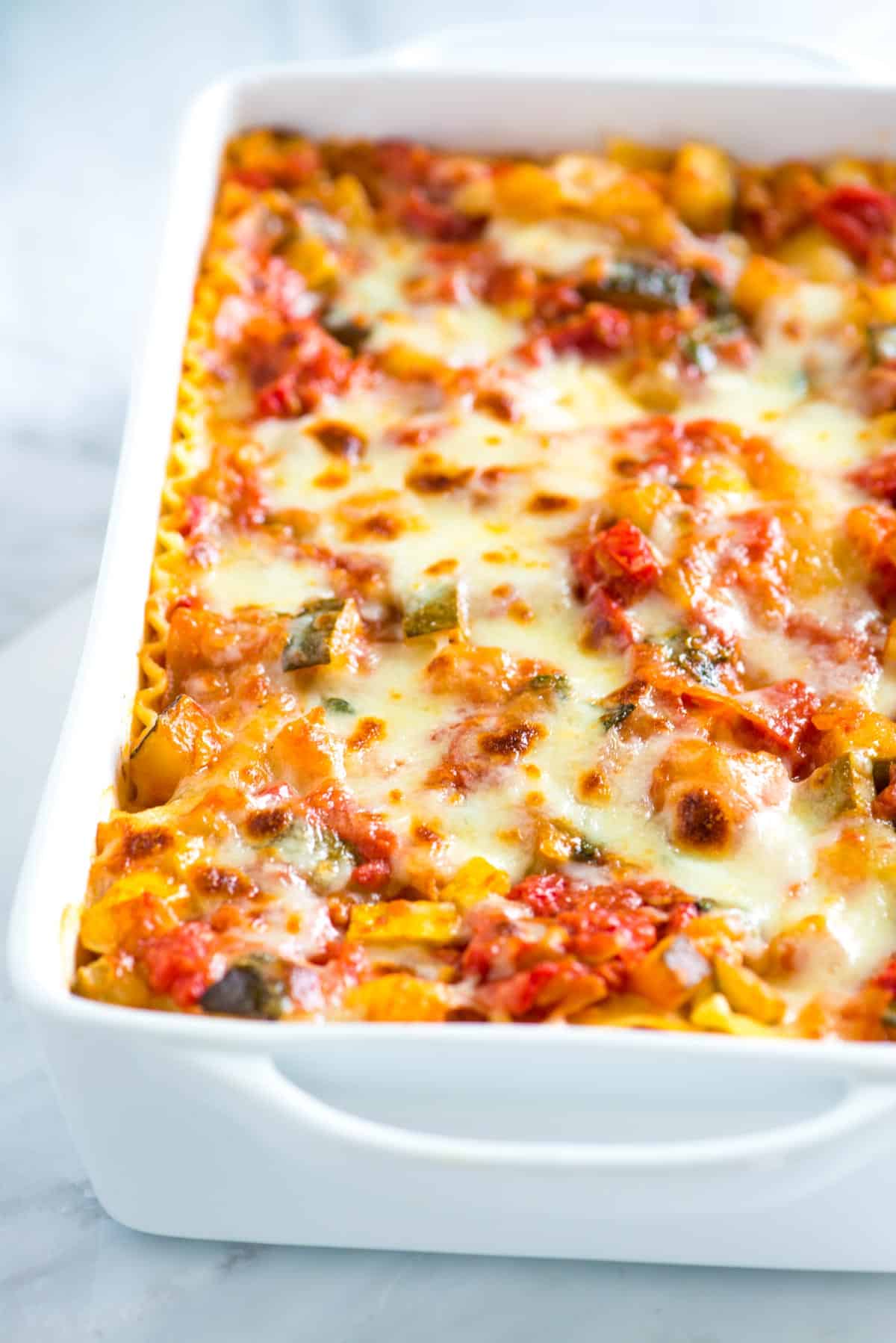 This veggie lasagna is easy to make, made from scratch, and calls for simple ingredients.
The recipe is adaptable based on the vegetables you have available to you. In our photos, we've used zucchini, yellow squash, red peppers, and onions, but a variety of veggies can work in their place.
You can make this lasagna gluten-free, dairy-free, and vegan. Check our notes below for suggestions.
How to Make Vegetable Lasagna
Just like when making classic lasagna, the method for our recipe is pretty simple. Here's an overview of how to make our vegetable lasagna (the full recipe is below):
Cook your lasagna noodles OR skip this step and use no-boil noodles. Even though we use regular lasagna noodles in our video, I love using no-boil noodles since they require less prep time.
Make the simple tomato sauce, which takes about 20 minutes. If you're going to be short on time, the sauce can be made up to three days in advance.
Combine ricotta cheese, egg, and a bit of salt together. Choose high-quality ricotta for this. Unfortunately, quite a few brands miss the mark when it comes to great-tasting ricotta. I like BelGioioso Ricotta con Latte Whole Milk, Sorrento, and if I can find it, freshly made ricotta from our local cheese shop.
Assemble the lasagna by layering the vegetable sauce, noodles, ricotta mixture, and shredded cheese.
The lasagna bakes in the oven for about 35 minutes. I like to bake it covered with foil for 20 minutes and then remove it so the top and cheese get some color.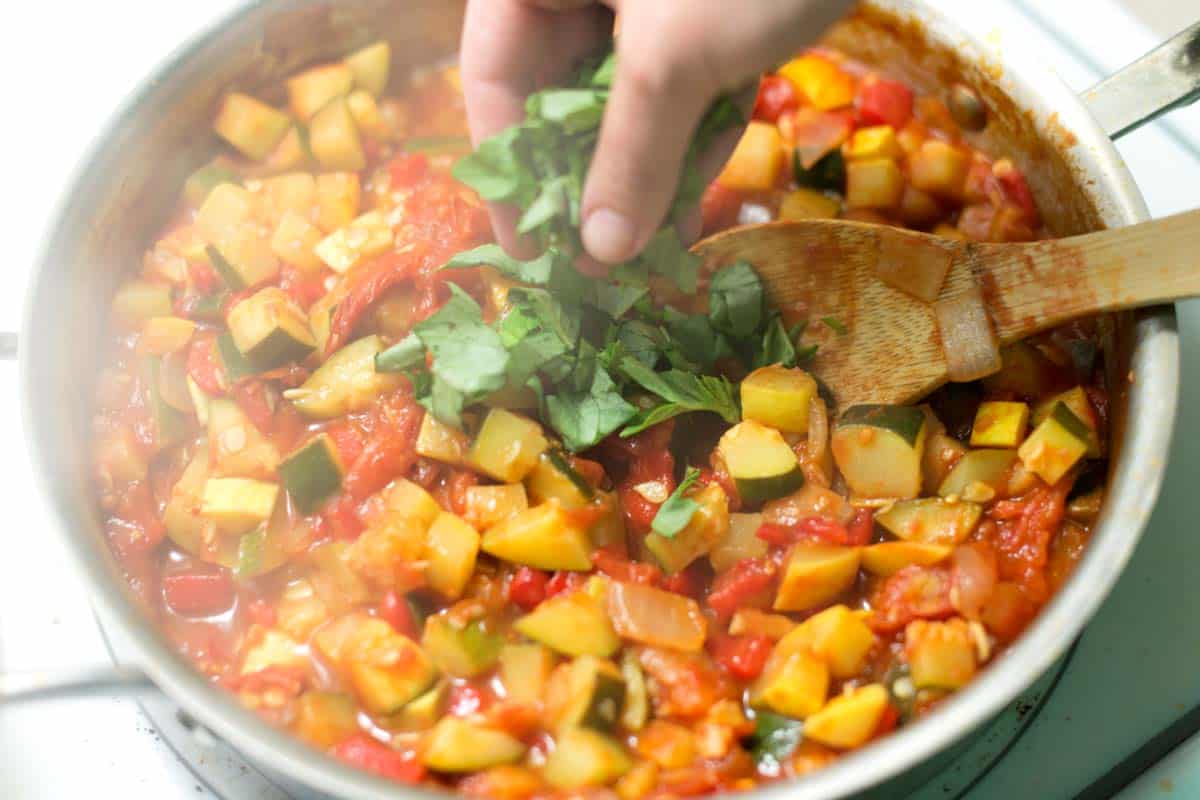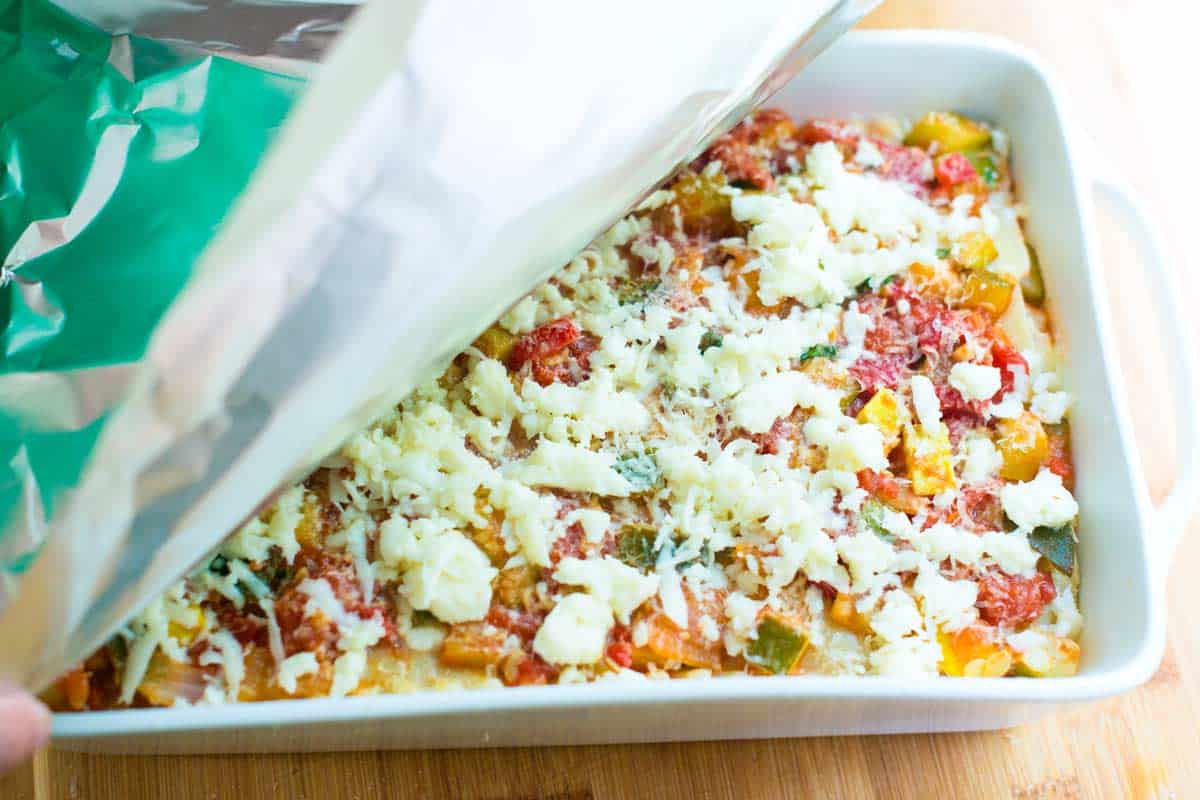 Veggie Lasagna Recipe Variations
I absolutely love this meatless lasagna recipe because it is so easy to adapt to what we have in the house (or the season).
You will need 4 to 5 cups of chopped vegetables to make it. We use zucchini, summer squash, and roasted red peppers in our video, but here are some more suggestions for vegetables you can use:
Mushrooms, chopped or torn into small pieces
Spinach, kale or other greens
Winter squash like butternut or delicata squash would be excellent for a fall-inspired lasagna. I'd peel and cube them.
Carrots, chopped or shredded
Bell peppers, fresh or roasted (I love adding roasted red peppers)
Eggplant that's been cut into cubes
For a gluten-free vegetable lasagna, use gluten-free noodles or vegetables to make the noodle layer. Layer long, thin slices of eggplant or zucchini in place of the noodles. I prefer to partially cook the slices by roasting or grilling first, so they don't add too much moisture to the lasagna.
For a dairy-free vegetable lasagna, swap the ricotta cheese and egg for almond ricotta. You can make it yourself or buy it (Kite Hill is a popular brand). I also like swapping the cheese for a generous sprinkling of nutritional yeast.
For a creamy vegetable lasagna, use the sauce from our creamy chicken lasagna, and swap the chicken sausage for sautéed vegetables.
Make Ahead and Storing Tips
Lasagna is the perfect make-ahead meal. Here's how I do it:
The vegetable sauce lasts in the refrigerator for up to three days and in your freezer for about three months. We recommend using freezer-safe glass containers or double layers of freezer bags to store sauces. To thaw, leave it overnight in the refrigerator.
You can refrigerate unbaked lasagna. Cover and refrigerate the assembled unbaked lasagna for up to two days. When you cover it, use parchment or wax paper between the lasagna and aluminum foil since aluminum foil can react with tomatoes.
Baked lasagna also freezes well. Let it cool completely on a rack before freezing, and then wrap it very well with foil (we use two layers). To reheat, defrost the frozen lasagna overnight in the refrigerator and then bake at 400°F for about 1 hour. (I prefer baking and freezing the lasagna instead of freezing uncooked lasagna.)
More Vegetable Pasta Recipes
Recipe updated, originally posted May 2013. Since posting this in 2013, we have tweaked the recipe to be more clear and added a quick recipe video. In 2022, we also updated the recipe video. You can watch the older video here. – Adam and Joanne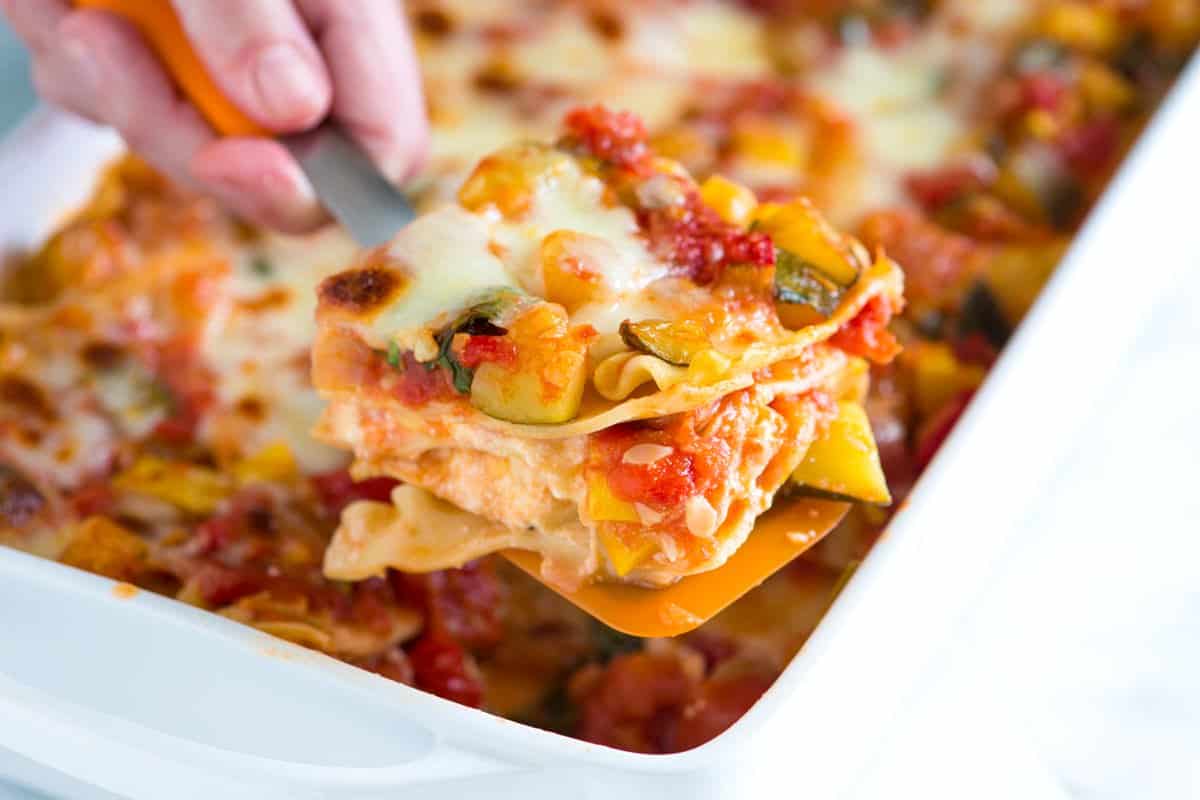 Easy Vegetable Lasagna
This vegetable lasagna recipe is a reader favorite! Tender vegetables, a light tomato sauce, and lots of cheese make this the best veggie lasagna ever. We really do not miss the meat. Feel free to add or substitute your favorite veggies. We have given suggestions in the article above.
Watch Us Make the Recipe
You Will Need
14 lasagna noodles, see notes
2 tablespoons extra-virgin olive oil
1 cup (140 grams) chopped onion
1 tablespoon minced garlic, 3 to 4 cloves
1/8 teaspoon crushed red pepper flakes, or more to taste
2 medium zucchini, cut into 1/2-inch pieces
2 medium yellow squash, cut into 1/2-inch pieces
One (12-ounce) jar roasted red peppers, drained and cut into 1/2-inch pieces, 1 heaping cup
1 (28-ounce) can crushed tomatoes
Generous handful fresh basil leaves, chopped
One (15-ounce) container ricotta cheese or cottage cheese
2 large eggs
2 ounces (60 grams) parmesan cheese, grated, about 2/3 cup
8 ounces (230 grams) low-moisture mozzarella cheese, shredded, about 2 cups
Salt and fresh ground black pepper, to taste
Directions
Cook Noodles

1Bring a large pot of salted water to a boil, then cook lasagna noodles according to package directions. To prevent the noodles from sticking after they are drained, add two teaspoons of olive oil to the pasta water. Drain, then lay flat on a sheet of aluminum foil.
Make Vegetable Sauce

1Heat the oven to 400° Fahrenheit. Lightly oil a 13-inch by 9-inch baking dish or spray with non-stick cooking spray.

2Heat the olive oil in a wide skillet with sides over medium heat.

3Add the onion and cook, stirring occasionally, until translucent, about 5 minutes.

4Add the garlic, red pepper flakes, zucchini, yellow squash, and a pinch of salt. Cook, stirring occasionally, until the veggies are softened but still have some crunch, another 5 to 8 minutes.

5Stir in the roasted red peppers and crushed tomatoes. Bring to a low simmer and cook until the liquid has thickened and reduced by half, 5 to 8 minutes. Add the basil and season to taste with additional salt and pepper.
Prepare the Cheeses

1While the sauce cooks, stir the ricotta cheese, eggs, and a 1/2 teaspoon of salt in a medium bowl until blended.

2Toss the parmesan cheese with the mozzarella. Set aside.
Assemble Lasagna

1Spoon enough vegetable mixture into the baking dish to lightly cover the bottom (about 1 cup). Arrange four noodles lengthwise and side-by-side to cover the bottom. If the noodles are short on one end, you may need to cut an extra noodle and place it into the dish to cover where the other noodles have not.

2Spread half of the ricotta cheese mixture over the noodles, then sprinkle a third of the parmesan and mozzarella cheeses on top of the ricotta. Finally, scatter a third of the vegetable sauce on top.

3Add another layer of four noodles and spread the remaining ricotta cheese over them. Scatter half of the parmesan and mozzarella cheeses over the ricotta. Spread half of the remaining vegetable sauce on top.

4Finish with a third layer of noodles and the remaining vegetable sauce. Finally, finish with the remaining cheese sprinkled all over the top.

5Cover the lasagna with aluminum foil and bake for 20 minutes; uncover, then bake for 15 minutes until the cheese is crusty around the edges.

6To make the cheese golden brown on top, slide the pan under the broiler and set to high heat for 1 to 2 minutes. Let rest 10 to 15 minutes before serving.
Adam and Joanne's Tips
You will need 12 lasagna noodles, but we like to cook two extra noodles just in case we need to fill any holes while building the noodles.
For vegetarian lasagna, leave out the parmesan cheese.
Make-ahead tips have been shared in the article above. The sauce can be made up to three days in advance, refrigerate assembled and unbaked lasagna for up to 2 days, and the baked lasagna can be frozen.
For a gluten-free lasagna, use gluten-free noodles or vegetables to make the noodle layer. Tips have been shared in the article above.
For a dairy-free and egg-free lasagna, swap the ricotta cheese and egg for almond ricotta. You can make it yourself or buy it (Kite Hill is a popular brand). I also like swapping the cheese in the recipe for a generous sprinkling of nutritional yeast.
Nutrition facts: The nutrition facts provided below are estimates. We have used the USDA database to calculate approximate values.
If you make this recipe, snap a photo and hashtag it #inspiredtaste — We love to see your creations on Instagram and Facebook! Find us: @inspiredtaste
Nutrition Per Serving
Serving Size
1/8 of lasagna
/
Calories
381
/
Total Fat
20.9g
/
Saturated Fat
11g
/
Cholesterol
104mg
/
Sodium
773mg
/
Carbohydrate
28.2g
/
Dietary Fiber
4.3g
/
Total Sugars
6.5g
/
Protein
20.7g
More Veggie Pasta Recipes: