Soft and chewy snickerdoodles rolled in an irresistible cinnamon sugar. These easy snickerdoodles are one of our best classic cookie recipes on Inspired Taste.
Watch the video
⭐️ Try our chocolate snickerdoodles, a chocolate sugar cookie rolled in cinnamon sugar!
#1 Secret to the best snickerdoodles
The secret to making the best snickerdoodles is to use cream of tartar. Cream of tartar is unique acid that helps to create the delicious tangy flavor and chewy texture of great snickerdoodle cookies.
What is a snickerdoodle?
Snickerdoodles are soft and chewy sugar cookies coated in cinnamon sugar. Unlike classic sugar cookies, they have cream of tartar added to the batter, making them chewy and adding a tangy flavor that makes snickerdoodles irresistible. These cookies are popular in the United States, especially during the holidays.
Key ingredients
To make snickerdoodle cookie dough, you'll need all-purpose flour, granulated sugar, room-temperature butter, eggs, vanilla, cream of tartar, and baking soda.
The cream of tartar, a byproduct of making wine, and baking soda react with one another to help our cookies rise, turn golden brown, and become chewy.
Before baking, we roll balls of cookie dough in cinnamon sugar. We are generous with the cinnamon for our coating and use 1 ½ tablespoons with 1/4 cup of sugar. The tangy flavor from the cream of tartar and this easy cinnamon sugar coating makes these cookies taste amazing.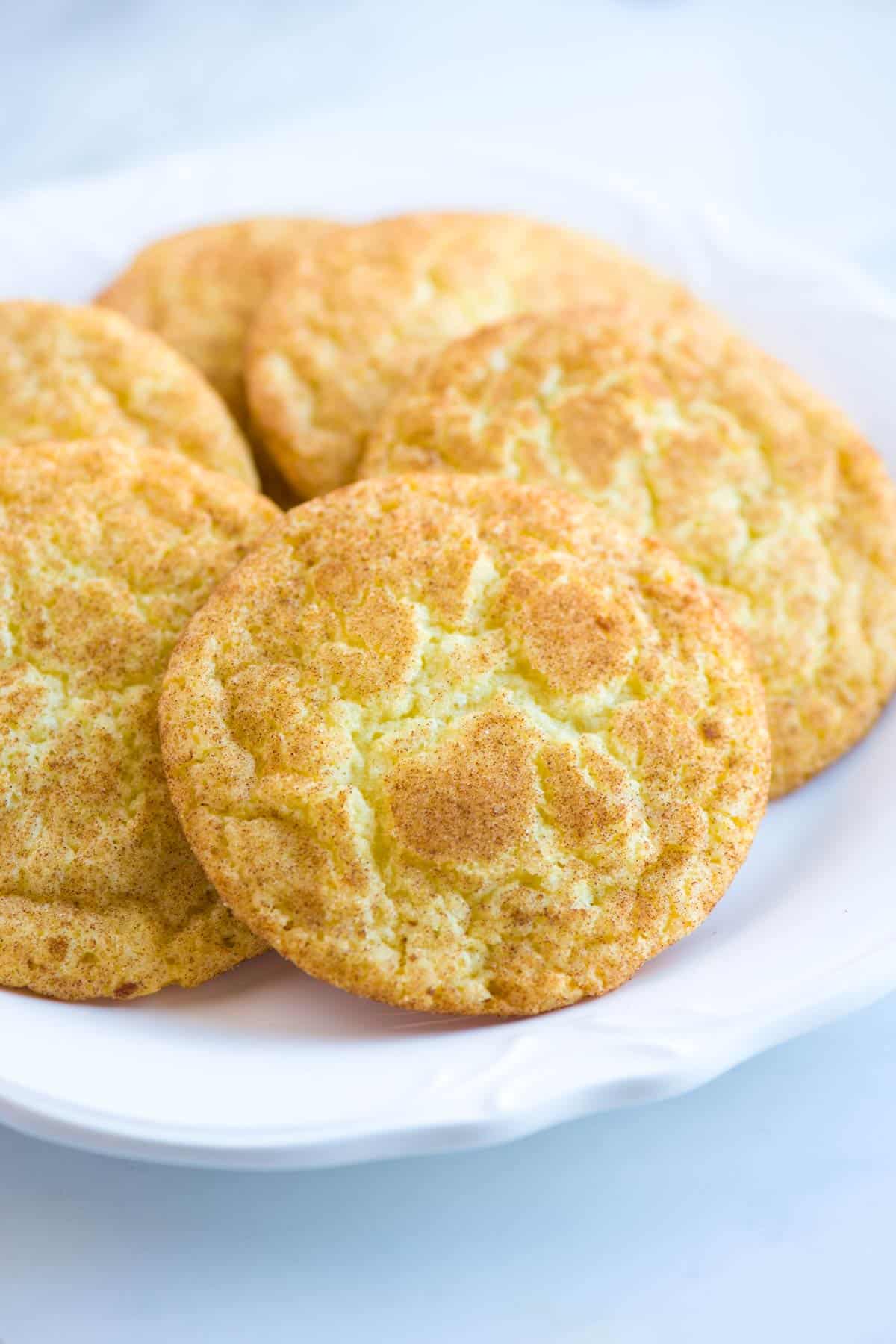 Our tips for making the best snickerdoodle cookies
When you use room-temperature butter and eggs in your snickerdoodle batter, they get a head start in the mixing process. The butter will be softer and more pliable, making it easier to cream together with the sugar. This creaming process is essential for incorporating air into the batter, giving snickerdoodles their soft, light, and chewy texture.
Chilling the cookie dough for at least 30 minutes before baking helps to prevent the cookies from spreading too much. You can bake snickerdoodles without chilling, but expect them to be thinner when baked.
Be generous rolling balls of cookie dough in our cinnamon sugar. That cinnamon sugar coating gives snickerdoodles their signature look and flavor.
Do your best not to overbake the cookies. Look for them to be golden around the edges and a little soft in the center.
How to make snickerdoodles in 5 easy steps
Cream together room-temperature butter, sugar, and vanilla until light and fluffy.
Beat the eggs one at a time, then stir in the vanilla extract.
Mix in the flour, cream of tartar, baking soda, and salt.
Chill for at least 30 minutes (or up to 3 days).
Roll in cinnamon sugar and bake.
Can you make snickerdoodles without cream of tartar?
You can make snickerdoodles without cream of tartar, but you will lose the irresistible tangy flavor cream of tartar adds to these cookies. The texture will also be different. We recommend leaving out the baking soda and cream of tartar and using baking powder instead. We have not tested this snickerdoodle cookies recipe with baking powder (it's on our to-do list).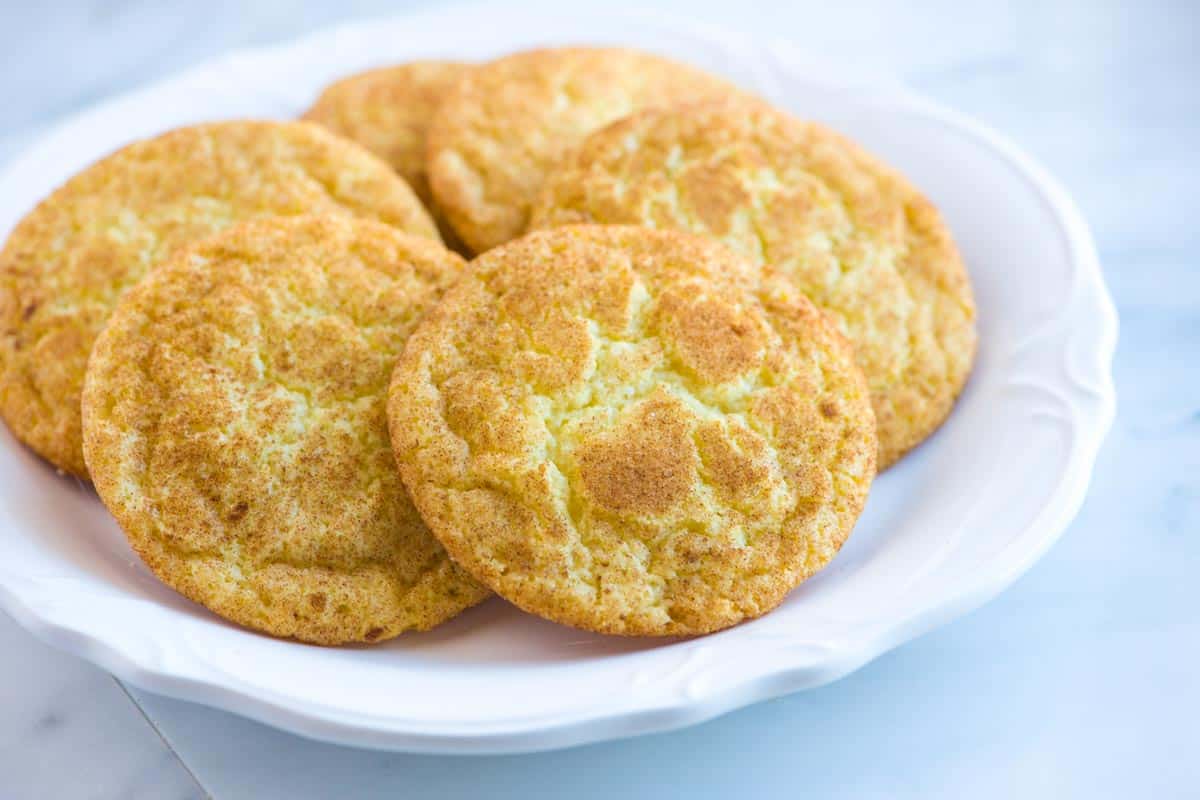 Easy Snickerdoodles (Soft & Chewy)
We love these soft and chewy snickerdoodle cookies rolled in an irresistible cinnamon sugar. Every time we make a batch, we fall in love all over again. Chilling the dough for 30 minutes or so helps keep the cookies from spreading too much in the oven. You can keep the dough in the fridge for up to 3 days and in the freezer for up to 3 months.
Makes approximately 28 cookies
Watch Us Make the Recipe
You Will Need
Cookies
2 ½ cups (325 grams) all-purpose flour
2 teaspoons cream of tartar
1 teaspoon baking soda
1/4 teaspoon fine sea salt
16 tablespoons (226 grams or 2 sticks) unsalted butter, at room temperature
1 ½ cups (300 grams) granulated sugar
1/2 teaspoon vanilla extract
2 large eggs, at room temperature
Cinnamon Coating
1/4 cup (50 grams) granulated sugar
1 ½ tablespoons ground cinnamon
Directions
Make Dough

1Sift or whisk flour, cream of tartar, baking soda and the salt together then set aside.

2In a large bowl, using a handheld mixer on medium speed beat the butter, sugar and vanilla together until light and fluffy, 3 to 4 minutes. (Or, use a stand mixer fitted with the paddle attachment).

3Reduce the speed to low, and then add the eggs one at a time, beating well after each addition. Scrape the sides and bottom of the bowl then add the flour mixture in three parts, just mixing until it disappears.

4Wrap with plastic wrap and chill dough at least 30 minutes or up to 3 days.
To Bake Cookies

1Heat your oven to 400 degrees F. Line two baking sheets with parchment paper or use silicon baking mats.

2In a small bowl, mix the sugar and cinnamon together.

3Shape heaping-tablespoon-sized mounds of cookie dough into balls. Roll in the cinnamon-sugar mixture and place 2 inches apart onto baking sheets. (A medium cookie scoop is helpful here).

4Bake the cookies for 8 to 10 minutes, until the cookies have puffed a little and the tops look set. The cookies should be light golden.

5Cool on baking sheets for 5 minutes then transfer to a cooling rack to cool completely. (The cookies will fall a little as they cool).
Adam and Joanne's Tips
Baked and cooled cookies will keep, stored in an airtight container at room temperature for 2 to 3 days.
You can freeze this cookie dough. Line a baking sheet with parchment paper, scoop and roll individual dough balls and place onto the baking sheet (they can be close together), and then place in the freezer until hard, about 30 minutes. Transfer frozen dough balls to an airtight container or plastic bag.
Recipe adapted and inspired by The Back in the Day Bakery Cookbook, Smitten Kitchen and Cooks Illustrated.
Nutrition Facts: The nutrition facts provided below are estimates. We have used the USDA database to calculate approximate values.
Nutrition Per Serving
Serving Size
1 cookie
/
Calories
152
/
Protein
2 g
/
Carbohydrate
21 g
/
Dietary Fiber
0 g
/
Total Sugars
13 g
/
Total Fat
7 g
/
Saturated Fat
4 g
/
Cholesterol
31 mg