We love this easy roasted carrots recipe! We're sharing our basic method of roasting carrots in the oven as well as how we make maple cumin carrots (it's delicious). Our family loves these tasty, perfectly cooked carrots!
Watch the Video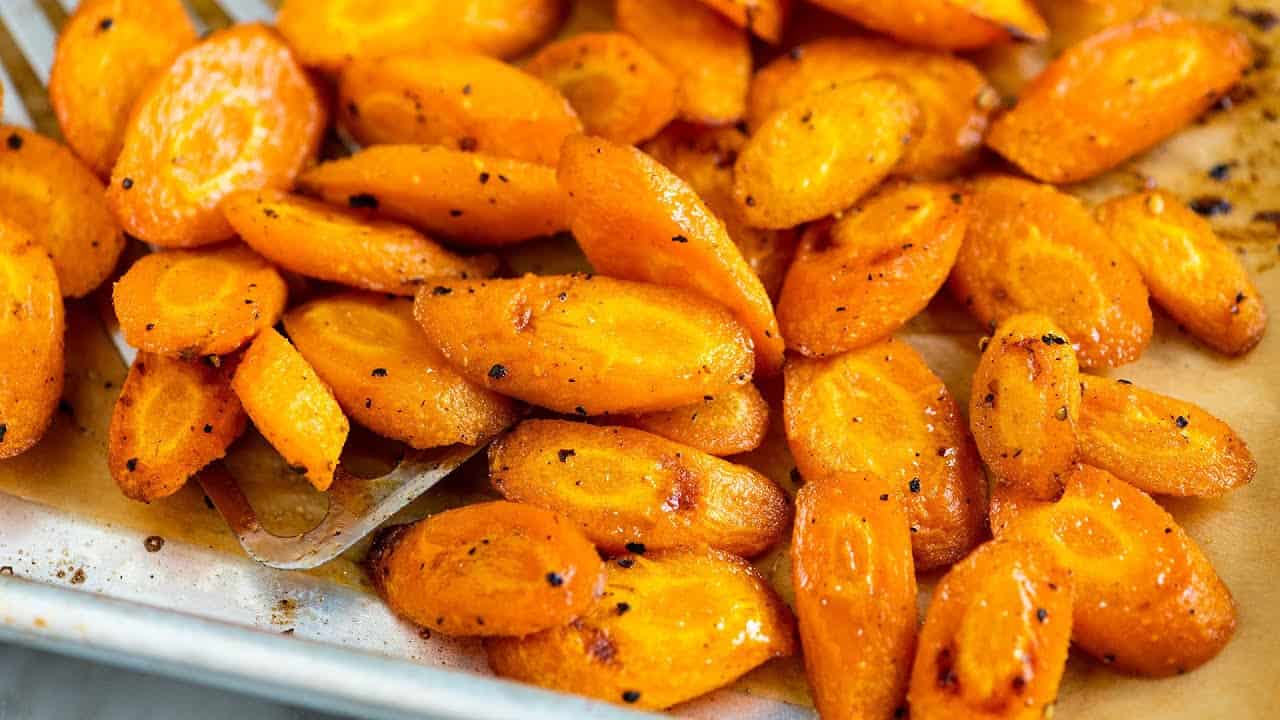 Related: We also love these honey roasted carrots with creamy tahini sauce.
How to Make the Best Roasted Carrots
We roast carrots all the time and have already shared these perfectly roasted carrots tossed with a garlic parsley butter. Roasted carrots are quick to prepare and are perfect for making in advance. Roasting carrots in the oven is not all that different from roasting other vegetables — like winter squash or eggplant.
Here's our family's go-to method for roasting carrots:
Use a hot oven. We keep our oven between 400 degrees and 425 degrees Fahrenheit. At this temperature range, the carrots turn tender in the middle and become caramelized around the edges.
Season the carrots before roasting them. For one pound of carrots, we use one tablespoon of oil and 1/4 teaspoon of salt. Of course, you can always add more seasoning — in fact, we do in our recipe below — but remember, the oil and salt are essential in making sure that the carrots taste great.
Roast, stir and then finish roasting. In general, carrots take around 30 minutes to roast, so I like to slide them into the oven and let them roast undisturbed for 15 minutes. Then I give them a quick stir and let them finish roasting.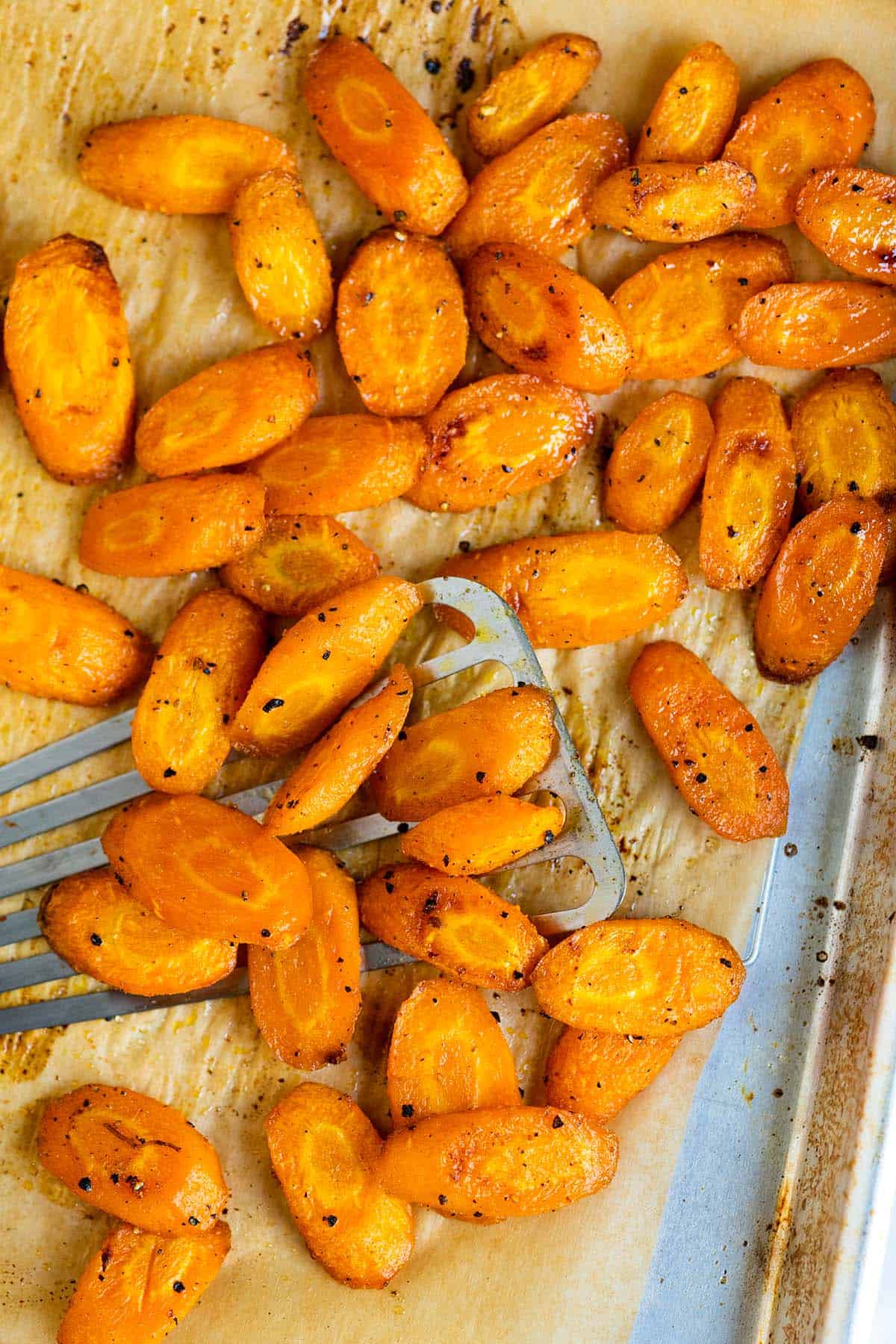 TIP: When roasting vegetables — especially these carrots — spread them out into one layer on your baking sheet. This way, they roast evenly and get a chance to brown.
Maple Cumin Roasted Carrots
Our basic recipe for roast carrots calls for oil, salt, and pepper. Carrots roasted this way are perfectly delicious, but we also have a maple cumin version to share. Maple syrup adds a bit of sweetness and cumin adds a smoky, earthy flavor. The combination is delicious.
More recipes for oven roasted carrots: Try honey-roasted carrots drizzled with a simple tahini sauce, or these perfectly roasted carrots tossed with a garlic parsley butter.
Frequently Asked Questions
How long do you roast carrots? Unless your carrots are very thick, they will take between 20 and 35 minutes to roast (in a 400F to 425F oven). If you are roasting small or thinly sliced carrots, check on them after 10 minutes to see how they are doing.
Do I need to peel carrots before roasting them? No, you do not need to peel carrots (unless you want to). Instead, give the carrots a good scrub with a veggie scrubber, and then follow the recipe as usual.
Can I use baby carrots in this recipe? Yes, of course! Follow our recipe guidelines below and check on them every so often to see how they are doing. If they look like they will be done roasting before our suggested times in the recipe, take them out early.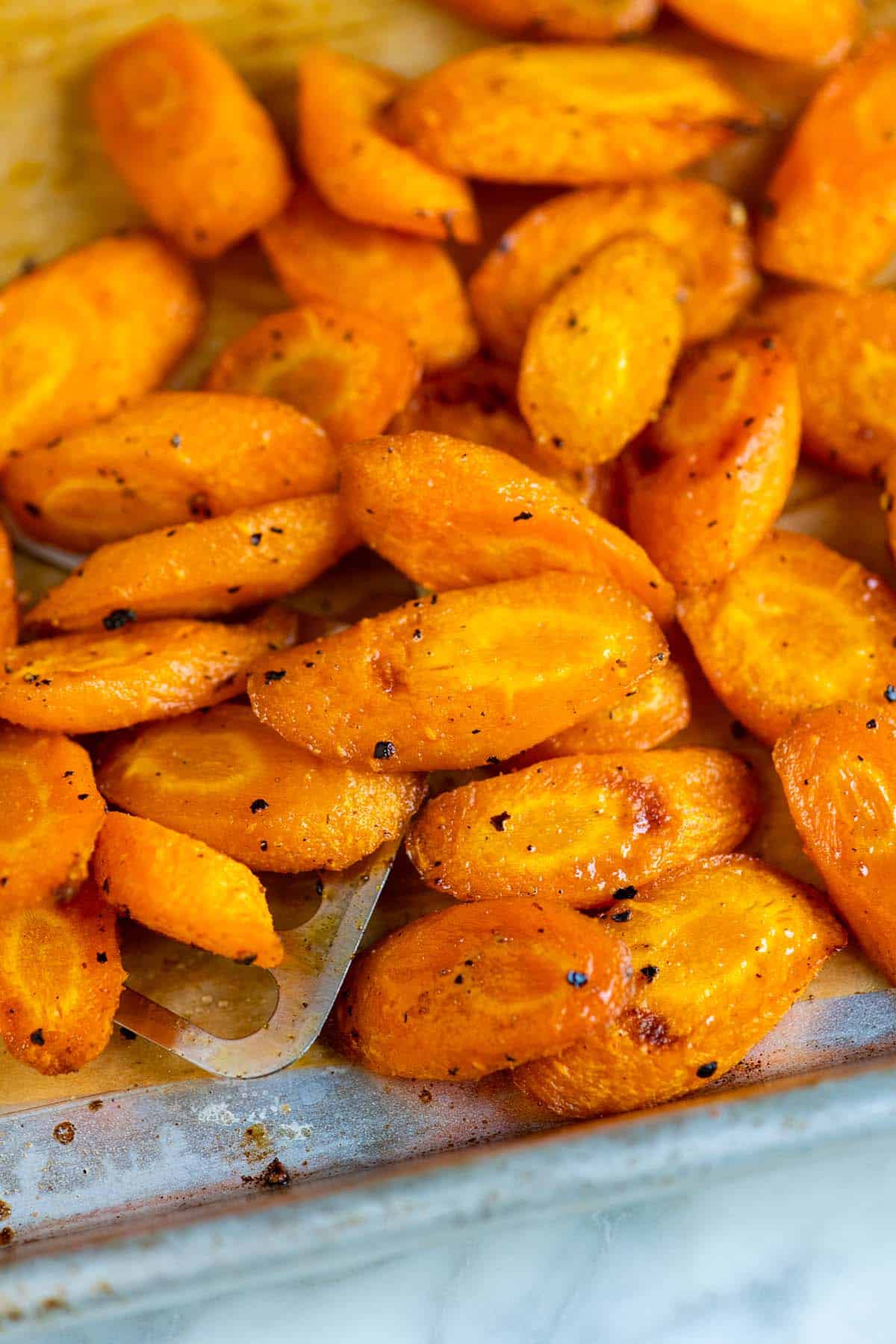 What to Serve With Carrots?
This carrot recipe is fast, so we make it often! Here are a few of our family's favorite dishes to serve them with: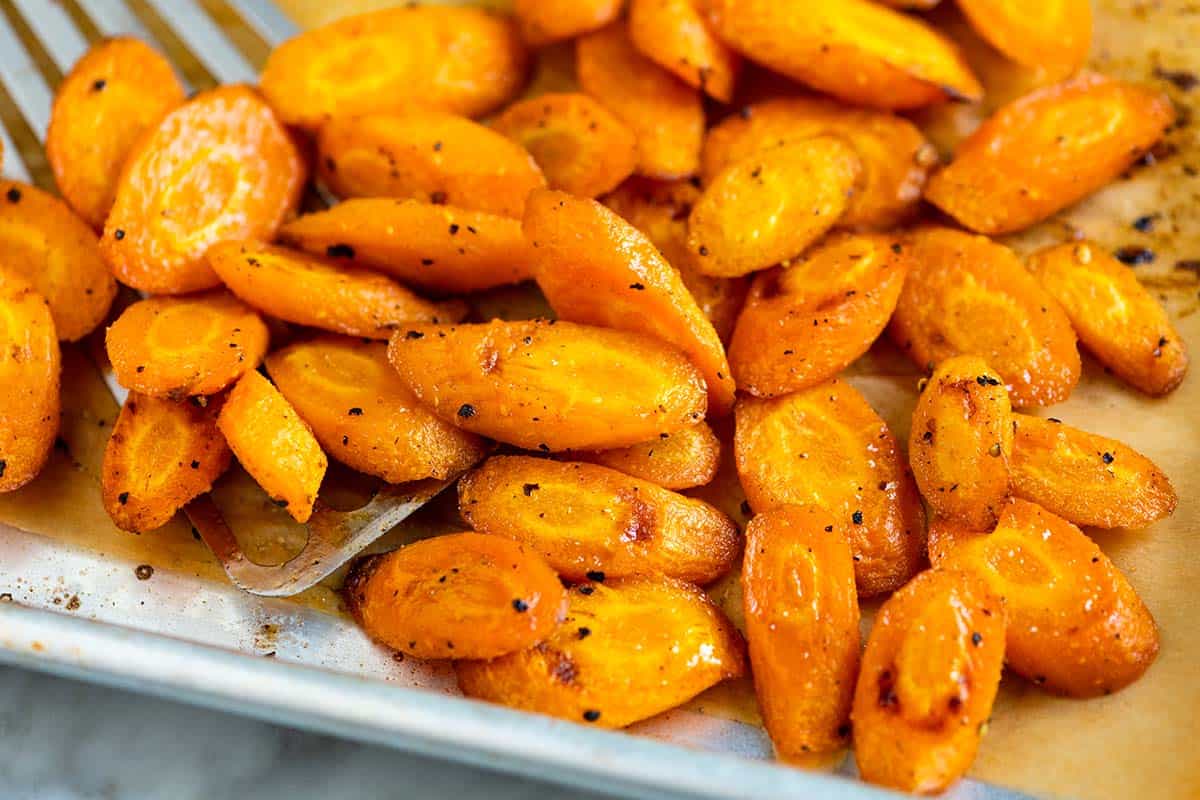 Easy Roasted Carrots
Here's our easy roasted carrots recipe. You can make these carrots in about 30 minutes! Our family loves these tasty, perfectly cooked carrots! In the recipe below, we have shared a basic recipe as well as an optional step to roast the carrots with maple syrup and cumin (delicious!).
Watch Us Make the Recipe
You Will Need
Basic Roasted Carrots
2 pounds carrots, scrubbed clean or peeled
2 tablespoons olive oil or neutral oil like avocado oil
1/2 teaspoon fine sea salt
1/2 teaspoon fresh ground black pepper
Maple Cumin Carrots (Optional)
1 tablespoon pure maple syrup
1/2 teaspoon ground cumin
Directions
1Heat the oven to 400° Fahrenheit (200° C). Line a large baking sheet with parchment paper or use a silicone baking mat.

2Trim the ends from each carrot, and then slice them diagonally into 1 inch thick slices. As the carrots roast, they will shrink.

3Add the carrot slices, oil, salt, and pepper to a large bowl. If you are making the maple cumin version, this is the time to add the maple syrup and cumin. Toss the carrots around the bowl until well coated with oil and the seasoning.

4Spread the carrots, in one layer, on the prepared baking sheet.

5Roast for 15 minutes, stir and then continue to roast until the carrots are tender and caramelized around the edges, 5 to 10 minutes longer. (For even more caramelization, roast 5 to 10 additional minutes.)
Adam and Joanne's Tips
Nutrition Facts: The nutrition facts provided below are estimates. We have used the USDA database to calculate approximate values. Calculations include the maple syrup and cumin.
If you make this recipe, snap a photo and hashtag it #inspiredtaste — We love to see your creations on Instagram and Facebook! Find us: @inspiredtaste
Nutrition Per Serving
Serving Size
1 of 6 servings
/
Calories
113
/
Total Fat
5.1g
/
Saturated Fat
0.6g
/
Cholesterol
0mg
/
Sodium
298.8mg
/
Carbohydrate
16.9g
/
Dietary Fiber
4.3g
/
Total Sugars
9.2g
/
Protein
1.5g